KABUL -- The continued recruitment of Afghan refugees to fight in the Fatemiyoun Division, a militia backed by Iran's Islamic Revolutionary Guard Corps (IRGC), is raising concerns about Iran's intentions in Afghanistan.
During the past five years, Iran has recruited thousands of Afghans residing in Iran to fight on behalf of the Syrian regime in return for money and the promise of an Iranian residency permit.
However, as the alleged purpose of the Fatemiyoun Division in Syria -- fighting the "Islamic State of Iraq and Syria" (ISIS) -- appears to be coming to an end, the future of the group is now in question.
One concern is that Iran will use the approximately 20,000-strong Fatemiyoun Division to realise its political ambitions in the region under the pretext of fighting ISIS.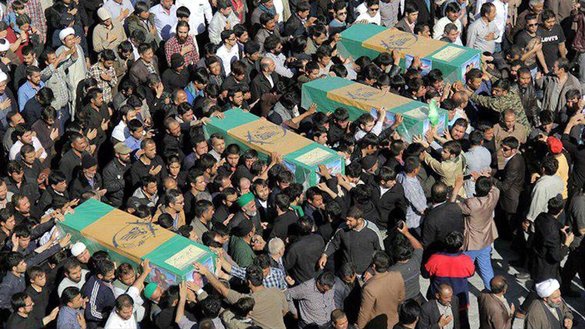 "Iran always interferes in Afghanistan's affairs, to the point that even Iranian-made weapons have been seen in the hands of the Taliban," Gen. (ret.) Atiqullah Amarkhil, a Kabul-based Afghan military analyst, told Salaam Times. "Moreover, Iran even reinforces the Taliban under the pretext of fighting ISIS."
The return of Fatemiyoun fighters to Afghanistan endangers the country's security, Amarkhil warned.
Upon returning to Afghanistan, the Afghans who have been recruited into the Fatemiyoun Division often join insurgent forces, organised crime rings and kidnapping gangs, since these individuals have spent some time in war and have absorbed a culture of combat, he said.
Iran's proxy wars
"Through establishing the Fatemiyoun Division, Iran not only has utilised these individuals in Syria, Iraq and Yemen, but ... it could use them in the proxy war in Afghanistan too," Ahmad Behruz, a Kabul-based Afghan analyst, told Salaam Times.
"In creating and financing the Fatemiyoun Division, Iran is after major objectives, one of which could be using the division in Afghanistan," he said.
Iran created the Fatemiyoun Division to allegedly fight ISIS in Syria and Iraq, said Jawed Kohistani, a Kabul-based intelligence analyst and former military officer.
In Afghanistan, however, existing social and cultural structures already give ISIS no room to grow, he said.
"Some countries make efforts [to interfere in Afghanistan]," he told Salaam Times. "The justifications for deploying groups like the Fatemiyoun Division in Afghanistan, however, lack credibility."
Afghanistan has overcome ideological warfare to the point that even former extremist leaders no longer possess their old violent spirit and they too stand against extremism, suicide attacks and explosions, Kohistani said.
The 'great Iranian deception'
Iran has recruited some Afghans into the Fatemiyoun Division by exploiting their religious sentiments and taking advantage of their desperate situations, Afghan people and analysts say.
"Using the motto of 'Protect the Shrine of Sayidda Zainab in Syria', Iran has deceived a number of our young people, sending them into the Syrian war," Mohsen Rezayi, 27, a Kabul resident who lived in Iran for several months, told Salaam Times.
Rezayi said that some of his friends had suggested joining the Fatemiyoun Division to defend religious sanctuaries and to obtain permanent residency in Iran, but he refused.
"I initially went to Iran to find employment," he said. "Upon receiving the proposal to join the Fatemiyoun group, however, I preferred to ... find a job in my homeland."
"I think of this as a great Iranian deception," he said. "It sends some naive Afghans to fight in Syria in the name of defending holy shrines, when in reality Iran is pushing only its own agenda and policies."
Unemployment a source for manipulation
Iran has recruited some Afghans to fight in the Syrian war, using their lack of awareness and their naïveté, said Ahmad Behruz, a political analyst in Kabul.
"Most Afghans who have gone to Syria are those who migrated to Iran because of the lack of employment opportunities [in Afghanistan] and joined the Fatemiyoun Division to receive financial benefits as well as Iranian legal residency," he told Salaam Times.
"Iran has provided our citizens with military training and even provided some with livelihoods, so that it can use them continuously in its wars abroad," he said.
Unemployment is among the serious challenges facing Afghanistan, Behruz said, adding that it is incumbent upon the Afghan government to spare no effort to provide citizens with job opportunities, so that no Afghan individual can be taken advantage of by manipulative countries.