HERAT -- With the war in Syria drawing down, the Iranian regime is sending members of its Fatemiyoun Division to Afghanistan hidden among refugees in a bid to stoke religious conflict in the country, officials say.
The Iranian government secretly sends a number of Fatemiyoun fighters every day to Herat Province disguised as refugees, a National Directorate of Security (NDS) official told Salaam Times on the condition of anonymity.
The fighters, originally sent to fight for Syrian President Bashar al-Assad's regime, were recruited by the Islamic Revolutionary Guard Corps (IRGC) from communities of Afghan refugees and migrants living inside Iran.
"After Iran used Fatemiyoun fighters in Syria ... it has now decided to benefit from them by pursuing its political and military goals in Afghanistan," he said.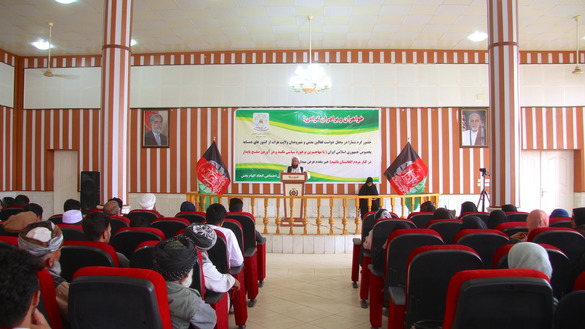 By not dissolving the Fatemiyoun Division, the Iranian regime intends to use those troops to ignite sectarian conflict in Afghanistan, he added.
"Members of the Fatemiyoun Division have received military training, and they could be very dangerous for Afghanistan," the official said. "These individuals can cause grave security problems in Afghanistan, especially in Herat Province."
The long arm of Tehran apparently made itself felt when Muhammad Ibrahim, an Iranian religious scholar and dissident who fled his homeland and took refuge in Herat Province, was seriously injured by unknown individuals May 17 in Herat. He died of his wounds May 22, according to the official.
Ibrahim, besides opposing the Iranian regime, belonged to his country's oppressed Sunni minority.
Credible sources have indicated that the Iranian scholar was killed by members of the Fatemiyoun Division, added the NDS official, though authorities have not made any arrests yet.
"The Afghan government implements strict measures with regards to Fatemiyoun fighters and apprehends them. We have identified and arrested two Fatemiyoun members in the past few days and sent them to prison," said the official, without providing more details.
Citizens' concern
Afghans have raised concerns about Fatemiyoun members whom the Iranian regime sent back to Afghanistan.
More than 400 residents of Herat, including women, civil society activists and religious scholars, condemned the transfer of such fighters during a gathering on May 22 in the Ghazi Amanullah Khan auditorium in Herat city.
"The Fatemiyoun Division is a group that Iran has trained for the Syrian war," said Sameha Ahmadi, a civil society activist in Herat.
"If it comes to Afghanistan and joins the Taliban, it will be very threatening," she said.
The Fatemiyoun Division and the Taliban are the same, according to Ahmadi.
"We always fall victim to the evil goals of our neighbouring countries, and these countries use our youth as weapons," she added.
"We call upon the Afghan government and the international community to look hard into the transfer of Fatemiyoun members to Afghanistan," she said.
"The transfer of various anti-government groups, especially the Fatemiyoun," has alarmed the public, said Omaid Naab, another civil society activist in Herat.
"Unfortunately, if the transfer of this group into Afghanistan continues, our country could engage in [another] war that could destroy our people," Naab said.
Pursuing Tehran's goals
"The returnees from Iran to Afghanistan, especially those who were recruited by Iran to fight proxy wars in the region, are a matter of grave concern," said Fatema Jafari, a member of the Herat Provincial Council.
Fatemiyoun members lack skills other than fighting and have no income from any other sources either, she said.
"As jobs are scarce in Afghanistan, they can be transformed into opportunist and irresponsible [armed] groups that could cause many problems," she added.
"The government and its security ministries must employ strict measures to control Fatemiyoun fighters who are returning to the country," Jafari said.
The Iranian regime views Afghan refugees as weapons, said Abdul Qader Kamel, a political affairs analyst in Herat city.
"We all know that the IRGC sent thousands of our refugee countrymen to the war in Syria and other countries in the region as part of the Fatemiyoun Division, and a large number of them were killed," he said. "Many of their bodies were not given to their families."
"The government of Iran uses the Fatemiyoun for its proxy wars," Kamel said, adding that the Iranian regime certainly might use Fatemiyoun members against US and Afghan forces.
"Iran's continued interference in Afghanistan's internal matters through the Fatemiyoun Division could degrade relations between the two countries,"he said. "Afghans' trust in Iran has hit its all-time low."