HERAT -- Iranian Supreme Leader Ayatollah Ali Khamenei's praise of slain Afghan fighters in Syria has stirred the anger of the Afghan government, which has accused Tehran of exploiting the poverty of immigrants and refugees to goad them into battle.
Khamenei visited family members of the dead fighters in Mashhad, Iran, on March 28.
The Afghan militiamen were part of a unit of Iran's Islamic Revolutionary Guard Corps called the Fatemiyoun Division.
"Afghans among the Fatemiyoun fighters showed more perseverance and endurance on the battlefield," Khamenei was cited as saying by the Tasnim news agency. "The martyrdom of our Afghan brothers is more elevated than that of others because they were killed while suffering the worst of poverty."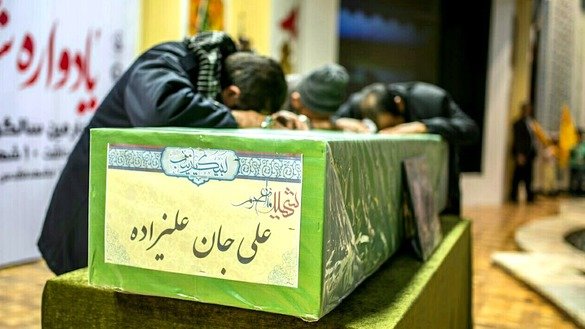 Those comments and the refugee recruitment efforts by Iran elicited a terse denunciation by the Afghan government.
Iran is taking advantage of the "bad economic conditions of Afghans", said Malalai Shinwari, an adviser to President Ashraf Ghani, TOLOnews reported on March 30. "They exploit Afghans' economic problems for their own benefit."
Herat Governor Abdul Qayum Rahimi shared the sentiment.
"Afghan refugees' desperate condition in Iran has caused them to take part in someone else's wars," Rahimi told Salaam Times.
Bribes and coercion
Afghan refugees who recently returned to Afghanistan recalled how the Iranian government encouraged them to take part in the Syrian war by promising them money.
"I myself witnessed them taking" Afghan refugees "to an area called Damawand in Tehran," Abdul Rahman, 50, once an Afghan refugee in Iran, told Salaam Times.
"Iranian soldiers told us, 'They're Afghans like you, and they are ready to go to war in Syria. Why don't you go?' I told them that we have war in our own country and that we are fed up with war."
"They told me, 'You're an old person. Go to war in Syria. We'll give you a lot of money that will solve your problems,'" he added. "But I didn't accept the offer and told them that working as a labourer is better than fighting."
While Afghans in Iran were paid to fight, most faced a deadly path, said another Afghan refugee who returned home, Zakaria Faizy, 20.
"A friend of mine told me that he went to war in Syria and that he earned 30 million IRR ($220) to fight on the front line," Faizy told Salaam Times. "He said that Iranian fighters could retreat from the front line, but if we did, we would be shot. If we advanced, 'Islamic State of Iraq and Syria' (ISIS) would kill us."
"My friend said security is so bad there [in Syria] and that most of the fighters are injured or killed," he added. "Everyone goes there because they're too poor."
Many Afghan refugees in Iran face arrests and threats of jail time that make them vulnerable to coercion into joining the Syrian war, said Muhammad, 32, another returned refugee who did not give a last name.
"When Iranian security forces arrest Afghans, they accuse them of having brought narcotics with them," he told Salaam Times. "Then they take them to their base and ask them whether they're Sunni or Shia. If someone is Shia, they encourage him to go to war in Syria, but they cruelly beat up the Sunnis."
Human rights violations
The efforts by the Iranian government to pay Afghan refugees and immigrants to fight violate human rights, said Abdul Qader Rahimi, director of the regional office for the Afghanistan Independent Human Rights Commission in Herat.
"A host country must not involve refugees in armed conflicts," Rahimi told Salaam Times. "The Iranian governments' approach towards Afghan refugees is a clear breach of international humanitarian laws."
A host country is responsible for providing asylum and security for foreigners who take refuge because of war and political issues, he said.
"Refugees who settled abroad had to escape their country because of a problem, and they have to be provided a dignified life -- meaning that their children should have access to education, and they themselves need access to health services and a secure living environment," said Rahimi.
Refugee host countries have an obligation to protect refugees, agreed Abdul Qader Kamel, a political analyst in Herat Province, who called on the United Nations (UN) to "put pressure" on Iran.
"The Iranian government's action is against international human rights and humanitarian principles, as well as against the values of being a neighbour," he told Salaam Times.
"The Iranian constitution insists on maintaining good relations and co-operation with Muslims, but Iran disobeys its own constitution," Kamel said.
"The UN, as a credible international body, must pressure Iranian authorities to stop sending Afghans to the wars in Syria and elsewhere in the Middle East," he added.
Facing prosecution in Afghanistan
About 50,000 Afghan refugees have been recruited in Iran between 2013 and 2017 and fought in Syria under the banner of the Fatemiyoun Division. Of those, about 10,000 Afghans have returned to Afghanistan, according to the Associated Press.
Now, these fighters are facing possible prosecution by the Afghan government. Returnees will face serious consequences for their actions, according to local officials in Herat.
"Based on laws that are enforced in Afghanistan, any sort of co-operation with terrorist groups in Afghanistan or in the region is considered a crime and those involved are prosecuted in a court of law," Jilani Farhad, a spokesperson to the Herat governor, told Salaam Times.
"If they have committed terrorist activities and have been involved in the killing of their own compatriots in this country, security institutions -- especially the National Directorate of Security -- have the authority to seriously investigate these individuals," he said.
"We have specific institutions in Kabul and Herat that oversee the return of the Fatemiyoun Liwa [Division] fighters to the country, such as courts of law," Farhad said.
"The laws have clarity regarding this matter: those who participate in terrorist activities are prosecuted," he said.