KABUL -- Afghanistan is taking issue with Iran after reports emerged last week accusing Iran's Islamic Revolutionary Guard Corps (IRGC) of sending Afghan immigrant and refugee children to fight in Syria.
An investigation into photographs of tombstones in Iranian cemeteries where Syrian combatants have been buried found and identified eight Afghan children who apparently fought and died in the conflict, Human Rights Watch (HRW) reported October 1.
Iranian media reported about at least six other children believed to have been killed fighting in Syria in the Fatemiyoun Brigade, a group of Afghan Shia mercenaries who fight alongside government forces in the Syrian conflict.
"Afghan children as young as 14 have fought in the Fatemiyoun division," HRW reported, noting that "recruiting children under the age of 15 to participate actively in hostilities is a war crime".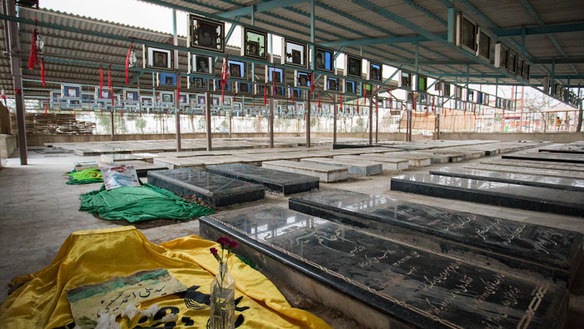 Iran recruiting refugees
Local news reports and official accounts have corroborated Iran's efforts to recruit and send Afghan refugees to fight in Syria, according to Shakib Mustaghni, a spokesman for the Afghan Foreign Ministry.
"Unfortunately, Afghan refugees in host countries, including Iran, are being induced and encouraged in various ways, including through pressure and allurement, to conduct activities that violate international laws," he told Salaam Times.
Iran recruits Afghans through monetary and legal incentives, said Habibullah Mohammadi, a 28-year-old Afghan man who returned to Afghanistan from Iran about a year ago.
The IRGC reportedly pays fighters about $500 per month and offers them, and the family members of fighters killed in Syria, Iranian residency papers.
"I initially went to Iran because of war, insecurity and unemployment [in Afghanistan]," he told Salaam Times. "However, I did not want to go to Syria to fight, so I returned from Iran to my homeland."
Habibullah said his employer at a manufacturing company introduced him to IRGC recruiters so that he could fight in the Syrian war. He said he did not accept and secretly returned to Afghanistan.
A number of other Afghan citizens who used to live in Iran also confirmed such claims.
Violating human rights
Recruiting underage refugees to fight in conflicts is in violation of human rights treaties and conventions, said Bilal Sediqi, a spokesman for the Afghan Independent Human Rights Commission (AIHRC).
The issue of refugee rights should be respected by host countries, especially Iran, and children should not be used in wars and politics, he told Salaam Times.
The Afghan government should "protect all of its citizens, whether children or adults, and not allow any person or government to violate the rights of Afghan citizens", he said.
Any country that exploits Afghan immigrants and children for political and security purposes is committing an unjustifiable and unlawful violation of refugees' human rights, said Hafizullah Miakhil, an adviser to the Afghan Ministry of Refugees and Repatriations.
"We urge the host countries to look at the phenomenon of immigration from a humanitarian point of view and to keep the subject of immigration separated from all political and security issues," he told Salaam Times.
Most Afghans who migrate do so to escape war and insecurity, said Rahimullah Mirzad, a journalism student at a private university in Kabul.
"Unfortunately, our youth and adolescents emigrate to build themselves a better future," he told Salaam Times, adding that Iran is taking advantage of their desperation. "Governments such as Iran, however, exploit immigrants and ruin their future by sending them to war."
The Afghan government and the international community must prevent such abuses through the implementation of established human rights laws and conventions, he said.
Kabul's demands
The Afghan government has raised the issue of the IRGC recruiting Afghan citizens for the Syrian war numerous times and at various levels, including during international meetings and assemblies, Mustaghni said.
In the past, Iran's response was that it was not a matter of pressure and allurement, but that Afghan citizens voluntarily participated in the war.
"Now that international institutions have confirmed this issue, however, the [Afghan government] once again expresses its serious concerns and urges Iran not to force Afghan citizens through such means as pressure and allurement into fighting in Syria," he said.
Furthermore, measures should be taken to prevent the recruitment of youths, he said, adding that the rights of both immigrants and minors should be respected.
"Iran should immediately end the recruitment of child soldiers and bring back any Afghan children it has sent to fight in Syria," said Sarah Leah Whitson, HRW Middle East director.
"Rather than preying on vulnerable immigrant and refugee children, the Iranian authorities should protect all children and hold those responsible for recruiting Afghan children to account," she said.