HERAT -- Members of Iran's Fatemiyoun Division, after being used as fighters in Syria, have now returned to Iran only to become forced labourers.
Photos recently circulated on social media show members of the division, made up of Afghan refugees in Iran, busy cleaning Iranian cities hit by recent floods.
The images have provoked a response from Afghan authorities, who say that Iran should not take advantage of Afghan refugees and instead allow them to return to a normal life.
"We are taking steps to defend the rights of Afghan citizens in Iran through relevant institutions in Kabul and Herat provinces," Jilani Farhad, a spokesperson to the Herat governor, told Salaam Times.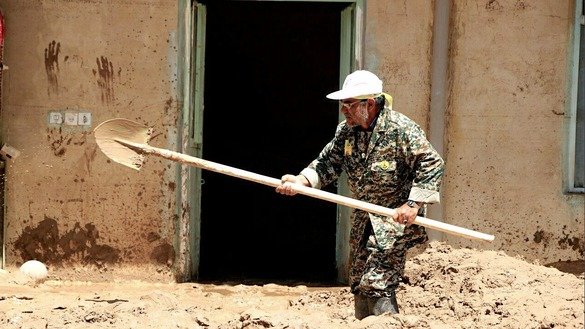 "Any treatment that damages the dignity of Afghans in any country of the world is not acceptable to the government of Afghanistan, and we stand against it," he said.
"We ask our neighbours, especially Iran, that when our citizens take refuge in the country out of desperation, they must treat them in accordance with international laws for refugees and not exploit their poverty for their benefit," he said.
Illegal hard labour
"It is really concerning that Iran misuses Afghan refugees," Muhammad Shoaib Yaktaparast, 33, a resident of Herat city, told Salaam Times.
"I have also heard that those people who fought as part of Fatemiyoun Division in Syria and are now back in Iran, the government of Iran is mobilising them in illegal work," he said. "I have even heard that it uses them to clean toilets."
"I think this abuse is akin to slavery," Yaktaparast said.
"For some time, it utilised them in Syria to pursue their goals, and it's now engaging them in hard labour as slaves," he said.
"It's ignoring their rights as human beings. I am very concerned about the rights of Afghans being violated in Iran," he added.
"Iran has used Afghans as tools in its wars in Syria and some other countries," Sumayah, 28, a resident of Herat city who goes by one name, told Salaam Times.
"Since the Fatemiyoun Division fighters returned from Syria to Iran, they have been working as slaves. Promises that the government of Iran made to the fighters of Fatemiyoun haven't been fulfilled," he said.
"I am concerned that many of the Fatemiyoun Division members are taken hostage by the Iranian government," he added.
"They're not allowed to return to their normal life, and they're denied the benefits Iran promised to them," he said. "This has caused many of our countrymen to live in harsh conditions in Iran."
Conflict in Yemen
With the drawdown in Syria, concerns are growing that Fatemiyoun Division fighters could be sent to fight in Iran's proxy war in Yemen.
"The phenomenon of Fatemiyoun Division fighters, all of whom are Afghans, is one of the explicit examples of Iran's interference as [Tehran] uses them as tools," said Abdul Ghani Khusrawi, a political analyst in Herat.
"The Iranian government has promised many things to the fighters of Fatemiyoun Division," he told Salaam Times. "Some of these promises are granting them Iranian citizenship and providing aid to their families."
"When there was war in Syria, these citizens of Afghanistan were engaged in the war in favour of Bashar al-Assad's government," Khusrawi said. "But now as the war is ending there, Iran will no doubt send them to the war in Yemen."
"The government of Iran uses Afghan citizens as tools and benefits from their poverty and desperation by engaging them in hard labour for a tiny wage," he added. "This is really concerning. The influence of Iran must decrease in Afghanistan, but it seems to grow day after day."
"Iran is involved in conflict in a number of Middle Eastern and Arab countries," Sayed Ashraf Sadaat, a civil society activist in Herat, told Salaam Times. "There is no doubt that the government of Iran has always tried to engage Afghan youth in its proxy wars."
"The war in Syria showed that Iran breached international laws and the principles of being a neighbour with Afghanistan and sent thousands of Afghan youths [to Syria] to be killed, and this process will continue as it may send more to Yemen," Sadaat said.
"Many Afghan youth go to these wars out of desperation and poverty," he added. "It [Iran] is making big promises to them to encourage them to join the Fatemiyoun."
"We condemn this act of the Iranian government as it should not involve Afghan citizens in its proxy wars," Sadaat added.