HERAT -- Authorities in Herat Province have decided to halt the use of Iranian rials in business transactions, warning that violators will face strict punishment.
The use of the rial has lowered the value of the Afghani, say officials.
"Iranian rials are mostly used in districts on the border with Iran such as Kohsan and Ghorian, and in some cases in Herat city, and we have decided to ban its use," Jilani Farhad, a spokesman for the Herat governor, said on November 11. "We are seriously trying to stop the use of foreign currency in everyday transactions in Herat Province."
The rial is usually not used in formal business transactions, he said. Afghans mostly use it in informal and private transactions, and authorities intend to end that habit.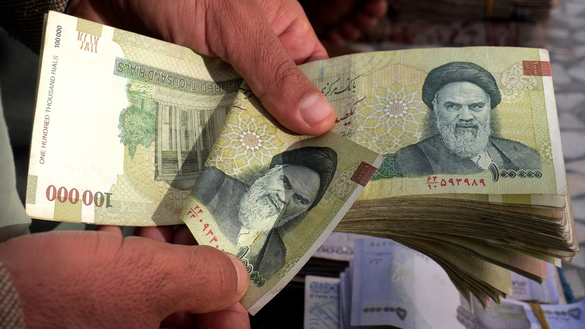 "The use of Iranian rials in transactions has lowered the value of the Afghani, which is not acceptable for us," added Farhad.
"The governor of Herat has ordered Da Afghanistan Bank in Herat to put its efforts into preventing the use of rials in transactions, and everyone has to use Afghanis," he said. "Those who use Iranian currency will be prosecuted."
The ban, set to go into effect immediately, comes amid Iranian efforts to smuggle US dollars from Herat Province into Iran.
Trafficking in rials and dollars
The rial often enters Afghanistan in exchange for the smuggled dollars.
Smugglers every day collect dollars from the Herat market and send them to Iran through various channels, said Younus Qazizada, director of the Herat Chamber of Commerce and Industries.
"The government has reduced the number of dollars in the market to prevent them from being smuggled to Iran, but the lack of dollars in the market has affected a large portion of business," he added.
"Most of the business transactions are in dollars. Scarcity of dollars in the market coupled with their transfer to foreign countries will have bad consequences for our businesses," he said.
Opportunists buy dollars every day from currency exchangers and send them illegally to Iran, said Bahauddin Rahimi, director of the Union of Money Traders in Herat Province.
"The reports we have received show that hundreds of thousands of dollars are sent every day to Iran in trucks and taxis," he said. "Despite the measures in place on the border, smugglers are still able to transfer dollars to Iran."
"Money exchangers and the private sector in Herat Province have incurred severe losses due to dollar smuggling, and if this process continues, it will have negative consequences for the Afghan economy," said Rahimi.
Security forces have taken strict measures on the border that can help prevent dollar smuggling to neighbouring countries, said Farhad, the governor's spokesman.
"The border forces have arrested about 50 suspects on charges of smuggling dollars to Iran in Islam Qala port in the past year and handed them over to the judicial and law enforcement agencies," he said.
"The government's fight against currency smuggling to the neighbouring countries has been strongly in effect," he added.
Using Afghanis
In addition to placing restrictions on the use of foreign currency, Da Afghanistan Bank, the country's central bank, is trying to encourage residents of the western region to use Afghanis instead of foreign currencies.
The bank plans to implement certain programmes to prevent the use of rials, said Anwar Shah Yousufi, director of Da Afghanistan Bank for the western region.
"All sales and businesses transactions were in Iranian rials in Farah and Nimroz provinces until two years ago, but thanks to the government's efforts, about 70% of transactions are now in Afghanis," he added.
"Those who used rials in their transactions and owned a great number of them incurred huge losses as the rial's value dropped after sanctions were imposed on Iran," said Yousufi. "They now don't use rials at all in their business transactions."
"In addition to monitoring markets and preventing the use of foreign currencies, Da Afghanistan Bank runs promotional and awareness campaigns to encourage the use of Afghanis," said Yousufi.
"These programmes have convinced Afghans to use Afghanis instead of foreign currencies," he said.
Herat residents praised the decision to ban rials.
Afghans "should not use Iranian currency as it benefits them [Iran] and lowers the value of the Afghani," said Yasar Ahmadi, a resident of Herat city. "It is every Afghan's duty to use Afghanis."
"Iranians don't use Afghanis, so why should we Afghans use rials?" he asked.
"I ask everyone to use Afghanis, not foreign currencies, in his [or her] transactions," said Jan Muhammad (no last name), a resident of Herat city, citing the instability of those currencies.
In recent days, both the rial and the Pakistani rupee have lost value, he noted.