HERAT -- Iran, now facing a shortage of US currency, is smuggling US dollars from Afghanistan and replacing them with counterfeit bills, say Afghan officials.
"In the wake of re-imposition of US sanctions against Iran, there have been reports of counterfeit dollar bills imported into Afghanistan through the porous borders with Iran," Nasir Ahmad Popal, director of the financial crime department at the provincial police headquarters of Herat Province, told Salaam Times.
"Some Iran-backed individuals are injecting counterfeit US dollars into the Afghan market. Nearly 20 people have been arrested and brought to justice since the beginning of this year ... [for] allegedly circulating counterfeit currency, including forged afghanis," Popal said.
Officials in Herat Province Friday (September 14) announced the arrest of 13 individuals over the past few months of smuggling dollars into Iran, Ariana News reported.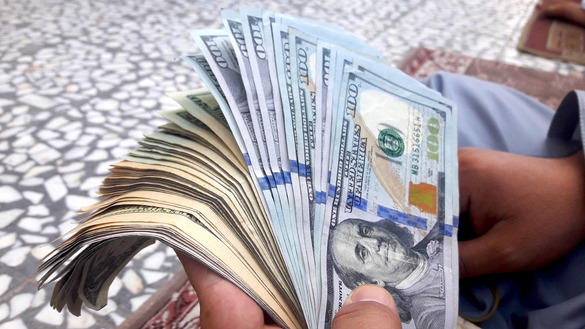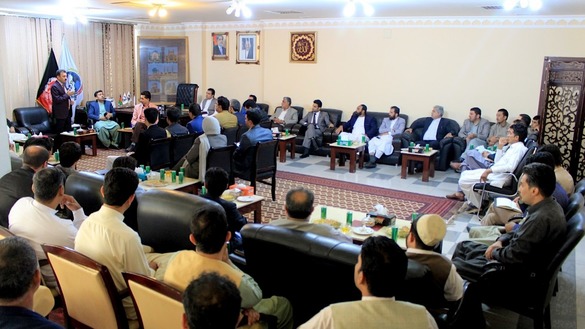 "US dollar bills are collected from Herat markets and transferred to Iran," Toryalai Taheri, vice president of the Herat Provincial Council, confirmed.
"In addition to hurting merchants, these counterfeit bills also cause many problems for ordinary [Afghans]. Many have sold their real estate, but in return they received counterfeit money," he told Salaam Times. "This has even led to the imprisonment of some ordinary individuals for possession of counterfeit money."
"[US] dollars are being smuggled to Iran, but we have taken serious measures on our borders," Jilani Farhad, a spokesman for Herat's provincial governor, told Salaam Times.
"A number of well-organised networks, which actively participate in illegal activities and organised crime, are also involved in the preparation and distribution of counterfeit currencies," he said.
"[Afghan] security forces have made good progress in recent years, though counterfeit currency can still be found in Herat city," he added.
Counterfeit bills emerge
Local markets in Herat have seen a recent increase in counterfeit $50 and $100 bills in local markets, said Bahauddin Rahimi, head of Herat Province's Union of Money Traders.
This trend is alarming because such counterfeiting could disrupt the Afghan economy if not stopped, he told Salaam Times.
"These types of counterfeit currency are injected into the domestic markets, in order to destabilise the Afghan economy. Most of these counterfeits are in the forms of $50 and $100 bills, as well as 500 AFN and 1,000 AFN banknotes," Rahimi said.
"Counterfeit bills, which are currently available in local markets, are not printed in Herat but are imported from neighbouring [Iran]," he said.
"This issue will create serious problems for the private sector should the government fail to take serious measures [to stop it]," Rahimi warned.
An estimated $3 million is taken into Iran from Herat every day, Rahimi added, citing the high number of visitors crossing the border daily.
Private banks crippled
In late August, Da Afghanistan Bank (DAB), Afghanistan's central bank, stopped distributing US dollars to Herat because of growing concerns over smuggling to Iran.
The problem is so severe that even private banks in Herat have banned the physical transfer of dollars and their distribution among customers.
DAB issued a letter ordering all private banks to refrain from transferring dollars to Herat, even by plane, said Hamidullah Qaderi, the director of the western Afghan branch of Afghan United Bank.
"We have cash assets at Da Afghanistan Bank. However, it refuses to accept our checks, saying that it has no liquid assets available. Until recently, we used to pay almost $4 million [296 million AFN] every week to our merchant clients," he told Salaam Times.
"But now, we cannot pay them [the clients] even $1. Da Afghanistan Bank has completely stopped transferring dollars to Herat," he said.
Rahmatullah Rasuli, a spokesman for the western Afghan branch of Ghazanfar Bank, said that the US dollar shortage is very serious and that his bank is unable to provide customers with dollar bills.
"In the past, we used to transfer cash from Kabul to Herat, but it has been two weeks since Da Afghanistan Bank has banned the transfer of cash to Herat; as a result, we cannot serve our customers," he told Salaam Times.
Fears of economic decline
On September 1, almost 100 Afghan merchants and investors in Herat demonstrated against the smuggling of US dollars into Iran and against the severe shortage in the province's markets.
When merchants export their goods and commodities to various countries, their money does not come back to them in a physical, tangible form; rather, it is deposited in their bank accounts, said Saad Khatibi, director of the Herat provincial Chamber of Commerce and Industries.
However, they have not been able to make withdrawals from their bank accounts in Herat. As a result, the merchants have lost their purchasing power, he told Salaam Times.
"If this trend continues, Herat's economy is going to face a serious downturn," Khatibi said, adding that if the downturn happens, neither investors nor merchants will be able to operate.
"It's a fact that US dollars are being smuggled from Afghanistan into Iran. Herat is the economic hub of Afghanistan, but the concerns of [currency smuggling into Iran] raises the possibility of thousands becoming unemployed," he added.
Trade and commerce in the province are facing a serious decline, primarily because of the lack of cash, Nawid Ahmad Wafa, the head of the Petroleum Products Importers' Union in Herat Province, also told Salaam Times.
Dollars and other hard currencies are available in all other provinces in Afghanistan, where banks pay money to their customers, but they refuse to do so in Herat, he said.
"With regards to the smuggling of dollars from Herat to Iran, the government must take strict measures to ensure that money does not leave Afghanistan," he said. "The lack of dollars in Herat has crippled the economy. Hence, the smuggling of dollars must be stopped."
"When we sell petroleum products in the southern and central provinces, merchants there cannot afford to pay us with hard currency, and this is a serious problem," Najibullah Yusefi, a petroleum merchant in Herat, told Salaam Times.
"The lack of dollars has crippled Herat's economy, and if this problem persists and is not resolved by next month, commerce and investment will collapse in this province," he said.