HERAT -- Recession, mass unemployment and the destruction of millions of dollars worth of factory equipment and supplies loom as Iran continues to halt power supply to Herat's industrial complex and surrounding areas.
Hundreds of factory owners and workers last week gathered in Herat city to protest Iran's disruption of power exports to their province, demanding that Tehran restart supplies as agreed.
The Iranian government has almost completely halted delivery of electricity to Herat Province since July 3 without notice, violating agreements between the two countries.
The disruption has caused dozens of factories in the city's industrial district, the Herat Industrial City, to shut down, according to officials from the Herat Chamber of Industries and Mines.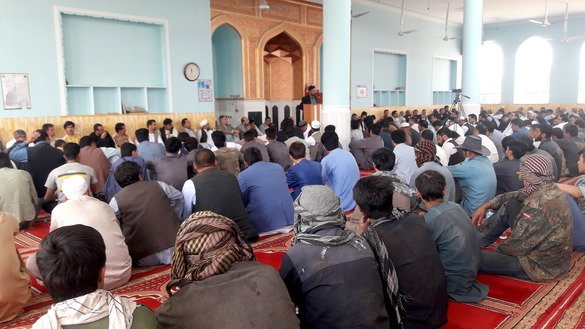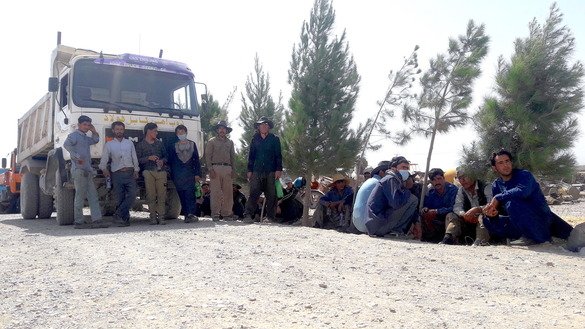 If the cut-off does not end, the entire district will have to cease activity and close its doors, according to Hamidullah Khadem, head of the chamber.
"If we do not pay due attention to the [factory owners'] problems... and if the chaotic electricity situation in Herat Industrial City continues, then a recession will hit," he told Salaam Times.
"Subsequently, thousands of workers will lose their jobs and the doors to Herat Industrial City will be shut," Khadem warned.
Up until a month ago, 320 factories were active in Herat Industrial City. Of those, 120 have shut down following the power outage, he said.
Many of Industrial City's 25,000 workers are now unemployed, Khadem said.
"Moreover, millions of dollars have been invested in this city ... if the problem with electricity is not resolved, we will lose these millions while all of our development plans will be destroyed," he said.
Millions of dollars in losses
"As the electricity problem continues, our more sophisticated equipment in Herat Industrial City has been destroyed or otherwise severely damaged," Khadem said. "Over the past three weeks, Herat Industrial City has suffered almost $13 million [950 million AFN] in damage from the loss of Iranian electricity."
Ataullah Wardak, director of the Kabul Steel plant in Herat, told Salaam Times that the brown-out destroyed his factory's advanced equipment.
"Our blast furnaces have a 20-ton capacity. When 20 tons of molten iron with the temperature of 1,650°C is ready for pouring and casting, and suddenly the power shuts down, what can we do with the 20 tons of melted iron still inside the device?" he asked.
"This melted iron destroys the device, which is what happened to one of our blast furnaces... [it was] damaged and hence remains idle," said Wardak, adding that the machine cost $1.3 million (95 million AFN).
Sayed Ali Shah, director of the Daryalan Company, told Salaam Times that he was forced to dismiss more than 100 of his workers and has lost large amounts of raw materials during the electricity disruption over the past weeks without power. His company makes candy.
"We have already mixed 500 bags of sugar with tons of water but cannot do anything [because of the power outage]," he said. "If this situation persists for a few more days, these raw materials will rot, and we will have to bury them outside the factory."
"We invested millions of dollars, we trained many workers and we succeeded here by overcoming many problems," he said. "We [in Herat Province] were able to stop importing candy from Iran."
"We call on the [Afghan] government to solve this problem, so that we can call our workers back," he said.
Residents also lose power
The loss of electricity has also affected residents of Herat Province.
More than 80,000 families in Herat city and the province's other districts rely on electricity from Iran, according to national power utility Da Afghanistan Breshna Sherkat (DABS).
"The lack of electricity in such hot weather has brought us so many problems," Abdurrahim, a 25-year-old resident of Herat Province, told Salaam Times. "Our children have become sick."
"Electrical appliances in our house are broken, and we are facing serious problems," said Qudratullah, 30, another resident of Herat Province.
"We're unable to work," he told Salaam Times, citing the heat.
"Our homes have electrical appliances. We, however, cannot use them without electricity," Najibullah Marzban, 22, a Herat resident, told Salaam Times.
"Our appliances are broken. Our living conditions have been degraded."
Political pressure needed
DABS officials highlighted the need for political pressure on Iran to solve the electricity issue.
"Diplomatic pressure must be imposed on the Iranian government," Amanullah Ghaleb, the chief executive of DABS, told Salaam Times.
"We have asked Iran to supply at least 50MW of electricity to Herat, and we can produce at least 14MW at the Salma Dam. With this electricity, we can reduce the scheduled power outages [electricity rationing]."
Under the Iranian-Afghan agreement, the Iranian government is responsible for supplying uninterrupted electricity to Afghanistan, according to Mohammad Aref Taher, chairman of DABS in Herat.
"We have fulfilled all of our obligations regarding electricity, and we paid on time. There is no clause in the contract on the interruption or reduction of electricity," he told Salaam Times.
"The contract is for providing 90MW of electricity, while Iran now provides us only 20MW," he said.
Exerting pressure on Iran is the only way to make the electricity agreement work, say political observers.
"The Afghan government must find a replacement source of electricity and import it from other countries, including Turkmenistan," Mohammad Rafiq Shahir, a political analyst in Herat province, told Salaam Times.
"The people of Herat paid for their electricity on time," he said. "Therefore, the [Afghan] government should pay close attention to this issue and press Iran in various ways to provide electricity," he added.
"The Afghan government must defend the contract's terms and put political pressure on Iran," he said.