HERAT -- More than 200 residents of Badghis Province gathered Monday (January 4) in Qala-e-Naw to condemn the interference of the Iranian, Russian and Chinese regimes in Afghanistan's affairs.
This interference has protracted the crisis in Afghanistan, they said, accusing all three countries of backing groups that have destroyed Afghanistan's infrastructure projects including hydro-electricity dams, highways, bridges and schools.
The threats to Afghanistan's economic and national projects posed by some of its neighbours are not acceptable, said Qala-e-Naw resident Khair Muhammad Lutf, calling on these countries to "refrain from their destructive politics".
"We call on all the neighbouring countries, especially Iran, to stop meddling in our country's internal matters and to refrain from supporting the terrorist groups for their proxy wars and killing innocent people," he said.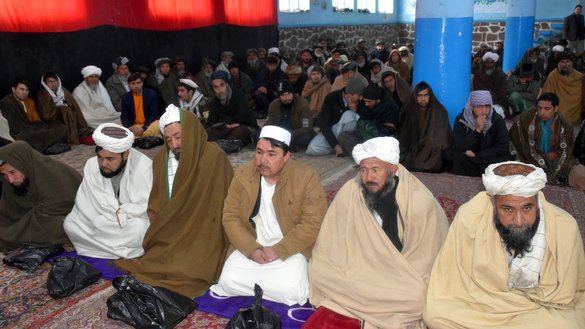 Countries like Iran, Pakistan, Russia and China have always pursued their own agenda in Afghanistan, which has been a victim of their interference, he said.
They must refrain from meddling in the peace process and threatening infrastructure projects and must let Afghanistan become an industrial and self-reliant country, he said.
The gathering, which drew religious scholars, activists and Provincial Council members, took place just days after Herat residents gathered to call on Russia to provide war compensation for the former USSR's invasion (1979-1989) of Afghanistan.
Afghans expect their neighbours, including Iran, to co-operate with the peace process and to help build Afghanistan's economic infrastructure, said Qala-e-Naw civil society activist Aqa Arbab.
But instead they have "created problems for the peace process" and are making efforts to destroy Afghanistan's national projects, he said.
"Some neighbouring countries, especially Iran, have made several efforts to stop the construction of Salma and Kamal Khan dams," Arbab said.
Sabotaging the peace process
Peace and stability in Afghanistan will strengthen the government and prevent neighbouring countries from interfering in Afghanistan's internal matters, said Qala-e-Naw resident Asef Joya.
But an end to the conflict in Afghanistan would not serve Russian, Iranian or Chinese political, military and intelligence interests, he said, so those governments have made every effort to ensure the war continues.
"Iran, Russia and China have not provided any support to the peace process, and the authorities of these countries have always taken positions against this process," he said.
A second round of talks between the Afghan government and the Taliban kicked off in Qatar's capital, Doha, on Wednesday (January 6), even as violence flared back home.
Some of Afghanistan's neighbours want it to remain a battleground for their proxy wars, so they have continued to support insurgents, said Qala-e-Naw resident Abdul Wasi Waseem.
"The government of Iran has declared that it opposes the agreement between the Taliban and the US," he said, noting that Iran "is completely against the peace process" and "does not want peace in Afghanistan".
The Taliban should no longer fall prey to the tricks of Iran, Russia or China and ought to make peace with the Afghan government as soon as possible, said Ghousuddin Achakzai, a resident of Bala Murghab District, Badghis Province.
"Peace negotiations in Qatar create the best opportunity, as their success can prevent the interference of the neighbouring countries in Afghanistan's matters," he said.
"I call on the Taliban to stop providing some of the neighbouring countries the opportunity to interfere and pursue their proxy wars."
Protracting Afghanistan's war
By financing and arming anti-government groups, Afghanistan's neighbours have fuelled an increase in violence and killing, said Badghis Provincial Council member Muhammad Farid Akhizi.
"The interference of neighbouring countries, including that of Iran, in Afghanistan's internal affairs has been very damaging," he said, accusing Iran of destroying infrastructure and pursuing its proxy war with the United States on Afghan soil.
If the Taliban did not have support from neighbouring countries, they would not have the ability to fight and would come under pressure to declare a ceasefire and to make peace with the government in a short time, he said.
Some countries provide the Taliban with money and weapons so they will fight the security forces and Afghan people in support of the interests of these countries, said Qala-e-Naw civil society activist Wazir Ahmad Adib.
"The Iranian government has made several efforts to destroy Salma Dam in recent years," he said. "Armed groups that receive support from Iran have launched several attacks on Kamal Khan Dam."
"These destructive efforts of Iran show its deep enmity toward Afghanistan."
Afghan security forces have resisted this hostile interference, he said, and have not allowed these countries to achieve their evil goals.
"Afghanistan's neighbouring countries have not respected neighbourly rights, and they have chosen to be enemies instead of being friends," he added.