HERAT -- Although China and Iran jumped in to offer the Taliban support after the fall of the previous government, the two countries' aid to the Afghan people has been meagre and self-serving, Afghans say.
Beijing and Tehran have airlifted several small consignments of food commodities, medicines and medical supplies and winter clothing in the past few weeks to reaffirm their support to the new rulers.
China's first consignment, which included blankets and sweaters, arrived at the Kabul airport on September 29, and was handed over by the Chinese ambassador to the Taliban's Ministry of Refugees and Repatriations.
The Iranian regime has so far provided four shipments consisting of food, medicines and medical oxygen tanks.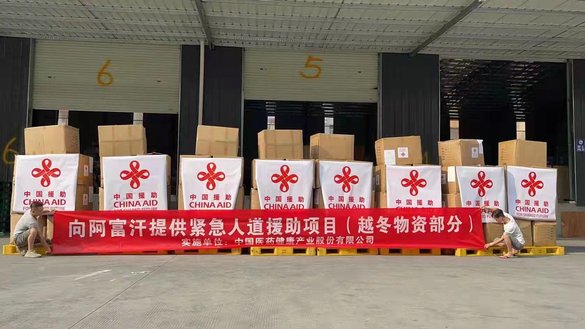 The most recent delivery arrived on October 5 at the Islam Qala border crossing in Herat province.
Afghans across the country have called the humanitarian assistance offered by China and Iran "insignificant and ridiculous" and lament that what little there is has not yet been distributed to those in need.
"During the previous government, a sufficient amount of aid from different countries flowed to Afghanistan and reached the deserving people, but now that the Taliban are in power, they cannot feed their own people," said Abdul Karim, a resident of Herat.
"Of Afghanistan's 35 million population, more than 30 million live under the poverty line and are suffering from starvation, and a few truckloads of wheat flour, rice and blankets cannot satisfy their needs," he said.
Most Afghans are starving and in dire need of help since the Taliban took power, but China and Iran are ridiculing these vulnerable people with their meagre assistance, said Samim Ahadi, a resident of Herat.
"While the Afghans are suffering from the impact of ... the fall of the previous government, Iran and China have made insufficient humanitarian assistance that included only rice and blankets," he said.
"These countries should understand that their aid is not sufficient and cannot stop the emerging catastrophic economic fallout."
"The international community has poured billions of dollars in aid over the past 20 years and transformed the lives of Afghans, but the recent aid provided by the neighbouring countries is not enough even for a few small families," he said.
Cycle of instability
The minimal aid came as Afghan civil society activists in the western region accuse three countries of behind-the-scenes machinations that doomed the previous Afghan government.
Besides Iran and China, the trio includes Russia, they say.
After achieving their goals, they say, these countries have left not only the Afghan people but also the Taliban in a difficult situation.
Iran, China and Russia have constantly provided financial and military support not only to the Taliban but also to other anti-government elements, said Nizamuddin Azimi, a civil society activist in Qala-e-Naw, the capital of Badghis province.
They kept providing their military and financial support until the Taliban toppled the previous government, he said.
"Recent tactical actions by Iran, Russia and China indicate that these countries do not want to protect the well-being of Afghans," he added.
"By providing an insufficient amount of aid, which consists of only food and blankets, to the Taliban, they show they are interested in achieving their own agendas in Afghanistan under the name of humanitarian assistance," he said.
The recent treatment of the Taliban by Iran, Russia and China shows that their only goal was to overthrow the former Afghan government and further destabilise Afghanistan, Azimi said.
Without the interference of Iran, Russia and China, the former Afghan government never would have fallen, said Aziz Ahmad Waqif, a resident of Firoz Koh, capital of Ghor province.
"Neighbouring countries have tested all kinds of artillery and land mines in Afghanistan for nearly 20 years, shedding the blood of thousands of our security personnel and our innocent civilians," he said.
"Iran and China's minuscule contribution to the Taliban is not based on humanitarian grounds but rather aims to propagate yet another vicious cycle of the never-ending hostile game in Afghanistan," Waqif said.
Exploiting Afghanistan's untapped resources
Russia, China and Iran have shown great interest in extracting Afghanistan's underground resources, which could transform their countries' economic prospects, analysts say.
China wants to leverage its meagre aid to Afghanistan into gaining Taliban permission to monopolise the country's mineral resources, said Farhad Kebarzani, a political analyst in Herat.
The Chinese government is an economic giant and never invests where it does not expect to see profits, he said.
"China has been trying for years to gain access to Afghanistan's untapped mines and underground resources," he said. "Now more than ever, China has the opportunity."
"Afghanistan's potential natural resources are the birthright of the Afghan people, and we urge the Taliban not to give these national assets to China, the world's largest economic mafia," Kebarzani said.
Moreover, Iran has good relations with China and the two countries want to jointly plunder Afghanistan, he said.
Neighbouring countries' interference in Afghan affairs over the past two decades has been aimed at gaining access to the country's bounty of resources, said Ali Ahmad Sekandari, a civil society activist in Zaranj, the capital of Nimroz province.
"China and Iran are trying to get closer to the Taliban, to establish good relations in order to pave the way for the extraction of Afghanistan's untapped raw materials," he said.
"If China and Iran gain control of mines, the biggest profits will go to these countries and will have no effect on improving Afghanistan's economic outcome," he said.
The Taliban must understand that they cannot just open the door to neighbouring countries such as China and Iran to loot Afghan resources without holding meaningful consultations with the Afghan public, Sekandari said.