KABUL -- Afghans are increasingly seeing remarks made by Iranian, Russian and Chinese officials about Afghanistan as direct interference in their country's affairs.
Most recently, Iranian President Ebrahim Raisi spoke about state building in Afghanistan during the 78th United Nations (UN) General Assembly in New York on September 19.
Many believe that in a part of his speech about Afghanistan, Raisi implied that more power should be given to the country's Shia community when he said, "In Afghanistan, Iran emphasizes an inclusive government and the necessity of respecting the rights of all tribes, ethnicities and religions of this country."
Russian and Chinese representatives and officials have also repeatedly discussed Afghanistan's internal affairs in international conferences and meetings with representatives of other countries.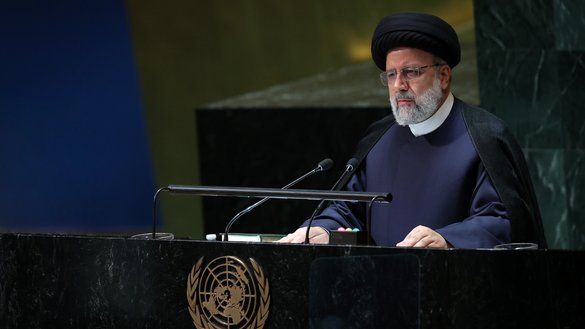 Neighboring and regional countries may not represent Afghanistan at the international level, and any attempt at doing so is interference in Afghanistan's internal affairs, said Abdul Qadeer Niayesh, a Herat University graduate.
"Russia, China and Iran have taken advantage of Afghanistan lacking a recognized government, so they try to take credit on the international stage," he said.
"These countries cannot be impartial as they were directly involved in the two-decade-long conflict in Afghanistan."
"We call on the international community and other states not to allow countries like Russia, China and Iran to represent Afghanistan," Niayesh said. "They are the reason for our misery and have no right to be involved in our internal affairs."
Afghanistan is an independent country, and no other country may represent it, said Nazir Ahmad Sultani, a resident of Herat city.
"In the current critical situation in Afghanistan, only the UN, as a neutral and effective entity, may make statements and decisions about matters related to Afghans. No other country, especially neighbors, should be allowed to do that," he added.
"We always see in the news that neighboring countries, such as Iran and Russia, speak on behalf of Afghanistan in international meetings," he said.
"These countries, which have been behind four decades of bloodshed and destruction in our country, have no shame when making such statements," said Sultani.
Efforts to exert influence
Russia, China and Iran are trying to increase their influence in Afghanistan, analysts say.
These three countries use Afghanistan for their political, economic and espionage games, said Abdul Qader Kamel, a political analyst in Herat.
"Russia is trying to increase its political and intelligence presence in Afghanistan because of its competition and disagreement with the West."
"The increased number of Russian troops along Afghanistan's northern borders is a sign that Russia is interested in interfering in Afghanistan's internal affairs," he said.
"Russia, Iran and China have the same stance toward Afghanistan. These three countries have common goals that they pursue in Afghanistan and in the region. They consider Afghanistan their anti-West backyard," he added.
Any kind of influence these three countries have in Afghanistan is very dangerous and will cause new tensions and war in the country, said Kamel.
For its part, China's goal is to seize Afghanistan's underground minerals, which is why it is trying to expand its influence there, said Hamza Baloch, a political analyst in Nimroz.
"Like a dragon, China wants to swallow Afghanistan's minerals and national wealth," he said, adding, "China is trying to secure its economic interests with empty promises."
Meanwhile, Iran wants Afghanistan to remain unstable, said Baloch.
"Iran never wants a stable Afghanistan. The government of Iran has been involved in Afghan conflicts for decades, undermining the peace and security of this country," he added.
"Iran has several proxy groups in the Middle East that pose a great threat to the security of Afghanistan."
As allies in the region, Iran, Russia and China find their interests in the instability and war in their neighboring countries, and in the region, Baloch said.
Empty and meaningless slogans
For all their desire for influence, Russia, China and Iran have provided little assistance to Afghans suffering from widespread economic problems.
On every international platform, representatives of China, Russia and Iran note poverty and other issues that Afghans face, but do not provide any meaningful assistance to Afghanistan, said Faisal Poya, a civil society activist in Herat city.
"Officials of these countries know only how to repeat slogans. They have not taken any practical measures to improve the situation in Afghanistan," he said.
While Iranian, Chinese and Russian officials talk about poverty and economic problems in Afghanistan on the world stage, their assistance has been insignificant, said Mohammad Javed, a political science student at Herat University.
"In the current difficult situation where most Afghans are suffering from extreme poverty and hunger, neighboring countries, including Iran, China and Russia, have not assisted the people of Afghanistan."
Assistance distributed across the country has been provided by international aid agencies and the West, he noted.
"Speeches of the officials of these three countries about Afghanistan in international conferences do not help Afghans. If they had good intentions, they would have stood beside Afghans and helped them in these difficult times."
Afghanistan's neighbors, especially Iran, China and Russia, have bad intentions for it and are trying to fuel crisis and insecurity there, Javed added.