HELMAND -- A recent United Nations (UN) report starkly underscores the soaring production of methamphetamine in Afghanistan in recent years.
By monitoring drug busts in Afghanistan and neighboring countries, the UN Office on Drugs and Crime (UNODC) found a "drastic, nearly twelvefold increase in seizures of the drug in five years from 2.5 tons in 2017 to 29.7 tons in 2021," it said in a September 10 summary of the report.
The study's goal is to provide critical data to the international community for tackling the threat of synthetic drugs, said Ghada Waly, UNODC executive director.
"The surge in methamphetamine trafficking in Afghanistan and the region ... demands our immediate attention," she said.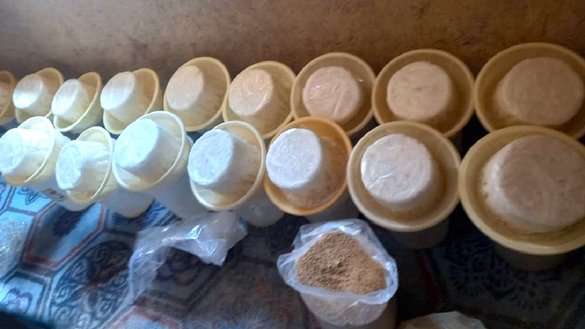 "Regional coordination targeting the diversion and smuggling of chemical precursors is essential to stopping the continued expansion of illicit methamphetamine manufacture in and around Afghanistan," she added.
Seizures of methamphetamine of suspected Afghan origin have been reported in places as far away as the European Union, the Near and Middle East, Southeast Asia and Eastern Africa, according to the report.
The study did not have data for 2022.
IRGC's role in meth trafficking
Iran the neighbor has become part of the trafficking of Afghan drugs.
"Sharing a long border with Afghanistan, Iran serves as a transit corridor for surging amounts of Afghan meth being shipped westwards," according to a June 9 report by the Global Initiative against Transnational Organized Crime.
"The drug moves overland primarily to consumer markets in Europe and the Middle East, and by sea to Africa and beyond," it added.
Afghan, Iranian and Pakistani drug smugglers regularly transfer hundreds of kilograms of methamphetamine via the border region of "Dak" that connects the three neighboring countries.
The drugs enter Iranian territory in co-ordination with Iran's Islamic Revolutionary Guard Corps (IRGC) and are escorted by a convoy of motorbikes and dozens of armed men, sources told Salaam Times.
A considerable amount of methamphetamine produced in Farah and Helmand provinces is transferred to Iran every day, a drug smuggler who wished to remain anonymous told Salaam Times.
"We transport shesha [methamphetamine] ... produced in Farah and Helmand to areas near Zaranj city, the provincial capital of Nimroz," he said.
"Several drug smugglers come together and move their drugs to Iran via different routes."
"Every time, we hold a meeting with some members of the IRGC before we transfer our drugs to Iran. We pay them in advance so they do not cause problems for our convoys," he said.
The smuggler said they pay the IRGC hundreds of thousands of dollars in return for permission to transfer the drugs without any issues.
Every now and then, the IRGC seizes a small amount of drugs in coordination with the smugglers to show some security achievements, he said.
Another drug smuggling route from Afghanistan to Iran is in the border regions with Kang district of Nimroz and Lash-e-Jowain district of Farah. In addition to methamphetamine, opium is also smuggled daily via this route.
Another drug smuggler speaking on condition of anonymity told Salaam Times he smuggles methamphetamine and opium to Iran via Lash-e-Jowain district in coordination with Iranian border forces.
The Iranian military takes about 1 million Iranian tomans ($237) per kilogram of drugs, he said.
"Drugs smuggled from Afghanistan are transferred to Zabul and Zahedan provinces in Iran. Iranshahr, Khash and Saravan districts of Zahedan are the main locations for storing drugs," he said. "Drugs are then distributed to different cities of Iran."
"A portion of the drugs is moved via Zahedan to Bandar-e-Abbas in the south. From there, the drugs are smuggled in ships and boats to Arab countries such as Oman," he said.
Another portion, including crystal meth and heroin, is smuggled from western Iranian cities to Türkiye, he said.
These drugs are smuggled by large networks to Greece via Türkiye and from there to Europe, America and other parts of the world, he added.
Active meth plants in Farah, Helmand
Most methamphetamine production plants are situated in Farah and Helmand -- the source of more than 90% of Afghanistan's methamphetamines. These illicit factories operate at night to conceal their activities.
Almost 1,000 drug factories are active in Bakwa district, say local sources in Farah.
Hundreds of meth production plants operate at night in the Sangin, Musa Qala and Bahramcha districts of Helmand.
Drug production plants used to operate freely in the past, but their activities are now regarded as illegal, said Shah Gran, a resident of Bakwa district.
"About 10 crystal meth manufacturing plants operate in our village," he said. Most are situated in the desert, away from the public eye, he added.
"Security forces destroyed several drug manufacturing plants in remote villages," he said, noting that this has led some smugglers and locals to manufacture drugs in their own homes.
Smugglers and producers of drugs are armed and resist the destruction of their plants, Mohammad Anwar, a tribal elder in Bakwa district, said.
"Several armed guards protect each plant and do not allow anyone to come close," he added. "Thick smoke rises from plants at night, spreading the smell of drugs into the villages."
Manufacturers have recruited young local men to work at these plants, he said, adding that "five to 10 people work at each plant, maintaining smooth production."
Heavily guarded drug shipments are then transferred from those plants across the borders and on to their destinations.