LASHKARGAH -- The Taliban are losing strength and funding sources because of the Afghan National Defence and Security Forces (ANDSF)'s and US military's on-going campaign against Taliban drug labs in Helmand Province, local officials and residents say.
More than 39 of the Taliban's drug laboratories have been destroyed since the launch of the campaign last November 19, Helmand Provincial Governor Hayatullah Hayat told Salaam Times.
"[The forces] destroyed about four tonnes of drugs during this period," he said. "This campaign is successful because the [coalition] targeted the Taliban's main source of income and is still destroying [the labs]."
So far the financial losses for the Taliban amount to more than $20 million (1.3 billion AFN), officials say.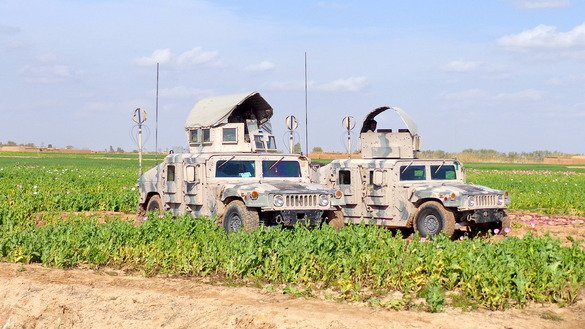 Afghan National Army Brig. Gen. Abdul Hadi, deputy commander of the 215th Corps, said his soldiers are committed to destroying drug factories and continuing their mission.
"The Taliban's main source of revenue is drugs, and now we are destroying these [facilities] wherever they exist," he told Salaam Times.
"We have destroyed them in Helmand's northern and southern districts such as Musa Qala, Sangin, Nawzad and Bahramcha," he said. "These were the biggest centres of drugs, and we monitor all these [roads] from the air."
The ANDSF air campaign against Taliban revenue sources in neighbouring Kandahar Province received a boost January 19 with the arrival of a squadron of A-10C Thunderbolt II ground attack aircraft, also known as the Warthog, from the United States.
Taliban facing defeat
In addition to the military assault on Taliban drug labs, religious scholars are weighing in, urging Afghan farmers to stop cultivating poppies that fund the militant group.
It is haram to sow poppy crops and to take ushr and zakat from forbidden sources of income, said Mawlawi Mohammad Nasim Wadan, a religious scholar based in Lashkargah.
"It is illegitimate to collect zakat and ushr on poppies, and [whoever consumes haram narcotics] will not live in peace," he told Salaam Times.
"The Taliban have lost because their drug factories have been destroyed, and out of fear of [the Afghan] air force, the smugglers can no longer rebuild these factories," Naqibullah Bawar, 25, a university student and resident of Lashkargah, told Salaam Times.
If troops continue to target their other factories, the Taliban could be broken further and will be unable to return to the battlefield, he said.
"We realised that the main way to weaken the Taliban is to destroy drug factories," Muhibullah Samim, 29, a shopkeeper from Garmsir District, told Salaam Times.
As a result of the ongoing operations, the Taliban have been forced to find other, less lucrative revenue streams, he said.