KABUL -- The US military and Afghan air forces launched air strikes on drug-making laboratories in Afghanistan as part a new joint strategy to cut off funding for the Taliban, authorities said Monday (November 20).
Ten drug labs were destroyed in a series of aerial bombardments in poppy-rich Helmand Province -- a Taliban stronghold -- on Sunday night (November 19), said Gen. John Nicholson, commander of US and NATO forces in Afghanistan.
The joint operation came days after a UN report showed opium production in Afghanistan -- a key source of funding for the Taliban's 16-year insurgency -- soared 87% this year as the area under poppy cultivation hit a record high, AFP reported.
Omar Zwak, spokesperson for the Helmand provincial governor, confirmed that the "campaign against drug smugglers and terrorists has been intensified".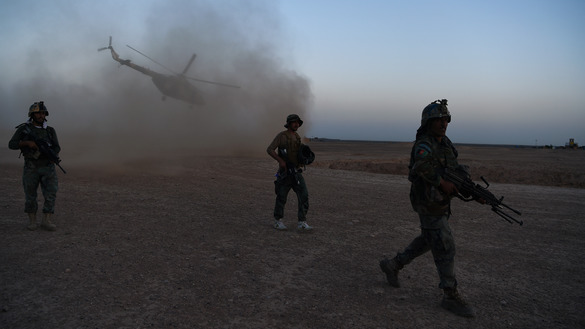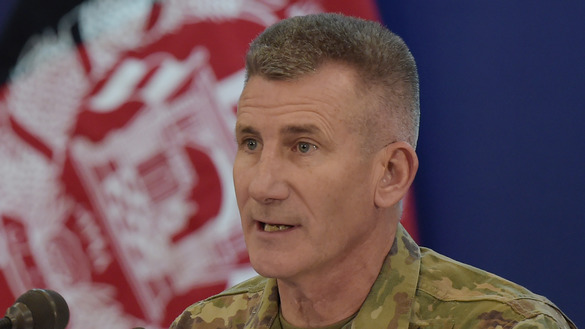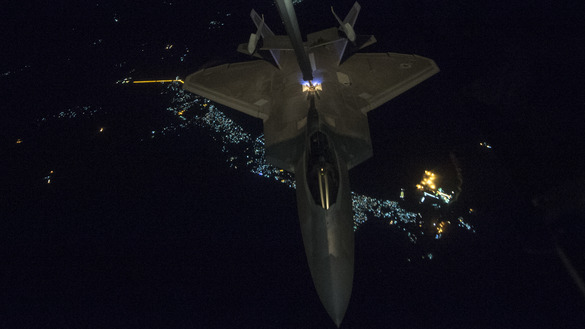 "In the latest air strikes a number of their labs have been destroyed, but some are still remaining," he told Salaam Times. "These facilities are located in the areas under the Taliban control and [the Taliban] are involved in the business."
'Strikes will continue'
Nicholson said targeting the drug labs would "hit the Taliban where it hurts" and warned of more strikes to follow.
"The strikes that were prosecuted last night will continue," Nicholson told a news conference in Kabul on Monday, stressing that poppy farmers would not be targeted.
"We hit the labs where they turned poppy into heroin. We hit their storage facilities where they kept their final products, where they stockpiled their money and their command and control," he said.
The facilities destroyed were maintaining 60% of the Taliban's income in Helmand Province, Lt. Gen. Mohammad Sharif Yaftali, chief of general staff for the Afghan National Defence and Security Forces (ANDSF), said at the news conference.
Not only will the fight against terrorists continue, the joint air strikes are also eliminating their sources of income, he said. Over the past year, Afghan police have conducted 2,343 drugs-related operations -- those will continue during the winter as well, he added.
Afghan A-29 Super Tucano attack planes destroyed two labs and US aircraft, including B-52s and F-22s, took out another eight, Nicolson later told reporters in a call to the Pentagon.
He noted that 400 or 500 drug labs are active across the country.
"This is going to be steady pressure that's going to stay up, and we are not going to let up," he said.
Drug trade funds Taliban
The Taliban profits from the illegal drug trade by taxing poppy farmers and traffickers across Afghanistan, pocketing an estimated $200 million (13 billion AFN) a year, official data shows.
US forces began identifying drug labs to hit after President Donald Trump's strategy announcement in August made it easier for American air power to proactively target the Taliban and its sources of revenue and infrastructure.
The Taliban issued a statement denying the existence of the drug-making facilities.
Former Afghan military officer Lt. Col. (ret.) Abdul Ghafar Gardezi welcomed the air strikes on drug-making laboratories in Helmand Province.
"When we hear that armed opposition are being funded through drugs, targeting these resources will definitely impact security and the ongoing war in Afghanistan," he told Salaam Times.
"If this was done earlier, Afghanistan's war would not have lasted this long," he said. "But still it is not too late to act against all resources of [the militants]."
The US-Afghan operation comes as around 3,000 additional American troops are being deployed to help train and assist Afghan security forces who have been fighting Taliban and "Islamic State of Iraq and Syria" (ISIS) insurgents. The increase will bring the total number of US troops in Afghanistan to 14,000.
Taliban constitutes 'narco insurgency'
The UN Office on Drugs and Crime warned last week that "significant levels" of opium cultivation and trafficking in Afghanistan would fuel the insurgency and boost funding for militants.
Nicholson said the Taliban has evolved into a "narco insurgency" fighting to protect earnings from drug trafficking, illegal mining, kidnapping and murder for hire.
"The fighting that they're doing is to control the means of production, to control the poppy fields, to force farmers into growing poppy and then be able to process this opium into heroin in the relative safety of these areas," he said.
Ahmad Behruz, a Kabul-based political analyst, said the Taliban forces farmers to grow poppies so they can extort huge amounts of money and continue fighting.
"Some of the drug producing facilities belong to the Taliban and some others are being protected by them in order to make money," he told Salaam Times.
"The Taliban forces farmers to grow poppy and then they take a huge portion of the income in the name of zakat," Safiullah, 27, a resident of Helmand, told Salaam Times. "The farmers can not raise their voices as they are scared."
[Najibullah contributed to this report from Kabul.]