KABUL -- The Taliban's support for poppy cultivation and the processing of opium have brought irreparable damage to Afghanistan, observers say.
Poppy cultivation and the trafficking of narcotics in Afghanistan have created two major problems for the country, said Mohammad Ehsan Yaqubi, a political analyst based in Kabul.
"First, the Taliban and other militants are the ones who gain the most from cultivation, processing and smuggling of illicit drugs, causing insecurity and the continuation of war," he told Salaam Times.
The second problem is the growing number of drug addicts, he said.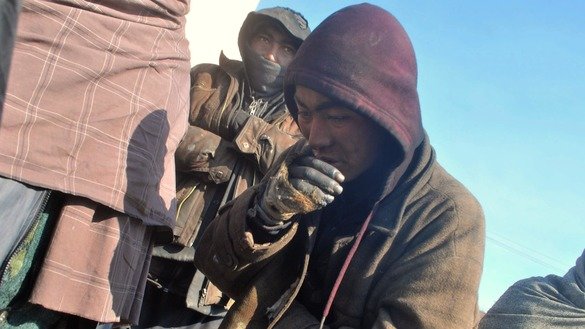 "Unfortunately, the ease of access to drugs has caused the number of drug addicts in the country to increase every day, as a result of which major damage to human resources has occurred," he said.
The country has an estimated 2.9 million to 3.6 million drug addicts, said Abbas Farasoo, a spokesman for the Ministry of Counter Narcotics.
Those addicts include about 600,000 women, said Farasoo, citing research conducted in 2015 by the US embassy with technical support from Japan.
Rayhana Ahmadi, an economics student at Kabul University, also expressed concern about the increasing number of drug users.
Drug addicts, rather than languishing in a terrible situation, "should be serving their communities and helping the country's economy," she told Salaam Times.
"If each addict spends 1 AFN [about 1 US cent] on drugs daily, it means the daily price tag for damage caused by addicts to the economy is 3 million AFN [$43,602], though this figure might be even higher."
"Unfortunately, the Taliban do not concern themselves with the country's national interests or the destruction of its citizens," Ahmadi said. "They are only thinking of amassing their wealth."
The Taliban profit from the illegal drug trade by taxing poppy farmers and traffickers across the war-torn country, pocketing an estimated $200 million (13.8 billion AFN) a year, according to official data.
Government conducts awareness, prevention programmes
Easy access to drugs and unemployment contribute to the large number of Afghans addicted to drugs, said Mohammad Saleh Saljuqi, who represents Herat in the Wolesi Jirga (lower chamber of parliament).
"Unfortunately, it is a silent tsunami that kills people, and the government must responsibly prepare a plan and a strategy," he told Salaam Times.
Along with the fight against the cultivation and production of drugs, the Afghan government has implemented awareness campaigns and addiction prevention programmes, said Farasoo.
Awareness programmes include conferences, workshops and roaming theatres that travel and organise role playing sessions with audience participation in schools, he said.
"Another government programme is the treatment of addicts," he said. "There are 109 drug treatment centres throughout the country."
"The largest treatment centre for drug addicts is located at Camp Phoenix in Kabul, which was established in [2015] by the president [Ashraf Ghani]," he said.
The Afghan government can treat 3,000 addicts per year, including 1,500 at Camp Phoenix, said Farasoo.
Fighting drugs, a blow to terrorism
Cracking down on the cultivation of poppies can be a powerful blow to terrorism and help curtail addiction, analysts say.
"The two phenomena of war and drugs help one another," said Dr. Mohammad Zafar, a former deputy minister at the Afghan Ministry of Counter Narcotics. "Combating drugs must be simultaneous with fighting the war."
Afghanistan can reduce the consequences of war if troops target poppy farms and drug production centres simultaneously, he told Salaam Times. He welcomed news that Afghan and US forces have begun targeting drug production centres in Helmand Province.
"When drug production centres are targeted, access to drugs will be diminished, which in turn helps prevent the number of addicts from growing," he said.
Most poppy cultivation and drug processing are done in Taliban-controlled areas, said Omar Zwak, a spokesman for the Helmand governor.
"The Taliban collect ushr money from farmers to ensure the safety of drug production centres, and the largest source of funding [drugs] for the Taliban is in Helmand," he told Salaam Times.
Coalition 'takes the gloves off'
The US military Tuesday (December 12) touted its air campaign to destroy Taliban drug facilities in Afghanistan, saying it was denying cash flow to the insurgents.
US and Afghan warplanes have destroyed 25 drug processing labs since the campaign started November 19, said US Air Force Brig. Gen. Lance Bunch.
"This equates to almost $80 million (5.5 billion AFN) of drug money eliminated from the kingpins' pockets, while denying over $16 million (1.1 billion AFN) of direct revenue to their Taliban partners," Bunch told Pentagon reporters in Washington, DC, during a video call from Kabul, according to Defense.gov.
Gen. John Nicholson, commander of US and NATO forces in Afghanistan, said 400 or 500 drug labs were active across the country when he announced the new strategy to go after Taliban drug revenue.
The warplanes pounding the drug facilities include F-22 Raptor stealth fighters, which have been dropping small-diameter bombs to limit collateral damage, said Bunch.