KUNDUZ -- The drug cartels and the Taliban are actively seeking ways to expand drug sales and poppy production in Kunduz Province, officials say.
Drug dealers in the neighbouring provinces of Baghlan, Badakhshan, Takhar and Balkh are trying to expand their operations to parts of Kunduz Province that have been relatively free from the scourge of poppy production and drug addiction, according to Abdul Basir Murshed, the director of counter narcotics in Kunduz.
The new intelligence that "shows that the narcotics mafia are encouraging addicts in Kunduz Province to buy drugs" adds to overall problem in the area, Murshed told Salaam Times.
Based on data from the Department of Counter Narcotics in Kunduz, the province has more than 30,000 drug addicts, said Murshed.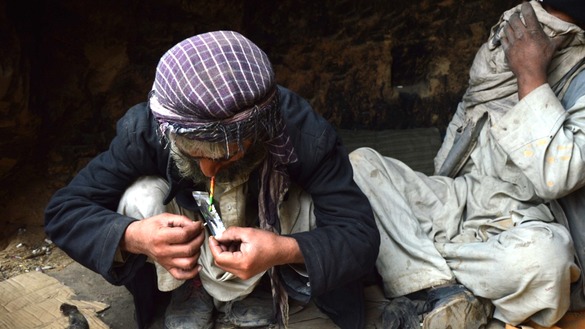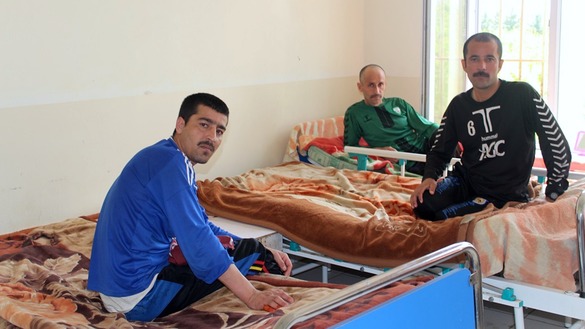 "One-third of these addicts returned to Kunduz from Iran and Pakistan, and they have gotten their relatives addicted to drugs," he said. "They became hooked on narcotics such as heroin, crystal meth and opium in Iran and then returned to Afghanistan."
Countering the drug trade
Various efforts to combat illegal narcotics and help addicts are under way.
The Kunduz police have arrested more than 100 suspects in connection with charges of smuggling, trafficking and selling narcotics in the past year, Inamuddin Rahmani, a Kunduz police spokesperson, told Salaam Times.
"The police are determined to immediately arrest suspects and drug traffickers," said Rahmani.
"We ask tribal elders, local representatives and ordinary residents of Kunduz Province to co-operate with the police by identifying drug dealers and reporting them," he said.
Meanwhile, the Ministry of Finance "has allocated $1 million (78 million AFN) per year to Kunduz for eight years" for bringing poppy cultivation to zero, according to Murshed, the Kunduz counter-narcotics director. Kabul already has allocated the $8 million (620 million AFN) to the province.
The province is spending the money on infrastructure, irrigation canal improvement projects including intakes and water reservoirs, playgrounds, the construction of two health centres for the treatment of drug addicts, the purchase of tractors for farmers and other projects, Murshed said.
Authorities are using the funds to encourage "alternative livelihoods" that provide income and enable locals to give up growing poppy, he added.
The provincial government also plans to move drug users from the streets to health facilities to provide treatment, he said.
Still, more work is needed, officials say.
Dr. Abdul Qudos Miakhel, director of an 80-bed hospital for drug addicts in Kunduz city, told Salaam Times that his hospital lacks capacity to treat the province's estimated 30,000 drug users and that the Ministry of Public Health should take steps to increase the number of beds at the hospital.
His hospital is the only facility in the province presently treating addicts. Insecurity forced the closure of two similar clinics, one each in Qala-e-Zal and Dasht-i-Archi districts.
A scarcity of beds means male, female and child addicts are left to languish at home, according to Miakhel.
"Qala-e-Zal District alone has 10,000 drug users, most of whom are women and children," he said.
"Residents of Qala-e-Zal are carpet weavers, and members of their families are addicted to drugs," he said. "Women give opium to their children when they work so that their children can go to sleep."
Taliban forcing farmers to grow poppy
Meanwhile, the Taliban recently forced farmers in Dasht-i-Archi District and the Boz Kandahari, Quchi, Kobhi and Hazrat Sultan areas of Kunduz city to grow poppy. Troops destroyed their fields during the harvest, according to Murshed.
"The Taliban asked me to grow poppy on my land despite my telling them that I didn't want to cultivate an illicit crop -- but they forced me to do so," Sayed ul-Rahm Ghanizada, 48, a farmer in Naeem Jan village of Dasht-i-Archi District, told Salaam Times.
"When the poppy became ripe, the government launched an operation and destroyed our fields," he said.
"The Taliban must not impose the cultivation of illicit crops on us -- we want to grow legal crops," said Ghanizada.
Others were more fortunate and were able to resist the Taliban's coercion.
"I didn't bow to the Taliban's pressure and did not cultivate poppy on my land as I knew it was an illicit crop and that it benefits the Taliban and mafia groups," said Sediqullah Taheri, 53, a farmer from Boz Kandahari village in Kunduz city.
"When I denied the Taliban's proposal, I faced oppression from the Taliban and had to leave the area for a few days... I knew that they purchase weapons and ammunition with money they earn from poppy and then fight against Afghans and the government," he told Salaam Times.