KUNDUZ -- For many women in Qala-e-Zal District, Kunduz Province, the long days they put in weaving carpets for a living are the price they pay to help support their families.
Unfortunately, a large number of them -- and their children -- are paying another price: opium addiction.
More than half of the opium drug addicts in Kunduz live in Qala-e-Zal and about 30% of them are women, according to authorities in the province. At the same time, more children are becoming addicted.
Many women in Qala-e-Zal are employed as carpet weavers, and a growing number are using opium to relieve their pain and fatigue that comes with the work, authorities say. Some give opium to their children to keep them calm while the mothers work.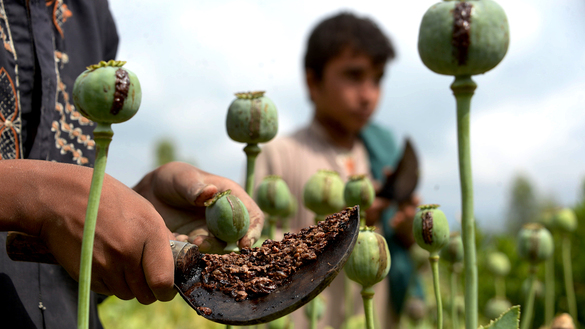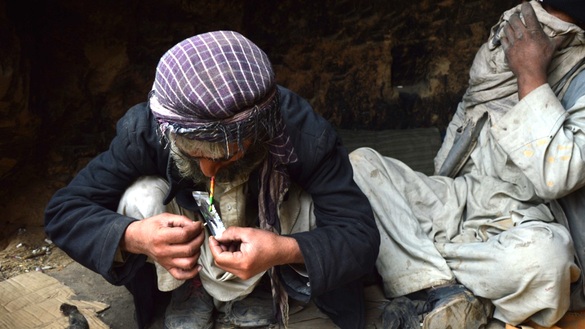 "Our information shows that, from among 30,000 addicts [in the district], 25-30% are women and they are using opium," said Nasiba Holkar, director of the Department of Women's Affairs of Kunduz Province.
"When women are busy [working], they give opium nectar to their babies so they can sleep and so the mothers can weave carpets," said Abdul Qudos Miakhel, director of an 80-bed regional hospital for drug addicts in Kunduz city.
"In current medicine, the use of any kind of drug and tranquiliser is considered damaging to human health," he added. "We do not have any special treatment centre for treating women, but we are trying to treat all women and men."
A family addiction
"The addicted families who live in Qala-e-Zal District have inherited the phenomenon from their grandparents, and they give opium to their children," said Abdul Basir Murshed, director of the Department of Counter Narcotics in Kunduz.
"We have launched a campaign about drugs in Kunduz Province to be able to inform the public about the misery" drugs such as opium can cause, he said, referring to families who grow poppy crops nearby for their own usage.
Use of opium in the district -- even by entire families -- is considered normal by many local residents and it will take time and effort to eradicate the practice, inhabitants of the area say.
"In my family, my wife, my four children and I use opium," said Sufi Abdul Malek, a 55-year-old resident of the Sakhsa Kol area of Qala-e-Zal District.
"When we use opium nectar, no pain remains in our body and we feel relaxed while working."
The addiction is costly in many ways, residents say.
"If I don't take opium I feel pain in my body; I cannot work," Shafiqa, a 50-year-old resident of the Aq Tepa area of Qala-e-Zal District, told a reporter from Arzo Television. "I wish a treatment existed to get rid of the misery of opium."
Shafiqa said her son is addicted too and that her family has sold all of its belongings, including its agricultural land and a number of cows and sheep, to buy the drug.
"My daughter-in-law and grandchildren are addicted, and they cannot sleep calmly without using opium," she said.
Another woman from the district who requested anonymity blamed illiteracy, joblessness and poverty for her addiction.
"In our family, eight people use opium. If we don't use it, we all feel dizzy and lost and fall down," the 40-year-old mother said.
"Together with my young daughter, I have woven carpets for the last 10 years," she added. "When small children are crying during the carpet-weaving work, we have no way to make them sleep other than give them opium."
"We want the government to help us so that we can get rid of this addiction," she said.
Taliban force cultivation of poppy crops
The cultivation of poppy in Afghanistan is illegal because it is used in the production of drugs such as opium and heroin.
The Taliban and other terrorists use the profits earned from the cultivation of the crops -- and eventually from the trafficking of illicit narcotics -- to fund their violent activities.
Eyeing such funds, Taliban militants are forcing many farmers in Kunduz Province to cultivate poppy crops even as the Counter Narcotics Department works to crack down on the practice.
"I cultivated poppy crops on my 2-jerib (2-hectare) farm because the Taliban told me to do so," said a farmer in the Damshaakh area of Chahar Dara District who requested his name not be used.
"If I refuse to do this, it could cost me my life," he said. "I am not happy with this phenomenon, but I am forced to obey their demand."