KUNDUZ -- Fearful of losing a major source of revenue, Taliban militants are increasingly using diversionary tactics to try to undermine efforts by the Afghan forces to destroy poppy fields in Baghlan Province.
The province, which connects eight northern and northeastern provinces to Kabul, has become a crucial thoroughfare for drug traffickers.
"The Taliban have intensified their attacks on the outskirts of Pul-i-Khumri to keep security forces preoccupied as the period to eradicate opium poppy fields begins," said Gen. Ekramuddin Sari, Baghlan provincial police chief.
"This is when the Taliban collect harvested crops from the local farmers," he said.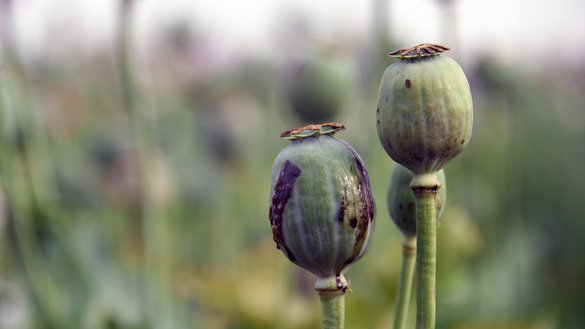 "The Taliban, along with other terrorist networks, keep our troops busy with fighting in the Dand-e-Shahabuddin and Dand-e-Ghori areas, including highways, just about when it is the best time of year to destroy poppy fields," he told Salaam Times.
Cracking down on drugs
Afghan forces plan to take serious action against poppy cultivation in the province beginning next year, said Sari.
"By expanding our movements, we will execute our plans to destroy all poppy fields in the districts," he said, adding that discussions between government officials and tribal elders and religious scholars were able to reduce poppy cultivation by 50% in Andarab District.
This year, officials stopped dozens of contraband and narcotic shipments from various districts of Baghlan to the provincial capital, Pul-i-Khumri, as well as to neighbouring provinces, and arrested those involved, according to security officials.
Almost 62 operations in Baghlan have been carried out against drug traffickers since January 2018, Shah Mahmood Poya, the head of the counter-narcotics directorate of the Baghlan provincial police, told Salaam Times November 5.
"We were able to discover more than 15,000kg of various kinds of illicit drugs during these operations," he said.
"Some of these substances included heroin, opium, morphine, hashish, alcoholic beverages, K pills [oxycodone] and crystal meth, among others," he noted.
"In total, we have arrested 90 individuals on drug trafficking charges, while confiscating 33 vehicles and 80 mobile phones during this period," Poya said.
In the most recent case on November 13, the provincial police discovered 800 grams of crystal meth in transport from Kabul to Baghlan. The suspect involved was arrested.
Taliban pressure farmers to plant poppy
Many farmers in Baghlan say the Taliban militants have been pressing them to cultivate opium on their lands as the crop greatly profits the group.
Poppy plants become ready for harvest between April and July, after which they become ripe enough for sap collection, said Sayed Qadam, a 52-year-old farmer in Julga District, Baghlan Province.
"The Taliban and mafia groups contact local farmers to prepare, purchase and smuggle the product," Qadam said. "I know that poppy cultivation is haram, but we have to cultivate it because of Taliban pressure."
Statistics provided by the Afghan government show a total of 840 hectares of land in Baghlan planted under poppies between 2015-2017, according to Fazlulhaq Andarabi, the provincial chief of the Counter-Narcotics Directorate in Baghlan.
This year, however, the figure increased to 1,040 hectares in five districts, he told Salaam Times. "Many types of illicit drugs are produced from opium, and it is a hot commodity for smugglers."
"Drug cultivation takes place in five districts in Baghlan, namely Pul-e-Hesar, Deh Salah, Burka, Julga and Banu," he said, adding, "The most important factor for the increase in cultivation is insecurity."
Countering harmful effects
Andarabi called on all media outlets, religious scholars, mullahs, tribal elders, and other segments of society to co-operate with the government in order to increase the level of public awareness of the harmful effects of illicit drugs and of the dangers of drug cultivation.
The increase in poppy cultivation in Baghlan has had a corresponding impact on drug addiction in the province, where hundreds of drug addicts live, especially in the city of Pul-i-Khumri.
Statistics provided by the provincial government suggest the presence of more than 6,000 addicts hooked on various illicit drugs, said Dr. Rahm Khuda Noori, director of a 30-bed drug treatment hospital in Baghlan.
"Since March 21, we have been able to treat almost 240 addicts," he told Salaam Times November 6.
"Most of them are addicted to drugs like opium, heroin powder, hashish and crystal meth, among others," he added.