KABUL -- The cultivation of poppy, which can be used to produce illegal drugs such as heroin, declined significantly across Afghanistan in 2019 compared with a year earlier, according to the United Nations (UN).
Afghan farmers planted opium poppy on 163,000 hectares of land last year, a 37% decrease from 2018, according to the World Drug Report released by the UN Office on Drugs and Crime (UNODC) on June 25.
All the main opium poppy-growing provinces saw significant declines in the amount of land growing the crop in 2019.
In Nangarhar, poppy cultivation fell 82%, while the following provinces saw declines too: Nimroz by 78%, Kandahar by 40%, Uruzgan by 38%, Farah by 35% and Helmand by 34%.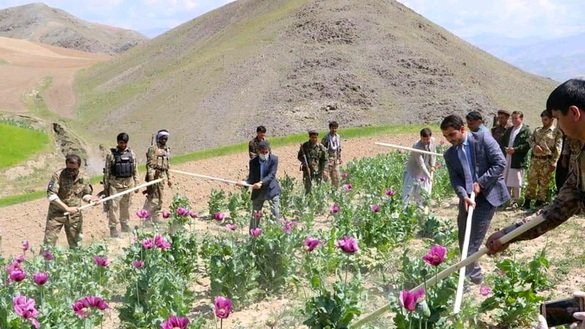 Meanwhile, in 2018 and 2019, both opium and heroin prices declined in the main opium production areas in Afghanistan, with opium farm-gate prices falling by an average of 37% in 2018 and by 24% in 2019, the report said. High-quality heroin prices decreased by an average of 11% in 2018 and by 27% in 2019.
"The world's single largest heroin trafficking route continues to be the so-called 'Balkan route', along which opiates from Afghanistan are shipped to Iran (Islamic Republic of), Turkey, the Balkan countries and to various destinations in Western and Central Europe," noted the report.
Drop seen in Badakhshan
Poppy cultivation in the solar year ending March 20 dropped by 30% compared to the previous solar year, said authorities in Badakhshan Province.
The decline resulted from the Afghan government's crackdown on the crop and from a decrease in drug prices on the global market, said Akhtar Muhammad Khairzada, the deputy governor of Badakhshan.
"The government has decided to destroy poppy, and we destroyed 50 jeribs [10 hectares] of poppy fields in Argo District on June 4," said Khairzada.
More than 4,000 hectares of land, mostly in areas under the Taliban's control in Argo, Tishkan, Jurm, Shahr-i Buzarg and Warduj districts, has been cultivated with poppy in the province during this solar year, according to Khairzada.
The campaign to eradicate poppy fields in Argo District began June 4. During the first five days, security forces wiped out more than 150 jeribs of poppy fields, said Khairzada.
"Our campaign will continue until we destroy all the poppy fields in all districts, and we won't allow the terrorist group to benefit from the [illicit] crop," said Gen. Muhammad Haroon Nejrabi, the deputy police chief of Badakhshan.
"We will annihilate this evil crop that has tainted the name of Afghanistan on the global level and arrest drug traffickers," he said.
The destruction of poppy fields will continue in Tishkan, Warduj, Shahr-e Buzarg, Raghistan, Yaftal-i-Payaan and the remaining districts where poppy has been cultivated until all the poppy fields in Badakhshan Province are eliminated, said Nejrabi.
Forcing farmers to grow poppy
The Taliban and drug traffickers are forcing farmers to grow poppy and taking advantage of the security situation they have created, said Muhammad Qayed Afandi, director of the Badakhshan Department of Counter Narcotics.
"The Taliban are trying to increase unrest for their own benefit as the drug traffickers and the Taliban receive revenue from cultivating and trafficking drugs," said Afandi.
The drug mafia has been capitalising on the difficult terrain of Badakhshan, which has a long border with Pakistan, China and Tajikistan, to traffic drugs to other countries, he said.
Because of drug trafficking, more than 20,000 young Afghans have become addicted to various types of drugs including hashish, opium and heroin in Badakhshan Province, Afandi said.
"This is a serious concern," he said.
Farmers in Badakhshan confirm that drug traffickers and the Taliban force them to grow poppy on their lands.
"Although farmers in Darayim District are not interested in growing poppy, they have to cultivate it because of pressure [from the Taliban]," said Sayed Elyas, a 48-year-old farmer in Darayim.
"During 2018 and 2019 [solar year 1398] alone, nearly 87 drug traffickers were arrested with thousands of kilos of drugs in various parts of Badakhshan Province," said Gen. Sanaullah Rohani, a spokesman for the Badakhshan police.
"We are trying to rescue people, especially the youth of Badakhshan, from this deadly phenomenon," he said.