HERAT -- The Taliban continue to force farmers in areas of Herat Province under the group's control to grow poppies as part of its scheme to use the illegal narcotics trade to fund its ongoing militancy.
"Farmers living in areas under the Taliban's control are not interested in growing narcotics, but the Taliban force them to grow poppies," said Bashir Ahmad Ahmadi, the deputy director of Herat's Department of Agriculture. "This problem exists in certain insecure villages and districts [of Herat Province]."
Narcotics are not cultivated in areas under the government's control, and even the limited number of poppy fields in those areas has been destroyed by the security forces, he said.
Herat Police Chief Gen. Aminullah Amarkhil said the Taliban cultivate poppies in remote areas to empower themselves economically and purchase weapons and ammunition.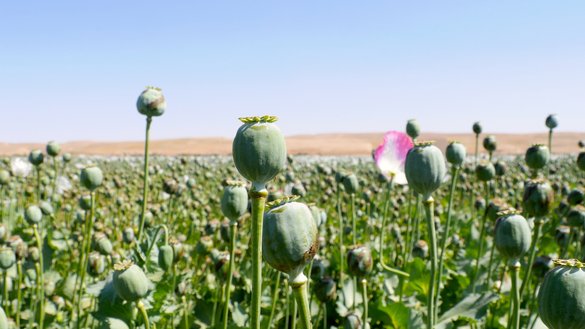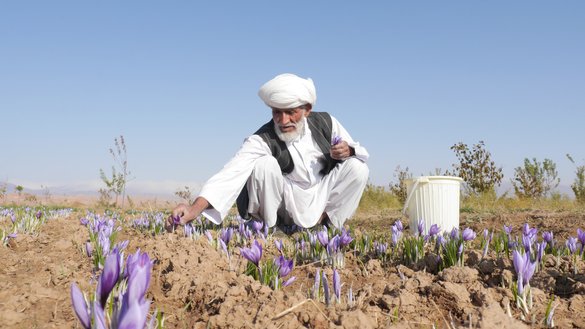 "Poppy cultivation satisfies one portion of the Taliban's economy, and this is the reason the Taliban force farmers to grow poppy," he said.
Ali Ahmad, a farmer in Shahr-e-Khalil village of Keshk Rabat Sangi District, said he has been cultivating poppies under Taliban pressure for the past four years.
"I used to grow wheat five years ago and I had a peaceful life," said Ahmad, who introduced himself using a pseudonym out of fear of the Taliban.
"If the Taliban learned that I spoke with the media they would cut off my head," he said.
"The Taliban told us that if we grow poppy on our lands, they will give us money that can satisfy our needs," Ahmad said, adding that the Taliban also illegally collect ushr from the poppy yields every year.
"Some of the farmers said that the cultivation of poppy is haram and Islam doesn't allow it," he said. "But the Taliban said that the religious scholars give us permission to grow poppy, and that it doesn't have any religious problems. Therefore, we had to cultivate poppy."
"The Taliban themselves have also cultivated poppy in our village," he added.
No justification in Islam
The cultivation, transport, trafficking, sale and use of narcotic drugs is strictly forbidden in Islam, religious scholars say.
Encouraging farmers to grow poppies is forbidden and the Taliban have no justification for it, said Maulawi Ali Muhammad Rahmani, a religious scholar from Badghis Province.
"Verses of Koran-al-Kareem and sayings of the great prophet of Islam clearly prohibit the cultivation, transport and use of narcotics, and Muslims are not allowed to come close to this forbidden and destructive crop," he said. "Anyone who releases a fatwa saying that cultivating narcotics is halal proves their ignorance of Islam."
Those who force farmers to grow narcotics are worthy of being cursed, and they share the sin of all of those who traffic and use narcotics, Rahmani said.
"Narcotics are the enemy of humanity that kill thousands of humans every year," he said. "If narcotics are not cultivated, there is no doubt that the number of addicts will drop."
"The religion of Islam strongly opposes the cultivation of narcotics and the destruction of human lives," Rahmani said.
Narcotics are also considered one of the key income sources of the Taliban, proving the group's disregard for human lives and the teachings of Islam.
The Taliban deliberately make certain areas insecure so that the poppy fields are kept hidden from security forces, local authorities in Herat Province say.
The Taliban partner with drug traffickers in growing, processing, exporting and transporting narcotics, said Herat Governor Abdul Qayum Rahimi.
"People have to obey the Taliban in areas under their control, and they have to grow poppy because of their fear of [the Taliban]," he said.
The Taliban "have proved that they don't like Afghanistan as they have destroyed it to achieve the interests of foreign adversaries."
Alternatives to poppies
In areas where the Taliban are not present, farmers grow saffron, earning great profits from the legal crop, Rahimi said.
Prices of Afghan saffron have doubled since President Ashraf Ghani banned the imports of the spice from Iran in October 2018.
The move was aimed at preserving Afghan saffron's international brand, retaining quality, boosting prices and expanding production of the spice.
"Currently, 1kg of saffron is sold for 60,000-90,000 AFN ($750-$1,130) based on its quality," Abdul Saboor Rahmani, director of the Herat Department of Agriculture, said in June this year.
The saffron business also provides opportunities for women entrepreneurs to thrive.
Since the Women Chamber of Commerce and Industry was established in Herat in July 2018, membership has grown to over 1,500 women in Herat city and in the districts of the province.
"These women are engaged in businesses like growing saffron, producing [other] agricultural crops, processing and selling dried fruit, beekeeping, handicrafts, candy making and carpet weaving," said Mariam Jami al-Ahmadi, director of the chamber.
"In the Taliban era, women were not able even to leave the house, let alone get involved in business," she said.
Aloe vera is also proving to be another lucrative crop for farmers in several Afghan provinces.
The crop was first grown in Afghanistan three years ago in Herat Province. Because of its success there, the Ministry of Agriculture, Irrigation and Livestock expanded the crop to other neighbouring provinces and has plans to replace illicit crops with aloe across Afghanistan.
"We have cultivated aloe vera in Badghis and Farah provinces where we have development projects, and we have seen that poppy cultivation has fallen to zero in those areas," said Minister of Agriculture Nasir Ahmad Durrani.
Farmers are no longer interested in growing poppies and in giving away the profits of their harvest to others, he said.
"In the past, we grew opium poppies, but... our incomes worsened," said Muhammad Rahim, a farmer in Injil District of Herat. "Then we switched to aloe vera. Its harvest is good and brings us a decent income."
"We no longer want to depend on the anti-government elements and drug traffickers who used to purchase our opium," he said.