HERAT -- Female entrepreneurs in Afghanistan, who have blossomed in the past two decades, say they refuse to return to the days of the Taliban's oppressive rule (1996-2001).
The growth of the Women Chamber of Commerce and Industry, established last July 4 in Herat, highlights one of the key efforts by the Afghan government to create business and growth opportunities for female entrepreneurs.
"When the Women Chamber of Commerce and Industry was established in Herat a year ago, there were only 35 businesswomen [who had chamber membership], but since then we have been able to identify and register 1,500 businesswomen in Herat city and in the districts of Herat Province," Mariam Jami al-Ahmadi, director of the institution, told Salaam Times.
"These women are engaged in businesses like growing saffron, producing [other] agricultural crops, processing and selling dried fruit, beekeeping, handicrafts, candy making and carpet weaving," she said. "We're trying to solve female entrepreneurs' issues with support from the government."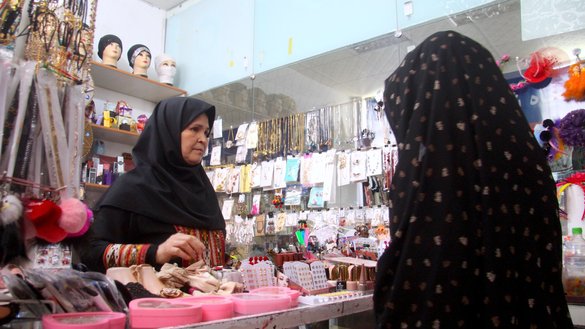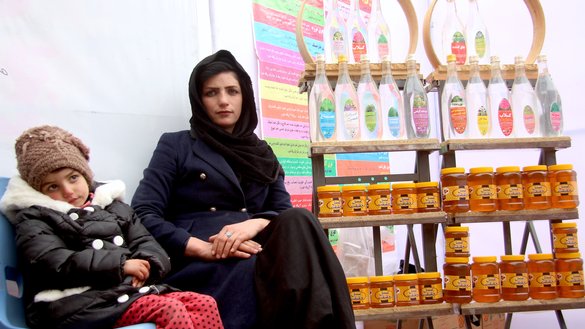 "Some of the female entrepreneurs have become role models who have proved that they are able to do business as men do," al-Ahmadi said. "The number of female entrepreneurs has grown steadily, and women's interest in business is at all-time high."
"In the Taliban era, women were not able even to leave the house, let alone get involved in business," she added. "Today, things are much different from that era. The international community's support and the government's attention have changed women's lives."
Protecting women's achievements
With peace efforts under way, many female entrepreneurs in Herat say they want the government to ensure that achievements gained since the ouster of the Taliban are protected.
"We women have had great achievements in various business areas in the past" two decades, Nasim Gul Azizi, an entrepreneur in Herat, told Salaam Times. "We want a stable and sustainable peace, not the peace that destroys what we have achieved in the past few years. After the peace is realised, women want to have the right to work outside their homes and get an education."
"We never want to go back to when the Taliban placed severe restrictions on women," she added. "Female entrepreneurship has improved compared to a few years back."
Suraya Daqeeq, director of a saffron company in Herat Province, said she prefers to have the Taliban excluded from both government and business.
"Women's lives -- especially the entrepreneurs' -- have improved in the Taliban's absence," she told Salaam Times. "If the Taliban return, women won't accept them, and I think it is much better for us if the Taliban don't come back. We want peace, but no restrictions should be placed on women's businesses and education."
"There have been opportunities for women to grow in recent years, and now women themselves can work in agriculture and run their businesses," Daqeeq added.
"We don't accept the Taliban's return at all, and we hope that peace comes to our country so that our businesses can grow in a peaceful environment," she said.
A lasting peace will only foster more success among businesswomen, and the country has no need to return to the "dark era" of the Taliban, said Safia Halimi, owner of a women's handicraft business in Herat.
"If the government provides us an enabling environment for growth, we will be able to expand our businesses," she told Salaam Times. "We hope that the peace process succeeds so that we can travel to other provinces and do business throughout Afghanistan."
"We hope that we never experience the dark era of the Taliban again," she added. "I, like many other women, have bitter memories of the Taliban's time."
Provision of government services
The Afghan government in recent years has sought to provide grants to small and medium-size woman-run businesses to create jobs and opportunities for growth.
"The government has taken fundamental steps to help women's businesses to grow," Herat Governor Abdul Qayum Rahimi told Salaam Times. "First, we established the Women Chamber of Commerce so that women can co-ordinate their businesses. The government has prioritised women's products in Herat Province."
"I requested that the international community invest in Herat so that woman-run businesses can grow and expand," he added. "We have put efforts into providing packaging, quality control and marketing services [to women] that can enable us to create an opportunity for the export" of products made by Afghan women.
"Many things have changed for women since 2001 including various improvements in their lives, and this proves how competent and skillful women have become," Wahida Azizi, director of the Herat Gender Affairs Department, told Salaam Times.
"Women have been able to secure their position in society," Azizi said. "Although women haven't achieved much, with inequality between men and women still in place -- which needs many years to fix -- they have been able to prove their capabilities thanks to their strong passion."