KABUL -- The Afghan government is planning to roll out several new initiatives to support Afghan businesswomen and improve their access to the marketplace.
At the start of the new year, the government plans to launch a study that will inform the development of industrial parks in 10 provinces, according to Ministry of Industry and Commerce spokesman Fawad Ahmadi.
The ministry plans to facilitate the distribution of sales space to female wholesalers at industrial parks, thereby ensuring they have access to the marketplace, he said.
Better access to the marketplace will help women improve their business and production activities, he said, and will provide them with motivation and support that will in turn attract investment in industrial parks.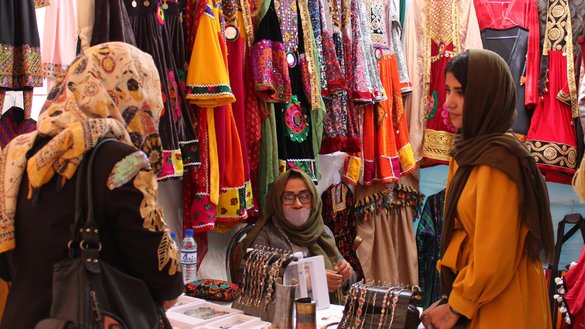 Other plans include "developing a systematic and collaborative approach for promoting the economic activities of women entrepreneurs, creating jobs and businesses and identifying their problems and relevant solutions", he said.
Women's interest in business
Over the last three years in particular, Afghan women have expressed increasing interest in opening small and medium-sized enterprises (SMEs).
"Based on data gathered from May to November 2020, the official number of businesswomen has reached 2,471," said Manizha Wafiq, executive director of the Afghanistan Women Chamber of Commerce and Industry (AWCCI).
"Despite security issues, political instability and the coronavirus outbreak, which have created problems, most of these businesswomen have begun operating during the past one to three years," she said.
"Businesswomen can operate in any sector: information technology, media, private schools and kindergartens, exports, restaurants, travel agencies and other businesses that were previously limited to only men," she said.
The chamber tries to create opportunities for women and advocates for the reforming business and financial laws "so that they can benefit women", as well as providing them with space in industrial parks, Wafiq said.
This advocacy has borne fruit, she said, noting that during 2019 and 2020, women received five major contracts, of which two will be finalised this year.
Supporting female entrepreneurs
Akaam Zaeefi Group chairwoman Hasina Zaeefi said she commends the government actions aimed at supporting female entrepreneurs and has been happy with her own business and operations.
Akaam Zaeefi Group comprises companies that deal in fresh and dried fruit exports, consulting and logistics, which operate in Kabul and Herat.
"We have entered the market with a different idea and creativity, and we have achieved many things we expected to deliver," Zaeefi said.
The contributions of the government and the chamber of commerce have been "100% positive", she said, adding that it is not the sole responsibility of the government to resolve problems and affect positive change.
"Businesspeople also should make efforts," she said.
Zaeefi said she appreciates the government's establishment of an air corridor for the export of Afghan products and considers it a positive step towards the growth of the export market.
Fatana Bayat, who founded a company that processes and exports dried fruit and handicrafts, said she began her business with a small investment in 2018 and now exports to various countries.
"We began our business with 35,000 AFN ($453)," she said, adding that her firm now exports to Uzbekistan, Tajikistan, the United States and Finland.
Earlier this year, Hadia Ahmadi established Bazaarcha-e-Hawa, a small market for women, in Kabul city, with the aim of creating jobs for women in families without a breadwinner.
The market has shops that sell clothes and handicrafts, along with a coffee shop and a beauty salon, said Ahmadi, who previously owned a clothes production facility under her own brand name, Hawa.
Mitigating COVID-19 losses
The novel coronavirus (COVID-19) pandemic has set back the efforts and progress of female entrepreneurs in Afghanistan, just as it has devastated economies around the world.
Three of Zaeefi's companies encountered issues due to the pandemic in 2020, though operations have returned to normal in the past few months, said Zaeefi.
"Every other country has a special strategy to respond to crisis, especially with regards to supporting the private sector and [SMEs], but we don't have such a policy in Afghanistan," she said.
After conducting an assessment of the situation, the AWCCI presented a number of proposals for supporting the private sector, and there is hope that the government will step in to help, she said.
"The Ministry of Industry and Commerce plans to identify female entrepreneurs in provincial capitals and districts and provide them support from partner organisations," Ahmadi said.
"A number of international organisations, including USAID [US Agency for Aid and International Development], have pledged to support Afghan women who produce handicrafts" who were impacted by the coronavirus crisis, he said, with the goal of mitigating their losses.