HERAT -- Dozens of businesswomen in Herat province held an exhibition to showcase their handicraft products with the aim of spurring interest and increasing sales.
The exhibition took place in Guzara district, Herat province, last Wednesday to Sunday (October 26–30) and was open to both women and men.
There were 150 booths, including 30 displaying handicraft products. The others showcased foods, women's artwork and other goods.
Fahima Ahmadi, 31, who owns a company that produces herbal creams, displayed her products at a booth at the exhibition.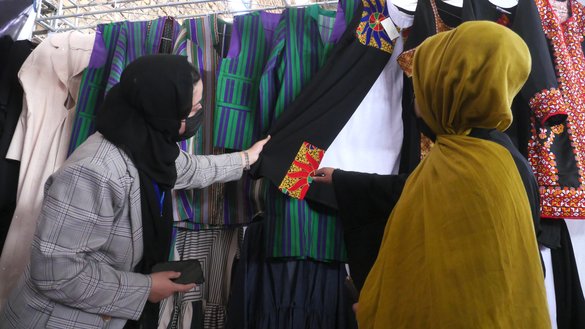 Her company has slightly increased production from previous months and she hopes the exhibition will help promote her products, she said.
"My goal is to expand my business," she said. "I want to open branches throughout Afghanistan to sell my herbal creams."
"My wish is to be able to export my products someday," she added.
Ahmadi said she is the sole breadwinner of her five-member family and can meet her family's expenses through her business income.
Zahra Yousufi, 38, who owns a women's clothing workshop, also exhibited her handmade products at the exhibition.
Because of instability and the economic downturn over the past year, she was forced to temporarily close her shop in Herat city but was able to reopen recently.
"I have been running this business for 15 years through my workshop," Yousufi said. "This work is very valuable to me, and I want my business to expand and thrive in the years to come.
"Her sales volume is not as high as it used to be in the past, but she is very hopeful about the continuation of her business in the future, she said.
Increasing challenges, limitations
Restrictions on women's activities have grown harsher and the business environment for women in Herat has deteriorated over the past year, local entrepreneurs say.
Khalida Qayoumi, an entrepreneur who sells clothes in Khadijah al-Kubra market in Herat city, said that families, women and men used to come to her shop and buy clothes in the past.
However, now that men are prohibited from entering the market, fewer customers come to the market, which has adversely impacted her sales.
"Our market is next to the Goharshad Begum girls' school. Dozens of girls used to come to the shop every day, but this year, because of the closure of the schools, we have lost all of our customers," she added.
Qayoumi said she continues to keep up her activities despite gender restrictions so that she can support her family.
The sale of artwork has plummeted over the past year, said Alnaz Froutan, 19, who represented female painters at the women's handicrafts exhibition.
"Sales of paintings have decreased," she said. "[Customers] were more interested in painting and ordered portraits of themselves and their family members. But now, painting portraits is completely prohibited."
"Despite gender restrictions, we continue our artistic activities," Froutan said. "We want to show the world that Afghan girls are still active and can continue to produce artwork."
The sale of women's handicrafts has decreased in the past year because of the economic crisis, said Behnaz Saljuqi, deputy chairperson of the Herat Women's Chamber of Commerce and Industry.
"The demand for handicrafts has substantially decreased. [Afghans] are struggling with economic hardship and therefore cannot afford to buy," she said.
Many businesswomen have been forced to sell their products for very low prices because of the drastic drop in sales volume, she added.
'A lifeline of hope'
The United Nations (UN) is trying to help lighten a grim picture.
Recent support provided by UN organisations has helped many businesswomen to resume operations in Herat province, according to the chamber.
The activities of businesswomen have improved by about 90% from a year ago, thanks to the support and co-operation provided by international organisations, said Nargis Hashemi, the chamber's chairperson.
"Several institutions provide support to businesswomen in various sectors in Herat province," she said. "The UN Development Programme [UNDP] has launched capacity-building training for two months. Each of the participating women received up to $500 in cash assistance after completing the course."
"The International Organisation for Migration [IOM] has provided cash assistance to women who were forced to close their businesses because of economic problems," she added. "The assistance has enabled them to restart their business operations."
Two hundred fifty women and girls launched businesses following the news they heard about potential support from international organisations, Hashemi said.
Nazanin Rezaei, 33, owner of a sewing shop in Herat city, credited cash and fabric donations from the UNDP with improving her shop's production capacity.
"If I had not received the much-needed support from the UNDP, I would have had no other choice but to close my shop because I had no capital to continue my business," she said. "Now, I have employed five girls to work with me and have a monthly salary."
"Many women have expanded their businesses after receiving assistance from international organisations," Rezaei said.
"The assistance has become a lifeline for the encouragement of many businesswomen," she said. "The assistance has also helped entrepreneurs to overcome the economic challenges of the ongoing crisis and gender restrictions that impacted women's access to work."
Afghan women need continued support from the international community so that they can continue to build their business activities amid current gender restrictions and economic problems, said Rezaei.