KUNDUZ -- Despite challenges and restrictions on women's activities outside their homes, dozens of woman-owned businesses last week held a handicraft exhibition at Kunduz Mediothek Social Centre.
The exhibition, organised by the Agency for Technical Co-operation and Development (ACTED) and funded by the US Agency for International Development (USAID), displayed handicrafts to interested women and girls on December 7.
"ACTED has trained 26 women in tailoring, embroidery, crocheting and other sectors for six months," said Sheela Anwari, 26, organiser of the exhibition. "In co-operation with other businesswomen in Kunduz, these women displayed their products and handicrafts in the exhibition."
A variety of handicrafts, including women's clothing and designs, embroidery, pashmina weaving, purses, scarves, sweaters and socks, was put on display, she said.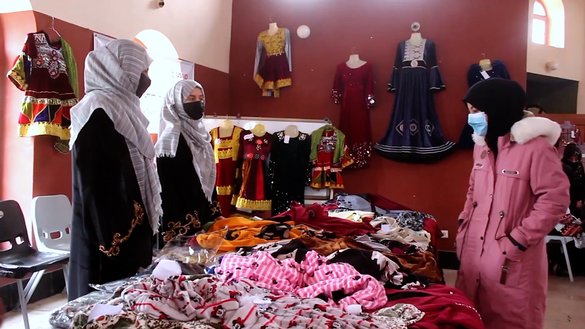 The goal of the exhibition was to increase exposure to women's handicrafts so that more Afghans develop an interest in buying domestic products, Anwari said.
"The exhibition was held to promote women's small and medium-sized enterprises, and through such exhibitions, we want to safeguard women's previous achievements," she said.
"We focus on the revival of woman-owned jobs, which they had to leave because of economic restrictions and lack of market," she added.
"To achieve this goal, we need the support of relevant organisations and the international community. Therefore, we call on them to support women who create jobs for others."
Women's economic development
In addition to handicrafts, Kunduz businesswomen displayed their determination to promote women's handicrafts, to support their rights and to stimulate the economy.
"This is the first exhibition held in Kunduz after August 2021," said Elaha Barekzai, who produces women's clothes. "Such exhibitions encourage consumers to buy Afghan products."
"I have been in the handicraft production business for two years," she said. "Compared to previous months, business is relatively better and our sales have improved."
Barekzai pledged to increase output if given more support.
"We want more such opportunities provided to us so that we can increase our production and display them in exhibitions," she said.
Masooma Ahmadi, 34, who was displaying her handmade clothes at the exhibition, said she faces many challenges due to the stagnating economy.
"I produce a variety of clothes, and I have come here to sell them," she said. "I hope that my business will flourish again and that I can save my family from poverty."
Ahmadi said her family of five depends on the income she earns selling handicrafts.
"But unfortunately, the market for women's handicrafts is bad because of poverty and unemployment," she said.
Optimism for the future
Such events play a critical role in enhancing awareness about domestic products and encouraging consumers to buy them, said several Kunduz residents who visited the exhibition.
"I call on all Afghans to buy domestic products and avoid imported goods to improve the economy and everyone's economic situation," said Abdul Ghafoor Hashemi, 38, one of the visitors to the exhibition.
"Most men are at home and jobless," he said. "In the current situation, women are needed to play their role in working and saving their families from poverty and economic hardships."
"Women must be supported more than before," Hashemi said.
Women and girls must have economic freedom and the right to work, said Nasrat Mohammadi, 24, another visitor.
"I am very happy to see women's handwoven products," she said. "Women can help the development of handicrafts and domestic products if allowed to go outside their homes and work."
Many women have come today to see handicrafts and buy them," she added. "It is a very good day. I am really happy to see that my fellow women can work under such difficult circumstances."