MAZAR-E-SHARIF -- Despite daunting challenges and restrictions on women's activities outside their homes, dozens of female entrepreneurs from Balkh province last week organised an exhibition of handicrafts in Mazar-e-Sharif city.
The exhibition, held on August 2, sought to encourage Afghans to buy domestically made products and to showcase Afghan women's achievements over the past 20 years.
The exhibition was organised by the Balkh Chamber of Commerce and Investment with financial support from the International Labour Organisation of the United Nations (UN).
About 70 small and large companies attended the exhibition to introduce and market their locally made products and showcase women's skills and capabilities and the growth of the private sector.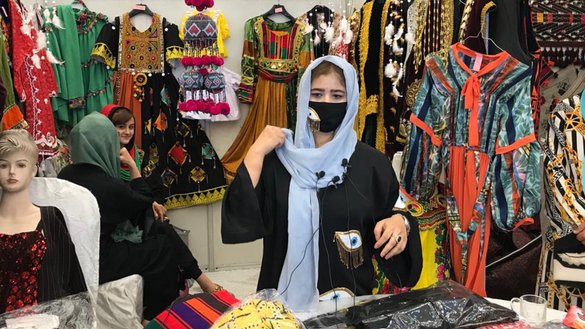 The organisers allocated 40 of the exhibition's 70-some stalls to women.
"The purpose of the exhibition was to promote small and large businesses owned by Afghan women and create employment opportunities for women who have lost their jobs," said Shakiba Shakib, chairperson of the Women's Chamber of Trade and Investment in Mazar-e-Sharif.
"We are focusing on ... the revival of businesses owned by businesswomen who were forced to abandon their businesses due to economic constraints and lack of market," she said.
"To achieve this, we need support from relevant institutions and the international community," she said. "Hence, we call on them to support woman entrepreneurs."
"We understand the challenges are daunting and have impacted everybody in society because there are neither markets nor employment opportunities, and poverty and unemployment have affected all classes, especially women," Shakib said.
"Therefore, we work towards creating employment opportunities so that Afghans can earn halal income."
Businesswomen have been supporting others in various fields, including designing and making clothes and other handicrafts, to ensure their products meet international standards and are compatible for sale in foreign markets, she said.
"By conducting such exhibitions, we intend to safeguard women's achievements," she added.
Afghan women have made historic and unprecedented achievements over the past two decades in various fields, including entrepreneurship, investment and handicrafts, said Asadullah Asadi, chairperson of the Balkh Chamber of Commerce and Investment.
"The exhibition was organised to encourage small businesses," he said. "There were 70 booths with representatives from the manufacturing companies who showcased their products."
Supporting domestic production is the only way to achieve economic growth, he added.
Women's economic growth
"Organising exhibitions will raise public awareness and encourage consumers to buy Afghan products," said Bibi Hawa Sofizada, an entrepreneur in Mazar-e-Sharif who makes clothing for women. "We promise that if we get additional support, we will increase our handicraft products."
"Women have an important role to play in society and in achieving economic growth," she said.
"We urge the international community to support ... empowering Afghan women."
"Unfortunately, the women's handicrafts market has diminished from growing poverty and unemployment and the ongoing deterioration in overall market stability," Sofizada said.
Afghans were better off economically and sales were better several months ago, she added.
Tamana Sahibi, who brought her handmade clothes to the exhibition, said she faces many economic challenges due to the lack of employment opportunities for women.
"I make various clothes and have come here to sell them. I hope my business will once again thrive and that I can save my family from poverty," she said.
"I am the only breadwinner of the household, and my family's survival depends on the sale of my handicrafts."
"Afghan women, with support from the international community, were almost becoming self sufficient," she said. "We hope those gains can be sustained and safeguarded."
Hope for the future
Many women who have returned to work after spending months at home in fear and distrust still face problems and limitations.
Women and girls should have the same rights as men to work and become economically independent, said Mariam Mazari, a women's rights activist in Mazar-e-Sharif.
"We have experienced and empowered women in different sectors, and they can bring about positive changes. But they are confined to staying home amid the prevailing restrictions," she said.
"No one can underestimate women's contribution to the Afghan labour force in society," she said. "They are obliged to go out and work to rescue their family from poverty."
Several residents of Mazar-e-Sharif who visited the exhibition said that organising such events is vital to raising public awareness about locally made products and encouraging customers to consider buying them.
"I am pleased to see domestic products showcased in the exhibition," said Mohammad Zahir Salimi, a visitor to the exhibition. "The happiness of women gives us hope for the future."
If women were allowed to go out and work, they would be able to contribute to the growth of handicrafts and domestic products, he said.
The majority of men are jobless and there is a need for women to play their part to work and save their families from poverty and economic hardships, he added.
"I urge all Afghans to buy local products and avoid imports to improve our collapsing economy," Salimi said.