HERAT -- Suicide rates have spiked among Afghan youth in recent months, especially among girls, amid a deepening economic crisis and uncertainty about the future, according to medics and local media.
Over the past two months, some 27 Afghans committed suicide in 10 provinces, with a majority of the victims being women, TOLOnews reported July 19.
As many as 1,000 residents have attempted suicide in Herat province over the past six months, the media outlet said, with almost 20 fatalities.
Almost 70% of those attempting suicide were women or girls.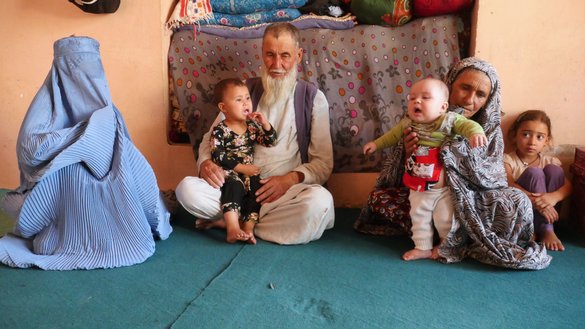 According to Dr. Mohammad Arif Jalali, chief medical officer at Herat Regional Hospital, 85% of those who committed suicide were male and female youth between the ages of 15 and 25.
"The most common methods of suicide among young Heratis are self-immolation, hanging or a drug overdose," he explained.
Herat Regional Hospital receives five to seven patients a day, on average, who have attempted to take their own lives, he said.
Most of them have consumed toxic or chemical substances and "are saved by our doctors", Jalali said, noting that generally such patients are either students or housewives.
Former government employees and workers who suffer from severe depression and anxiety are among those attempting suicide, he added, pointing to a prevailing sense of hopelessness amid the situation in the country.
Rising hunger and poverty
Zulaikha, a 23-year-old mother of two, allegedly hanged herself in Herat city on July 16. The family does not use a last name.
Her husband, a labourer, had not worked in several months, and the family faced acute hunger. Most nights the three children went to bed without food.
The young woman could no longer tolerate the poverty, unemployment and sense of helplessness and therefore ended her life, said her family.
"My son was imprisoned following my daughter-in-law's suicide," said Zulaikha's father-in-law, Abdul Rauf, 75.
Although the family says Zulaikha killed herself, police are investigating her husband in connection with her death.
"We do not have a breadwinner in the household," said Rauf. "Life is becoming so difficult, and we do not have anything to eat for survival."
"My son is a labourer and could not find a job for the past several months," he said. "They did not have anything to eat for dinner. My daughter-in-law suffered from psychological issues due to poverty."
Poverty has made his own life miserable as well, said Rauf.
"When my brother lost his job, the inevitable challenges of his household started to rise," said Zulaikha's sister-in-law Saleha, 32.
"My sister-in-law could not find a job, despite asking around at others' houses," Saleha said, describing the weeks leading up to Zulaikha's death. "Their problems worsened day by day."
"My brother is a labourer and lives in a rented house," she added. "He has to pay 3,000 AFN ($33) for the monthly rent. He could not earn enough to pay the rent and buy food for his family."
The landlord used to come looking for the rent, which placed great pressure on her brother and his wife, said Saleha.
Zulaikha was always weeping and sad because her children were starving, said her mother-in-law, Khadeeja, 56.
"My grandchildren were crying all night long from hunger," she said. "They could eat something only when their neighbours had donated."
After her daughter-in-law's death and her son's imprisonment, it has fallen to her to take care of the couple's children.
'Many have lost hope'
Thousands of Afghans have lost their jobs over the past year, and the closure of schools has forced millions of Afghan girls to stay home.
The psychological pressure of remaining at home with nothing to do has been too much for many Afghans to take, activists said.
Almost 80,000 patients have visited the hospital's mental health department for treatment in less than a year, according to Herat Regional Hospital.
Of this number, 40% were students and former government employees.
The current difficult situation has made many young Afghans pessimistic, as they face an uncertain future, said Herat activist Hasan Hakimi.
"Many young people who eagerly completed their schooling are now jobless," he said. "This has affected their mental stability because they feel helpless and desperate."
"Afghans, particularly young women, have lost hope," Hakimi said. "Many educated Afghans who suffer from joblessness and anxiety cannot tolerate such a situation, and some of them commit suicide."
Afghanistan is at a crossroads, said Hakimi, warning about the rising suicide rate among youth due to ongoing restrictions and instability.
The job environment is becoming tougher for young Afghans, trapping the unemployed in their homes, said Herat city activist Sayed Ashraf Sadaat.
Educated youth are grappling with the psychological pressures of unemployment and instability, Sadaat said, noting that if the situation is not addressed immediately, more youth will flee the country.
Extremists and uneducated rivals will fill their places in society, he cautioned.
"I have witnessed the dismissal of many women and men from public service in recent months, and they are all now jobless," he said.
"There is no hope left for these young Afghans."