HERAT -- Facing severe hunger and poverty, some Afghans have resorted to selling their organs, or even their children, to survive.
Afghanistan is in the grip of a humanitarian disaster, with half the country threatened with food shortages, the United Nations (UN) has warned.
Fourteen million people in Afghanistan are facing acute food insecurity, and an estimated 3.2 million children under the age of five suffer from acute malnutrition, according to the UN Children's Fund (UNICEF).
To save their family from hunger, Rangin Shah and Fariba, a young couple living in a rented mud house in Injil district, Herat province, have each sold a kidney for 200,000 AFN ($2,185).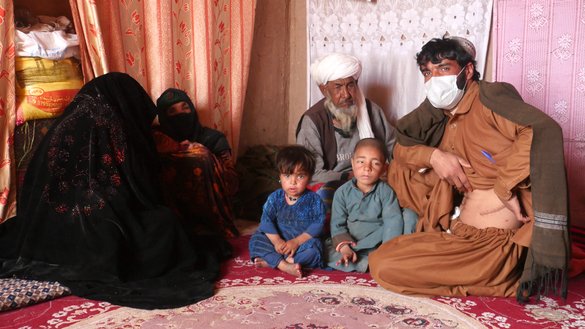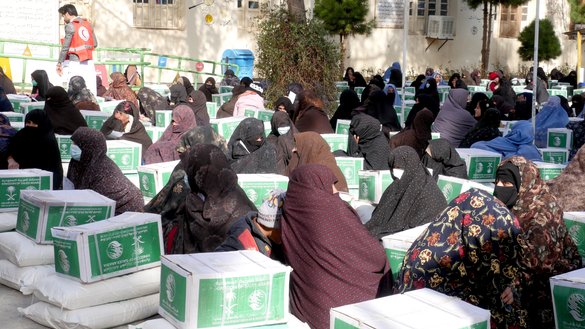 Originally from Qadis district, Badghis province, they were forced to flee their home two years ago amid conflict and drought.
"I could not find a job ... I was forced to sell my kidney because of economic hardship," said 29-year-old Rangin Shah, who added that he used to earn enough to support his family.
When they ran out of the money he had saved from his previous job, each sold a kidney to survive, and now they both face health problems as a result.
Rangin Shah can no longer do heavy physical work or eat certain foods. Fariba, 25, now needs neighbours' help to do housework like washing clothes.
"We had nothing to feed our children and could not risk losing them to starvation," she said. "We decided to sell our kidneys because we could not find any other option."
The conflict has ruined their life, she said. If there were no fighting, they would not have been forced to sell their kidneys.
Extreme desperation
Rangin Shah and Fariba are not the only ones struggling.
With rising unemployment and poverty, many households can afford only one meal a day.
Sabira, a 35-year-old mother of six, says she has looked into various sources of assistance. Her husband, a police officer, was killed in a battle in Shindand district, Herat province, eight years ago.
She said that she used to work and earn 200 to 300 AFN ($2.19-$3.28) daily but is now jobless.
"We don't have anything to eat, and my children often go to sleep on an empty stomach," she said. "I have never ever been this desperate to find a slice of bread."
The psychological impacts of poverty have caused her heart problems, she said, adding that she cannot afford a doctor.
Fatima, 53, who was displaced to Herat city amid the conflict in Shindand district, is struggling to feed her teenage son.
"We live in a rented house without electricity," she said. "In this cold weather, we do not have any fuel or wood to warm up our house. We can hardly go to sleep at night because of severe cold."
"We do not have cooking oil, flour or sugar to eat," she said. "I do not know anyone in Herat city to borrow money from ... we have no option other than facing the consequences of starvation."
Fatima said her son suffers from the lingering effects of a concussion, adding that she cannot afford to take him to a doctor for treatment.
International aid
While the UN and private organisations have ramped up aid distribution in Afghanistan, many Afghans need more.
Abdul Salam, 75, a day labourer in Herat city, said that except for some assistance provided by individuals, he has not received support from any international aid organisation.
"There are seven people in my family, and I am the only breadwinner," he said, adding that he has been unable to find a steady job despite searching everyday. "Honestly, I cannot earn enough to buy even a loaf of bread for them."
Mohammad Akbar, 45, a Herat resident who is a daily labourer and the sole breadwinner of his 12-member family, also said that he has not received any humanitarian aid since the collapse of the previous government.
Akbar said he spends days wandering the streets of Herat city looking for work but returns home in the evening without any earnings.
"Because of the lack of jobs, I depend on support from others," Akbar said. "Some people give me either a loaf of bread or 10 AFN [$0.11] a day."
"I watch media reports saying that the international community has provided aid to Afghanistan, but I do not know how it is distributed and who receives it," he said.
In its biggest-ever single-country appeal, the UN on January 11 said $4.4 billion was needed within Afghanistan, while a further $623 million was required to support the millions of Afghans sheltering beyond its borders.
The same day, the United States promised more than $308 million in an initial aid package for Afghanistan this year. Since October, US humanitarian aid for Afghans has totalled almost $782 million.
The UN's appeal, if funded, would help aid agencies ramp up the delivery of food and agriculture support, health services, malnutrition treatment, emergency shelters, access to water and sanitation, protection and education, UN aid chief Martin Griffiths said.