KUNDUZ -- United Nations (UN) agencies alongside other aid groups in recent months have provided humanitarian assistance to more than 4,000 vulnerable and impoverished families in Kunduz province.
The UN organisations involved include the International Organisation for Migration (IOM), the UN High Commissioner for Refugees (UNHCR) and the World Food Programme (WFP).
CONCERN Worldwide, The Hague-based Cordaid, the Norwegian Refugee Council (NRC), the Paris-based Agency for Technical Co-operation and Development (ACTED) and the Afghan Red Crescent Society (ARCS) have also provided aid.
"A survey conducted by CONCERN in Kunduz in December identified around 10,000 vulnerable families in the provincial centre and districts of Kunduz. We support these families based on a plan," said Mohammad Nader Fayez, the director of CONCERN in Kunduz province.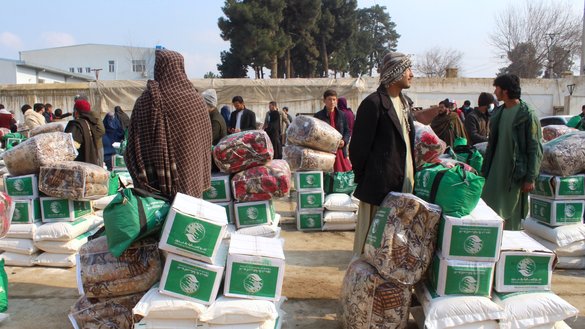 CONCERN, with support from the United Kingdom, distributed cash and food assistance to more than 1,500 families in the provincial capital and Aqtash district, he said.
"We gave each family 19,000 AFN in cash assistance and food items including flour, oil, sugar and rice," he said. "We will cover other families in the next phase."
"Given the economic shock experienced by the public, this assistance is insufficient," Fayez said. "All aid agencies should do their part and try to address citizens' needs."
UNHCR also distributed cash to more than 1,000 families in December and January and the process is ongoing, said Abdul Bashir Mohammadi, the UN's co-ordinator for humanitarian assistance in Kunduz.
"Each family affected by conflict and recent events in the country was given the equivalent of $500 and some kitchen utensils," he said.
The objective of the cash assistance is to save the lives of war-affected families in the winter. Only families whose houses were destroyed in the war or were displaced by the war received this assistance, Mohammadi said.
"War and insecurity have badly affected our people, unfortunately," he said. "Had they not received the assistance, some families would have lost their children to the cold."
The UN will not abandon the people of Afghanistan in this difficult situation and will continue to provide humanitarian assistance to needy families, he said.
Relief from poverty and hunger
Meanwhile, the ARCS distributed food and non-food items among 800 needy families with the support of the Saudi government on January 31.
The number of families who received assistance from aid agencies since November has reached 4,000, according to ARCS officials.
Of the 800 families that received the assistance, 400 are in the provincial centre, while 400 others are in Khanabad district, said Ataullah Nikzad, ARCS spokesperson in Kunduz province.
"The assistance included flour, oil, rice, chickpeas, sugar, winter clothes, and kitchen utensils, which was distributed to families according to a survey conducted earlier," he said.
"There were families ... who had nothing to eat or struggled to find three meals a day," he added.
"I received six bags of flour, two blankets, and four packages of household items from the ARCS," said Bibi Hawa, 37, a resident of the Se Darak area of Kunduz city and a mother of six.
"My husband was killed in the war in July," she said. "He went to the city in search of a job, and he never found a job or made it back home."
Agha Mohammad Ghafouri, a worker in Kunduz city, said he could not find any work in the past five months and was facing extreme hunger and poverty.
"I have eight children and am the only breadwinner of my family," he said. "When I go to the city's designated area for daily labourers in search of work, no one hires me."
"When I feel too much pressure due to poverty, I want to commit suicide, but again I give up, wondering what will happen to my wife and children," he said.
"I went to every organisation I could find, saying that my children would starve to death," he said. "God was great, and today, fortunately, I received six bags of flour, and a few other items of assistance."
Humanitarian challenges
Economic problems, including unemployment, faced by Afghan families have risen to an unprecedented level since the fall of the previous government last August.
More than 22 million Afghans, meaning more than half the population, will suffer food insecurity this winter, the UN has said.
Most families cannot provide even one meal a day, and winter weather has increased concerns.
"I was able to address some of my family's winter needs, thanks to this aid," said Sayed Mohammad Alawi, 35, a resident of Kunduz city.
"I had to displace my family to Kabul in July. When we returned home after three months, nothing was left in the house," he said.
"My house was looted, and that left me with economic challenges," he said. "This assistance will address some of our problems."
"Poverty and hunger on the one hand and unemployment on the other have left us vulnerable," Alawi said.
He said he recently received 18,000 AFN and six types of food items and clothing in assistance.
"I couldn't do any farming because of the recent events in the country, and my economic situation is unfortunately very bad," said Ghulam Siddiq Nasrati, a resident of Khanabad district of Kunduz.
"Aid agencies fortunately provided me with assistance -- both in December and January," he said. "The aid helped me survive."
"I received the equivalent of $200, three blankets, two bags of flour and clothes for children in assistance from the IOM," he said.
"I want them to continue the aid in the future, too."