KUNDUZ -- Amid increasing poverty and hunger in Afghanistan, the United Nations (UN) World Food Programme (WFP) is creating short-term job opportunities for thousands of Kunduz residents.
The WFP is implementing a project to hire local residents to clean the streets and collect garbage for 10 weeks in 10 neighbourhoods and eight districts of Kunduz city, said Ghulam Sakhi Fayez, the WFP's chief executive in Kunduz province.
The first phase of the project started on July 30 for a seven-day period and provided 200 jobs, he said, adding that the project is funded by the WFP and carried out by the Afghanistan Social Improvement Organisation (ASIO).
The project's second phase will hire another 6,000 individuals on a rotating basis.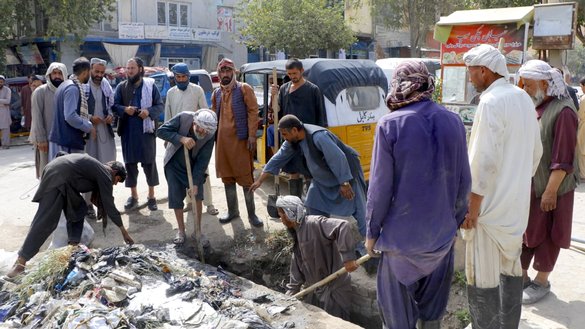 "Locals who are hired by the project receive a bag of flour, five litres of oil, 7kg of beans, 7kg of chickpeas and some salt for five hours of daily work over a seven-day period," he said.
About 10% of the hired individuals have been receiving regular food assistance from the WFP, according to Fayez.
The project was launched to create job opportunities, alleviate poverty, ensure food security, clean the city's streets and canals, collect garbage and protect the environment, he said.
Before the project was launched, the streets and canals in the city were littered with garbage, causing bad odours and various diseases, Fayez said.
Avoiding a refugee crisis is another objective of the project, he added.
Locals welcome employment
Local residents employed by the project welcome the work and say such projects can make a positive change in their economic status and in their communities.
Ghulam Rasoul, 45, who is working for the project, said his family has been receiving regular food assistance from the WFP over the past year.
"The WFP asked us to work for a week each month, and I accepted," he said.
"The project enables participants to feed their families and participate in cleaning up their city and environment."
Thanks to the WFP, 200 workers return home with a smile on their faces every week, said Masjidi Safi, 38, another participant.
"There are those among us who can provide only one meal a day for their families," he said. "We ... are grateful to the aid organisations that are assisting us in such a bad economic situation."
"I know people who have waited for work from dawn to dusk in Kunduz city but have returned empty-handed," he added. "The catastrophe of hunger would threaten lives if it were not for the aid organisations."
Aside from providing food for families, the clean-up work meets a pressing need, said Sabruddin Totakhil, a resident of Kunduz city.
Garbage piles up on the streets and blocks canals, causing flooding of streets and houses in the winter, Totakhil said.
"Every winter, with rainfall and snowfall, water gets into shops and homes," he said.
Essential international assistance
International humanitarian aid is mainly in the form of food assistance, which is directly distributed to the needy by non-governmental organisations and UN agencies.
The international community's support is critical, as 90% of Afghans are living below the poverty line, said Masoud Taheri, a civil society activist in Kunduz.
Thousands of Afghans would have starved to death in the past few months had the international community not provided humanitarian assistance, he said.
"Afghans' economic status has really worsened. Almost everyone has lost his [or her] income, which has led to growing poverty," he added.
"Afghans badly need international assistance," Taheri said. "Donor countries should ensure that their aid goes directly to needy recipients."
The UN Development Programme (UNDP) and WFP have been particularly helpful in the city, said Kunduz Mayor Gul Mohammad Ilyas.
"Fortunately, we have been able to create thousands of job opportunities this year through these two important UN agencies," he said.
"Most projects are implemented by residents, local representatives and local elders. They understand the needs of their communities and make efforts to prevent abuse," Ilyas said.