KUNDUZ -- Some 300 Sar-e-Pul residents have jobs for the next nine months as part of a project launched by local authorities in collaboration with the United Nations' (UN) World Food Programme (WFP).
The project was launched on October 2 and aims to rehabilitate and develop local water resources, according to Abdul Wahid Nabiyar, director of the Rural Rehabilitation Association for Sar-e-Pul province.
"Today we started the actual work on the excavation of small ponds and building canals in Surkhak and Qaragho villages of Sar-e-Pul," he said October 7.
"We pay each worker 7,000 AFN [$81] a month," he added.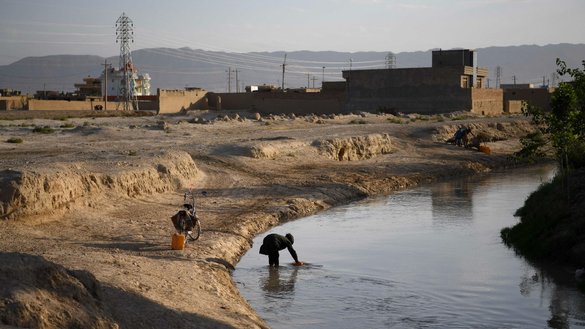 "The main part of the project is building canals and digging small ponds in valleys to store rainwater to stop soil erosion and flooding," he said. "The project can also help improve underground water levels."
The WFP is funding the project to create employment opportunities, fight poverty and hunger in villages, and counter illegal migration, Nabiyar said.
"Severe rain and flooding ... used to damage residential houses, but with the implementation of this project, rain and flood water will be managed, controlling damage to homes," he said.
The project will soon create job opportunities for nearly 200 women and will also provide vocational training courses such as backyard gardening for them, Nabiyar said.
Fighting poverty and hunger
Poverty and hunger have significantly increased across Afghanistan over the past year, and participants of the rural rehabilitation project described it as a major step towards improving their lives.
They expressed their appreciation for the WFP for creating the project and said they are happy that they can earn an income while contributing to rebuilding their country.
Sar-e-Pul resident Abdul Salaam, 38, used to work as a daily labourer to earn a living for his family of five.
But after he lost his job, he said, his family has been on the brink of hunger.
"My economic woes kept increasing for more than a year," he said. "Every day I would return home empty-handed with no option to feed my family."
"Fortunately, I have been working on the canal excavation project for a week," Salaam said. "I get paid 7,000 AFN per month. I am happy now that I have a relatively long-term job."
Sahib Khan, 42, another Sar-e-Pul resident who is working on the project, said he too had faced major economic challenges in the past year, but is happy now that he has a job and an income.
"My economic situation was very bad," he said. "I had only enough money for one meal a day, and I went through a very tough time."
"I work daily from 8am to 4pm. Everyone who works with me is poor and used to be unemployed," he said. "This project helps everyone bring food to their tables."
"I like to be busy at work and be able to earn a legitimate living for my family," Khan said. "I hope I will be able to continue my work and build my country."
Appreciation for continued aid
Sar-e-Pul residents say international aid agencies have addressed the numerous needs of people who were facing hunger and unemployment.
"The UN and donor countries did not leave Afghans alone during very tough times and continued helping poor families through humanitarian assistance," said Shogufa Makhzoon, a resident of Sar-e-Pul.
The assistance is not provided only through food and cash distribution, but they have also helped thousands of people through the implementation of employment projects, she said.
"These organisations help vulnerable families through the provision of humanitarian assistance and have continued their aid in various other areas," she said.