WASHINGTON -- The United States on Tuesday (January 11) promised more than $308 million in an initial aid package for Afghanistan this year, following a United Nations (UN) appeal for funds to avert a humanitarian catastrophe.
In its biggest-ever single-country appeal, the UN said $4.4 billion was needed within Afghanistan, while a further $623 million was required to support the millions of Afghans sheltering beyond its borders.
The UN said 22 million people inside Afghanistan and a further 5.7 million displaced Afghans in five neighbouring countries needed vital relief this year.
"A full-blown humanitarian catastrophe looms," said UN aid chief Martin Griffiths. "My message is urgent: don't shut the door on the people of Afghanistan."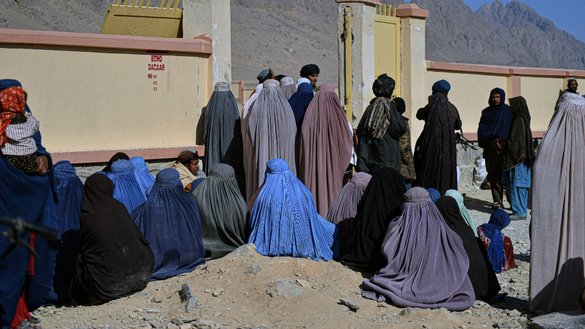 "Help us scale up and stave off wide-spread hunger, disease, malnutrition and ultimately death."
Since the fall of the Afghan government in mid-August, the country has plunged into financial chaos, with inflation and unemployment surging.
Washington has frozen billions of dollars of the country's assets, while aid supplies have been heavily disrupted.
Afghanistan also suffered its worst drought in decades in 2021.
Without the aid package, "there won't be a future," Griffiths told reporters in Geneva.
The appeal, if funded, would help aid agencies ramp up the delivery of food and agriculture support, health services, malnutrition treatment, emergency shelters, access to water and sanitation, protection and education, he said.
Protection means "activity aiming to prevent, reduce, mitigate and respond to the risks and consequences of violence, coercion, deprivation and abuse for persons, groups and communities", according to the UN.
The UN estimates that 4.7 million people will suffer from acute malnutrition in 2022, including 1.1 million children with severe acute malnutrition.
Without humanitarian aid, distress, deaths, hunger and further mass displacement would follow, "robbing the people of Afghanistan of the hope that their country will be their home and support, now and in the near term", warned Griffiths.
However, if international donors come forward, "we will see the opportunity for an Afghanistan which may finally see the fruits of some kind of security."
New contribution of more than $308 million
Shortly after the appeal, the White House announced a new contribution of more than $308 million in humanitarian assistance for the people of Afghanistan.
The US government remains the single largest donor of humanitarian aid in Afghanistan, with almost $782 million donated to Afghanistan and for Afghan refugees in the region since October, according to National Security Council spokesperson Emily Horne.
"In addition, the United States is providing the people of Afghanistan one million additional COVID-19 vaccine doses through COVAX, bringing our total to 4.3 million doses," she said in a statement Tuesday.
The new humanitarian aid, provided by the US Agency for International Development (USAID), will go directly to independent humanitarian organisations, she said.
It will "help provide lifesaving protection and shelter, essential health care, winterisation assistance, emergency food aid, water, sanitation, and hygiene services", Horne added.
'Food or fuel'
Heavy snowfall was reported earlier this month in 30 of Afghanistan's 34 provinces, according to local officials. Major roads were blocked in 10 provinces, and at least 9 people died as a result of severe weather conditions.
The harsh weather is exacerbating the economic crisis that is forcing many Afghans to choose between food and fuel, aid officials say.
Aid groups estimate that almost 23 million Afghans, out of a total population of 39 million, already do not have enough to eat and many also lack solid shelter and money to heat their homes at night, the Washington Post reported on January 7.
"Everywhere we go, we find thousands more people who need help," said Babar Baloch, a spokesman for the Office of the UN High Commissioner for Refugees (UNHCR) in Geneva.
UNHCR is one of several aid agencies that recently launched winter assistance projects in Afghanistan. It is providing food, blankets, and cash for heating fuel to 70,000 people a week in Kabul.
The World Food Programme (WFP) also expanded its operations this winter to provide basic foods or cash to the neediest families, including those headed by widows and unemployed breadwinners. It has sent in supplies from Uzbekistan and Tajikistan.
WFP officials say they helped 8 million people in December and will reach 12 million this month.
Food aid, cash and vouchers go directly to those in need, said Shelley Thakral, a WFP spokesperson in Kabul.
"Nothing goes to the government," she said.