HERAT -- The United Nations (UN) has increased humanitarian assistance for thousands of vulnerable Afghan households who are on the brink of starvation and humanitarian catastrophe following the collapse of the previous government.
The United Nations High Commissioner for Refugees (UNHCR) has started distributing cash assistance to 5,000 families who were displaced either due to conflict or drought in the country's western region.
Each household will receive about $265 in cash assistance.
Funding for the humanitarian assistance package was provided by the United States, European countries, Australia, Canada and Japan.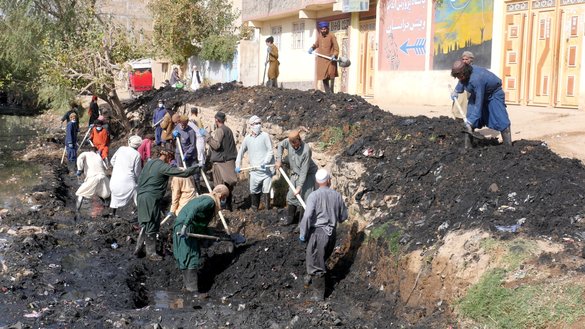 The cash assistance aims to save the lives of displaced families in the upcoming winter season, Wahid Ahmad Enayat, spokesperson for UNHCR in Afghanistan's western region, said December 1.
"Those who have received our assistance had no survival means, and if they did not receive the assistance, they would most probably lose their children during the winter," he said.
The UN and donor countries will not abandon the Afghan people during these difficult circumstances and will continue to provide humanitarian assistance to as many destitute families as resources allow, Enayat said.
"We shall continue providing humanitarian assistance throughout winter months, and will reach additional vulnerable families," he said.
Dad Mohammad, who has been displaced to Herat from Jawand district, Badghis province, is one of the beneficiaries of the UNHCR aid.
The cash assistance will help his family survive the winter, he said.
"I was farming in my village, but I was forced to abandon my hometown by the the conflict," Mohammad said. "Now there is neither a job nor a government to assist us."
"I have been left without income for the past two months and lived in someone else's house," he said. "We do not have anything to eat and are starving."
Cash-for-work
In addition, the UN Development Programme (UNDP) in October launched a crisis response initiative called "ABADEI" to provide employment opportunities for thousands of Afghans.
The programme will provide emergency assistance to the country's most vulnerable families.
ABADEI aims to prevent a humanitarian catastrophe and the collapse of the country's economy by supporting the most vulnerable populations and micro-businesses in Afghanistan.
"The country needs immediate humanitarian assistance, but we also need to keep the local economies going -- this is fundamental to ensure that people still have livelihoods and feel that they have a future in their communities," UNDP Administrator Achim Steiner said at a news conference in Geneva, Switzerland.
Part of the initiative includes a "cash-for-work" project, which will offer short-term income to thousands of unemployed Afghans so they can combat starvation in the upcoming winter months, Abdallah al-Dardari, UNDP's resident representative in Afghanistan, said December 1.
The UNDP has provided employment opportunities to as many as 1,500 individuals in Herat province.
Day labourers have started cleaning up a 6-metre-wide canal in Herat city and will then be dispatched to perform other tasks, he said.
"The programme also covers women," al-Dardari said. "We are supporting women in areas such as handicrafts and small businesses."
The assistance goes directly to the people of Afghanistan, he added.
Esmatullah, a beneficiary of the ABADEI emergency employment programme, said he used to face enormous economic challenges, and now that he has a job -- and an income -- he feels very happy.
"I did not have anything to eat, nor did I have money to buy food," he said. "Now that I have an income, I will be able to put food on the table for my family."
"I love to be busy working and able to earn halal income for my family," he said. "I was frustrated because I was jobless and poor. I hope I can continue to work and build my country."
Poverty, hunger on the rise
Poverty and hunger have increased significantly across Afghanistan following the collapse of the previous government and the reduction in international aid to the country.
Based on the World Food Programme (WFP) projection, up to 90% of the Afghan population may be at risk of sinking below the poverty line by mid-2022.
Out of an estimated 39 million people living in Afghanistan, nearly 23 million are facing acute hunger, the WFP warned.
Abdul Qadir, 45, a disabled resident of Herat city, said he used to receive monthly assistance from the previous government but has not received any income for the past four months.
After the collapse of the previous government, disabled people have been left with no means of survival and are at risk of starvation, he said.
"I don't know what to do. I have no way to feed my five-member family," he said. "Winter is upon us, and we have nothing to eat or anything to keep us warm."
Sayed Mohammad, a labourer in Herat city, said he has not worked for the past four months and is facing hunger and extreme poverty.
"I have four children and am the only breadwinner of my household," he said. "I have gone out to find work every day of the past four months, but I have not been able to work even for a single day."
"Nobody has assisted us so far," Mohammad said. "I have contacted the governor's office many times and begged for assistance but have yet to receive a positive response."