HERAT -- The United Nations Development Programme (UNDP) has launched a programme for the economic empowerment of women in Afghanistan's western region.
Under the programme, the UNDP has provided cash assistance and fabric to women who run informal tailoring businesses and those who do not have a male breadwinner in the family.
The programme has already distributed more than 30 tonnes of fabric to these women to enable them to make clothes to sell in markets.
Each woman participating in the programme also received $120 cash assistance to expand her business.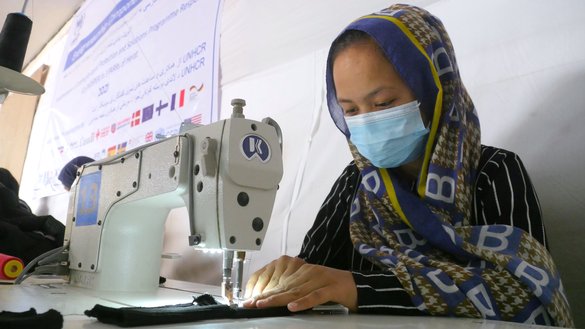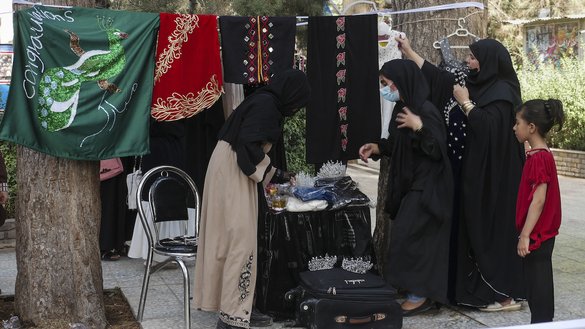 The programme, which launched April 11, has so far assisted more than 7,000 women in Herat and almost 5,000 in Farah, Badghis and Ghor provinces.
Its end date was not reported.
The assistance has rescued thousands of families from poverty, said Nargis Hashemi, director of the Herat Women's Chamber of Commerce and Industry.
"Since the worsening of the economic crisis in the country over the last year, many women have lost their jobs and are facing serious economic problems," she said. "This will help them resume their businesses."
"We urge the international community, especially the UN, to continue its assistance to Afghan women and girls," she said. "The economic problems of households will be alleviated if international assistance to women is continued."
Jobs for women
Despite restrictions, many women have continued to work outside their homes to support their families.
Bas Gul Ahmadi is in charge of a tailoring shop in Herat city that employs 70 women.
The UNDP's cash and fabric assistance enabled her to increase the number of her employees from 30 to 70 women, she said.
"We used the cash to purchase sewing machines and other necessary materials and distributed the fabric to women to prepare clothes," she said.
The women working in her shop include heads of households, university and school students, and housewives, according to Ahmadi.
"Most of these women and girls are the breadwinners of their families and are in need of the UN's assistance," she added.
Because of the economic crisis and increased hunger, women have to work outside their homes, said Rahila Haqdost, director of another tailoring shop in Herat city.
"Twenty-five women work in my shop, and all of them have received the UNDP's assistance, which has helped to improve their economic situation," she said.
"Many women work hard outside their homes," she said. "They desperately need assistance from NGOs and the international community. We call on the international community to support Afghan women in these difficult times."
With the support from NGOs and donor countries, Afghan women can play a critical role in the economy and save their families from poverty, said Haqdost.
Supporting households
The UNDP's assistance has transformed the economic situation of thousands of Afghan women and their families, alleviating the challenges of poverty and hunger.
Yagana Safari, who is studying economics at a private university in Herat city, said she now can contribute to her family's expenses working as a tailor.
"The assistance we received created jobs through which I can now help my family," she said. "I am very delighted to be able to help my parents in these difficult circumstances."
"In addition to covering household expenditures, my income from tailoring also covers my education expenses," Safari said. "It is very helpful to be working and having an income when the economy is so bad."
Zahra Mirzayi, a high school senior in Herat city, started taking tailoring classes after the closure of girls' schools.
After seven months of classes, she can now sew various kinds of women's and men's clothes.
Of Mirzayi's 10-member family, only her father works, she said, adding that she decided to work and help her father instead of sitting at home.
"The assistance from the NGOs is very effective," she said. "They gave us a lot of fabric that I used to prepare clothes and sell them in the market."
Nasima Sharifi, a high school junior in Herat city, also said she turned to the tailoring classes to escape being jobless and trapped at home.
"I started tailoring with the assistance I received [from the UNDP], and now my weekly income is more than 3,000 AFN [$34]," Sharifi said. "This income has helped me solve my family's economic problems."
"Despite being deprived of going to school, I am happy to be able to work and address my family's economic challenges," she added.