HERAT -- A woman in Herat province has established a vocational training course for more than 80 other girls and women who have either not completed their education yet or who have lost their jobs.
These women, who have been deprived of going to school for the past nine months, are now learning tailoring, embroidery, computer skills and the English language.
Shukria Ahmadi, head of the Elham Bakhsh Association in Herat city, said she launched the effort to help women get out of their homes, become productive members of society and improve their mental health.
Initially, many of the participants showed symptoms of serious mental health problems when they started attending the training courses, she said.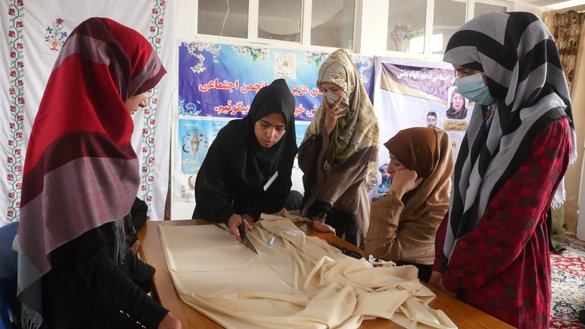 "Most of them suffer from depression and anxiety," she said. "Firstly, we conduct mental health sessions with the help of psychologists, and only then do students start learning the skills."
"Most girls and women who come to us say that they are so tired of their lives and have lost hope," she said.
Thousands of Afghan women, who used to work in public and private sector institutions, have become jobless and without an income over the past nine months.
Meanwhile, thousands of female middle and high school students have interrupted their education and are forced to stay home due to the closure of their schools.
Determined to gain knowledge
Deprived of going to school, many female students have found alternative ways to acquire knowledge and increase their academic capacity.
Samia Ahmadi, a 12th grader from Herat city who attends the course, said she decided to learn the tailoring profession after she could not go to school anymore.
"Tailoring is not my favourite, and I would love to be a doctor instead," she said.
But "we continue with our education even though our schools are closed... and will pass on what we have learned to other girls", she added.
Ahmadi said the closing of schools does not necessarily mean shelving their books, but it rather reinforces girls' determination to increase their efforts and learn harder.
She said Afghan women and girls will never give up and will continue their fight to learn and become educated.
"I vow that I will complete my 12th grade no matter if it happens after 10 or 20 years."
Khatera Afzali, a 10th grader from Herat city also taking part in the course, said that many female students have turned to vocational courses despite losing hope after the closure of schools.
"We hope school doors reopen so that we can continue our studies," she said.
Dreams on hold
Several of those attending the vocational training course had lost their jobs and are seeking alternative ways to earn a living.
Sohaila Hashimi, an engineer by trade, previously worked at the Herat provincial Rural Rehabilitation and Development Department.
"I suffer a great deal for being deprived of serving my country and fellow countrymen," said Hashimi, who now works as a tailor. "I wish I could utilise my knowledge towards building and developing my country."
Nevertheless, she said, her husband is unemployed and she supports her family of four with the income she makes from tailoring.
"I do not want to be confined at home and witness my family starve," Hashemi said. "I must work and feed my children."
Fatema Ghulami, who previously worked at Herat's provincial Agriculture and Irrigation Department, is now working as an embroiderer.
After she stopped receiving a salary from her government job, she said, her family was facing severe poverty.
Now she earns between 3,000 and 4,000 AFN ($34-46) per month to support her family.
"I was confined at home for five months and did not go out due to restrictions, but I had no other choice but to go out and work," she said. "Now I embroider in a workshop with other women and have found a source of income."
"All my dreams and 16 years of study have been destroyed," Ghulami said. "I pray that a miracle happens with the help of Allah almighty so that I can return to work."