KANDAHAR -- Shared Humanity USA, an American non-profit organisation, has launched a vocational training centre in Kandahar for dozens of girls deprived of the chance to attend schools and universities.
Girls receive free English language and tailoring lessons at the tailoring centre, which was established two months ago.
Shared Humanity USA works in Kandahar to provide girls with vocational training and to provide potable water and food to poor families. The NGO was founded by Kandahar native Latifa Woodhouse, who now lives in New York state.
Seema Amiri, who manages the tailoring centre in Kandahar city, said 60 girls learn tailoring and English at the centre daily.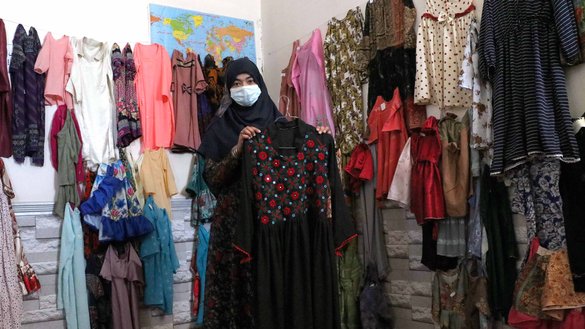 "We have two types of tailoring training programmes: a six-month programme, delivered to those who have no knowledge of tailoring; and a three-month programme, delivered to girls who have some prior experience of tailoring," she said.
"These girls have learned tailoring to an extent in the two months that they have joined the training," she said. "All of these girls make some income in return for their work and training to support their families economically."
The organisation provides all facilities such as sewing machines, dresses and other accessories to the girls for free, Amiri said.
Finding hope amid despair
For the participating girls, the training programme is a welcome reprieve after months of staying at home, being unable to go to school, and enduring suffering and mental pressure as a result.
Samia Ishaqzai, 16, an 11th grader in Kandahar city, has been taking the tailoring training for two months.
She said that by learning tailoring, she has managed to overcome the psychological pressure of being deprived of education.
"I found hope in life again after joining the training," she said. "While school is closed to me, the start of this training centre saved me from mental pressure and being stuck at home."
"If we cannot go to school, then it is better to at least learn a vocation," Samia said. "Sitting at home and waiting is useless. All of us girls should have an active presence in society. Restrictions should not impede our development."
Fazila Raoufi, 24, a junior political science student at Kandahar University, said being away from the university and her studies is very difficult for her, but given the circumstances, she is happy to be able to work at the tailoring centre.
"In the current difficult situation where all doors are closed to girls and women, the launch of this training centre has given us hope and motivation," she said. "I would have had to bear the mental pressure of being stuck at home, had it not been for this training centre."
"We girls call on the international aid agencies to provide more such opportunities for the deprived Afghan girls," she said. "If there are opportunities, most girls prefer going outside their homes and being active in society."
If Afghan girls gain more support from the international community, they can fight the restrictions and deprivation with greater strength, Raoufi added.
Supporting household economy
While girls are learning tailoring, they also are paid monthly for working and sewing clothes at the centre.
Palwasha, 21, a freshman political science student at Kandahar University, said she was very keen to serve her country after her graduation, but with the closure of universities, her dreams were shattered.
"When the universities were closed, I was very upset. My life completely turned dark, but I found hope again after enrolling for the training, and I'm once again motivated," she said.
"I have a monthly 3,000 AFN [$35] income at the tailoring centre, which I use to support my family," Palwasha said.
"My father was working for the government, but he lost his job more than a year and a half ago and is now jobless. Although 3,000 AFN is a small amount, it is a great support in the current situation."
Palwasha said she is trying to develop her skills to open a tailoring shop in the future so that in addition to creating jobs for other girls and women, she can support her family economically.
Shukria, 16, an 11th grader in Kandahar city, also said she is very happy that after a long period of uncertainty and being stuck at home, she has joined the tailoring training.
"When schools and learning centres were closed to us, there was no other way for me to go out of my home and be active in society," she said. "This tailoring centre is a good opportunity for us girls to learn skills."
Making some money is an added bonus, she said. "This money is good support to my family and covers our expenses to an extent."
"I want to become a skilled tailor to support my family economically," she added.
While women and girls suffer from increasing restrictions and deprivations, this tailoring centre has become a window of hope and a light in the darkness, Shukria said.