KABUL -- With many schools now closed for girls and women, one Afghan woman is stepping up to provide free literacy and vocational training in Kabul and Parwan provinces.
Zainab Mohammadi's Pen and Book Training Centre is offering free education to girls and women who have either been forced to discontinue their education or dismissed from their jobs.
Launched last November, the centre has two branches -- one in Kabul and one in Parwan.
"After the change in the government and recent developments in Afghanistan, educational centres have all been closed for girls, and many women and girls who were the sole breadwinners of their households have lost their jobs," Mohammadi said.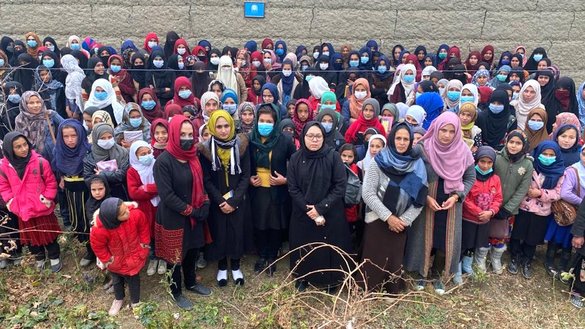 "Therefore, I decided to establish this centre with my own money in Kabul and Parwan to support girls and women who are encountering economic hardship and prevented from attending school," she said.
About 600 girls and women attend the centres, which have courses on literacy, the Holy Koran, English, university entrance exam preparation and school curriculum, as well as vocational training for tailoring, knitting and weaving, according to Mohammadi.
The centres follow the curriculum offered by public schools under the previous Afghan government.
"Ninety girls have been trained in tailoring, knitting and weaving for three months now, and their course will be completed in the coming month," Mohammadi said. "Soon after graduation, they will start their own businesses as professionals and be able to financially support their families."
Those who complete training in tailoring and knitting will receive a sewing machine so that they can establish their own businesses and generate income to support their families, she added.
"Hundreds of other female students are now taking school courses and preparing for the university entrance exam," she said. "After completing their training, they [will be able to] take the exam and succeed in their preferred field of higher education."
"The Pen and Book Training Centre has 21 employees, 19 of whom are girls and women," Mohammadi said, adding, "If we receive financial support, the centre will be able to expand its activities in all provinces across Afghanistan."
Opportunity for education
Those attending courses say they are grateful for the opportunities offered by the Pen and Book Training Centre.
"I am a ninth grade student in a Kabul high school, but could not attend my classes this year because schools are closed," said 17-year-old Mursal Jalili.
"I am so grateful that I am able to catch up with my lessons and prepare for the university entrance exam here at the centre," she said.
"I thank the founder of this centre, call on the government to reopen girls' schools across the country and ask the international community to support girls' education," she added.
"I was an 11th grade student in a high school in Kabul," said Aisha Gul, 18, another student at the Kabul centre. "Our school was closed following recent political developments."
She thanked Mohammadi for providing young women the opportunity to continue their lessons and urged the government "to immediately reopen girls' schools and allow women go to work".
"We demand an end to the restrictions imposed on girls and women [in] education and work," she added.
Supporting women's work
"Schools are closed, and unemployment and poverty are at an all-time high," said Khalida Ahmadi, a teacher at the centre in Kabul. "Afghan women and girls have been hit the hardest by the loss of jobs and restrictions on their education."
"The establishment of the Pen and Book Training Centre is a great step in providing a convenient opportunity for women and girls to learn vocational trades."
"The international donor organisations must invest in initiatives such as Mohammadi's so that girls and women continue their education and learn a trade to become self-sufficient," Ahmadi said.
"The number of girls and women who want to enrol in this centre is very high," she added.
"However, our financial resources are very limited, and we cannot accept more students," she said. "We ask the government and the donor countries to finance the establishment of similar vocational training centres across the country and to support our centre."
After three months of training in sewing at the Kabul branch of the centre, Mozhgan, 45, said: "I am confident that I can become a professional tailor and entrepreneur after completing the four-month training course."
"I have three children, and unfortunately my husband was killed during the conflict," she said. "I have decided to establish my own tailoring shop after completing the training course to support my children."
"I call on local and international organisations to support training centres for vulnerable women such as [the Pen and Book Training Centre] and provide vocational training opportunities for them to become self-sufficient," she added.
Yalda, 20, described her progress after attending the training programme.
"I have learned knitting and weaving here in this course," she said. "I can now knit sweaters, gloves and socks, and also make different kinds of hand embroidery."
"I will finish my training next month and be able to establish my own business," she added. "With the opening of my knitting and weaving shop, I am sure I can support my family and overcome economic difficulty."