HERAT -- Dozens of women gathered last week at the Directorate of Information and Culture in Herat city to protest the continuing violation of their rights.
Former government employees, university students and women's rights activists were among the participants on December 16.
The banning of women from schools, universities and government offices is a clear violation of basic rights, they said.
The new Afghan government has allowed only a portion of female civil servants -- those working in education and health -- to return to work and has been vague on what the rules will be in the future.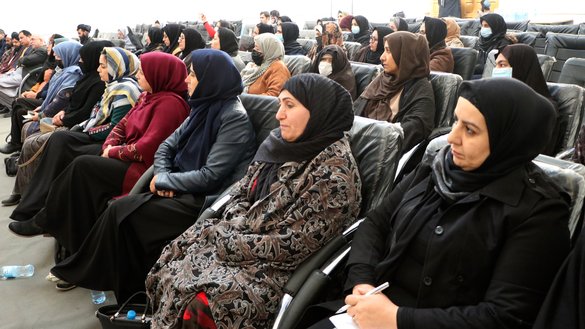 Meanwhile, public universities have been closed since August. In addition, Afghanistan's new rulers do not allow girls to attend school past sixth grade.
The new government is disregarding the achievements made by Afghan women over the past two decades and is not respecting their rights, said Farishta Yaqubi, one of the participants of the gathering.
Afghan women want the rights given to them by God and Islam, she said.
"God requires both men and women to seek knowledge, but in Afghanistan, women are not allowed to go to schools and universities," she added.
"At the beginning of Islam, the prophet's wife was engaged in trade, and there were no restrictions on the activities of women, but now women are not allowed to work in the public sector under the pretence of Islamic values," Yaqubi said.
"Doors of schools have been closed to girls, women are being denied their right to education and public offices are closed to women," said Masuda Karukhi, a former member of the Wolesi Jirga from Herat who took part in the protest.
Governments are obligated to respect the rights of their citizens, she said, noting that no government may violate the fundamental rights of its citizens.
"Preventing women from working in the public sector hurts Afghans and the country," Karukhi added.
Longing to return to work
Zainab Sarwari, the former deputy director for finance and administration of the Herat Education Directorate, lost her job after the fall of the previous government in August.
She wants to return to work and serve the people.
"I am not the only one from the Education Directorate who was sent home. None of the female employees of the Education Directorate is allowed to work there," Sarwari said.
"All female employees of the Education Directorate were asked to switch from administrative work to teaching," she added.
"Similar to men, women have capabilities and knowledge and should be able to work wherever they are needed."
Herat has many highly educated women who can play a key role in addressing the problems in the country, but the imposed restrictions have forced them to stay at home, according to Sarwari.
"Women proudly worked in the public sector over the last two decades, playing an important role in fighting corruption," she said. "If they are allowed, they will improve the delivery of services."
It is very painful for educated and experienced women who had jobs to stay at home, said Fatima Farahi, a women's rights activist in Herat.
"Afghan women must be allowed to return to their jobs so that they can resume their dignified work," Farahi added.
Demanding education
Meanwhile, students at the protest demanded that schools reopen for women.
Education is the right of every woman, and they should no longer be deprived of going to universities and schools, said Maryam Niazi, a senior law and political science student at Herat University.
"I was excited to celebrate my graduation from university this year, but it was closed in the middle of the year," she said.
"All of us girls were studying with so much enthusiasm and wanted to work in senior positions in the government in the future, but now we have no aspirations," she added.
Depriving women of education will take Afghanistan towards darkness, Niazi said, adding that many of her classmates have been forced into marriage with the closure of schools.
Khadija Danishyar, a high school senior in Herat, said that an entire year of her life has been wasted by the closure of schools, and that she would have graduated from high school by now if the new government had not imposed restrictions.
"I have lost motivation to study after the closure of schools, and I have lost hope in my future," she said.
"The right to education is a basic right of all societies, but unfortunately Afghan girls have been deprived of this basic right," she added.