HERAT -- Since the fall of the Afghan government in mid-August, female entrepreneurs in Herat have languished under the severe limitations imposed on their ability to work.
Hundreds lost their jobs and others were forced to shut down their businesses and shops after the closure of the Women's Chamber of Commerce and Industry in Herat.
Only a small market for women remains open, and a limited number of women continue to operate their businesses across Herat city.
Businesswomen, however, say they are fighting the restrictions and will not allow anyone to destroy the hard gains they have achieved over the past two decades.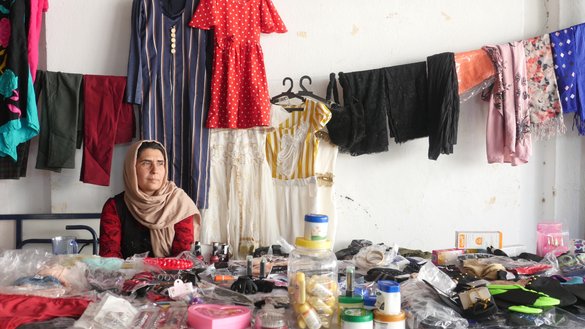 "We will not allow anyone to force us to stay at home no matter the difficult obstacles they create," said Faryal Ghaznawi, a seller of women's handicrafts in Herat.
"We will never allow women to be confined at home and suffer from mental health disorders," she said. "We will continue our efforts and fight against these unjust impediments."
She urged other Afghan women to come out of their homes as usual and to go about their daily lives.
"Nothing has changed; women remain capable of managing circumstances in their favour, as we proved in the past, and we shall continue to play our active role in society," Ghaznawi said.
Malalai Forotan, who has sold women's handicrafts in Herat for more than a decade, said woman-run businesses have transformed and thrived over the past 20 years.
However, with the collapse of the previous government, these hard-won gains are now at stake.
"We urge the new rulers to recognise and appreciate the achievements that we gained over the past two decades, and to allow women to return to their businesses," she said.
A complete stop
Safia Muradi, an entrepreneur in Herat province who has been producing food and handicrafts for six years, said that after the government fell, she was forced to shut down her business.
"As many as 70 women used to work in our handicrafts and food supplies section; however, they have all been dismissed," she said.
Most of the women working with her were internally displaced persons who helped support their families, Muradi said. But now that they are out of work, their families are facing poverty and hunger.
"Our businesses were thriving during the previous government, but everything has now come to a complete stop," she said.
Arzu Haqiqi, a businesswoman who worked as an online marketer and salesperson in Herat province for the past five years, lost her job after the government collapsed.
Work has vanished in recent months, she said.
"It has been a few months since I lost my business, and now I am facing economic challenges," Haqiqi said.
"Despite many challenges, Afghan women struggled so hard to transform their businesses over the past 20 years," she said.
The majority of businesswomen lost their jobs and have been forced to stay at home since the fall of the Afghan government, said Karima Siddiqi, deputy chairperson of the Herat Women's Chamber of Commerce and Industry.
"More than 350 women... were members of the Herat Chamber of Commerce and Investment until three months ago," she said. "However, because of the imminent fear of harassment and intimidation ... only a handful of them continue to operate their business."
As many as 3,000 women in Herat, before the change of government, were taking part in businesses involving tailoring, handicrafts, painting, carpet weaving and crop farming. However, the majority of them are now jobless and at home, said Siddiqi.
Economic prospects
Such unemployment means that the women's families are facing economic hardship and poverty.
Shafiqa Haqdost, who has worked in the local garment industry for five years, said authorities asked her to halt her factory's operations and told her to wait for their permission to reopen.
The closure has impacted her 10 employees, who are now facing severe economic hardship, she said.
"I raised my capital with great difficulty and bought a few sewing machines and some fabrics. Now all my capital is left up in the air," Haqdost added.
"My employees and I used to earn our living from my business, but now more than 10 families are living in poverty. Let me tell you that all the workers who used to work in the garment factory were the sole breadwinners of their families," she added.
The closures spread poverty and unemployment in society by restricting women's activities, she said.
Separating Afghan women from the workforce is indeed a great sin against society because they account for half of Afghanistan's population, said Mariam Azizi, a women's rights activist in Herat.
Most women worked because of poverty and economic hardship, and they were contributing to their families' well-being and finances, she said.
No legitimate reason exists to ban women's entrepreneurship, she said.