HERAT -- Female students in Herat -- still facing restrictions on education -- are turning to craft classes teaching sewing, embroidery, knitting, painting and hairdressing in what they see as the beginning of a long struggle for their rights.
Public universities have been closed since the fall of the previous government in August. In addition, Afghanistan's new rulers do not allow girls to attend school past 6th grade.
While private universities are open, there is strict segregation of male and female students, and new regulations force female students to wear niqabs and abayas.
More than 200 female school and university students have enrolled at the Khawaja Abdullah Ansari Vocational Training Centre in Herat, according to Fatima Tokhi, director of the centre.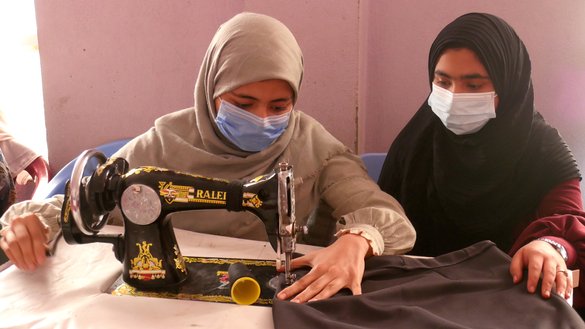 Girls are experiencing severe psychological anguish after being deprived of education. Vocational training has offered them something to keep them busy, Tokhi said.
"In the past, we had 15 girls in each class, but now, with the closure of schools and universities, there are 45 girls in each class," Tokhi said. "Ninety percent of our students are school and university students."
In the past, vocational training programmes in Herat in the past were largely meant for internally displaced women and families to help them obtain livelihoods and escape poverty.
Many girls are suffering from mental health problems and have lost hope for their future amid the closure of schools and universities.
Officials at Herat Regional Hospital report that more than 200 patients visit the hospital's mental health ward every day, almost 80% of whom are young women and girls, especially university and high school students.
In mid-October, Dr. Wahid Ahmad Noorzad, the hospital's psychiatric ward director, said the number of young girls who had visited his department in the past month was unprecedented.
"Eighty percent of our patients are middle-class female students who suffer from mental health problems due to their now-limited social interactions and their inability to come to terms with their current situation," Noorzad said.
Fight for rights
Some Afghan girls are striking an air of defiance.
Samira Sharifi, a 12th grader, said she enrolled in a sewing class to escape the pressure of being trapped at home.
"Schools have been closed for a couple of months now, and I was forced to stay home, so I enrolled in handicraft classes to learn a craft," she said.
All girls are fighting for their rights and will never accept defeat, Sharifi said.
"The more restrictions they impose on us, the stronger we become and the more determined we will be to move forward," she added.
Zakia Rahimi, another 12th grader, urged all girls who have been deprived of education not to lose hope and to stand together in the fight for their rights.
It is not the end of the world, and girls have not lost hope or the will to fight, she said.
"Girls should not wait for the good days to arrive but should start the struggle ... and change the situation in their favor," Rahimi said.
Nasima Hamidi, a law and political science student at Herat University, said that she wants to continue growing through learning a new craft after the closure of the university.
"If they close one door to us, we will open more doors and make progress," she added.
"Girls should not be afraid ... and should come out of their homes," she said.
Khatera Anwari, a 12th grader in Herat, also said that since she is deprived of going to school, she has been learning to sew.
"I will fight for my rights for the rest of my life and will not allow anyone to interfere with my studies and work," she added.
"We will continue our struggle until the reopening of girls' schools and universities," she added.
"I look forward to the day when all girls go to school."