HERAT -- The Afghan government has rolled out vocational training programmes in Herat Province for internally displaced women and families to help them obtain livelihoods and escape poverty.
The initiative is being established by government agencies, private institutions and international organisations.
In solar year 1398 (March 2019 to date), more than 1,000 internally displaced women in Herat have benefited from the vocational training programmes delivered by the department and partner agencies, said Ahmad Jawid Nadem, director of the Herat Department of Refugees and Repatriations.
These training programmes cover areas such as hairstyling and makeup, knitting, embroidery, ribbon embroidery, sewing and painting, Nadem said.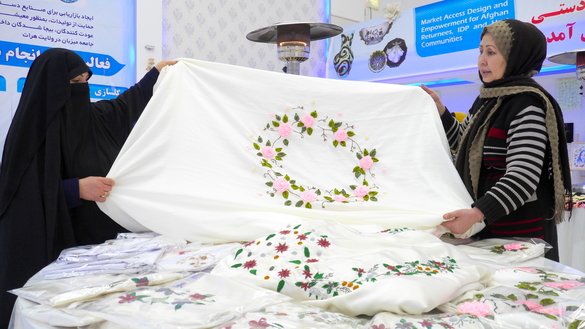 Most of the vocational training programmes in Herat are for internally displaced families to help them find employment and become self-sufficient, said Abdul Sattar Zarifi, director of labour at the Herat Department of Labour and Social Affairs.
"These programmes have been rolled out to reduce unemployment and poverty and enhance the economic status of families," said Zarifi.
"Based on assessments, more than 70% of the displaced women who have completed their vocational training programmes have entered the job market, and now they can satisfy the needs of their families [by earning an income]," he added.
A German non-governmental organisation (NGO) called "Help -- Helping People Help Themselves" in Afghanistan, has launched an eight-month-long vocational training for internally displaced women and men in Herat Province, said Zabihullah Munib, director of the NGO.
They have learned various trades including sewing, knitting, motorcycle repair and electrical wiring.
"All these people are able to work in areas in which they have received training," he added.
"We try to create jobs for these internally displaced persons when they graduate," said Munib. "We are in contact with various organisations and companies for employment opportunities. These men and women will soon get jobs."
'Now I have a better job'
Women who have been internally displaced and are going through the training said they are happy for the opportunity to work outside their homes and that they now can earn a large portion of their family income.
"When we moved to Herat Province, we had a very bad life," said Setaish Sadaat, who is from Ghor Province and lived in Herat for two years. "We had a many economic problems. I have taken a vocational training programme for five months now and have built my skills in knitting."
"I earn money from knitting and support my family," said Sadaat. "My mental pressures have decreased. I have three children, and I earn 40% of my family's income from knitting."
"There had always been fighting in my village, and we had to leave our home because of fear of the war in Herat," she said. "We left all our belongings there. All we could bring was ourselves ... I have had a job since I learned knitting. If I return to my village, I will continue to work there and train other women too."
"The trade I have learned has helped our family's finances grow," said Latifa Jaghori, once a resident of Ghazni Province, who now lives in Herat Province. "I learned embroidery, and our products sell well and quickly."
"There was fighting in Jaghori District ... that forced us to come to Herat and settle here," she added.
Families that have been displaced by conflicts face many problems, said Jaghori.
"We have lost our home and our belongings," she added. "I had been unemployed for more than two years. Now I have a better job that has helped me reduce our family's economic problems."
"Last year, we left our home in the Bala Murghab District of Badghis because of fighting and Taliban attacks and came to Herat," said Maryam, who has no last name. "We had many economic problems. We even didn't have money for our children's medical treatment."
"I have professionally learned tailoring in the past three months, and now I have a good income with which I support my family," Maryam added. "Our economic problems have decreased, and we've started a new life here. We want the government to help us find markets for our products."
Exports to America and Europe
The products and handicrafts of the women enrolled in the training programmes in Herat have been linked with international markets, said Abdul Rahman Maulawizada.
Maulawizada is director of the Herat office of the Welfare Association for the Development of Afghanistan (WADAN), a national NGO that has helped export products and handicrafts of the internally displaced women abroad with support from the United Nations High Commissioner for Refugees (UNHCR).
"We sent a portion of these products to Washington," he added. "Women's handicrafts also have been exported to Dubai, India and Geneva [Switzerland]."
"These women have participated in various exhibitions in Kabul where they have showcased their products at a national level," he said. "Currently, a portion of handicrafts of the internally displaced women has been sold, and we expect to export some to various countries."
In the past, the focus of initiatives for internally displaced families was on delivering aid to them, but now efforts centre around finding permanent jobs for these families, said Maulawizada.
After taking the vocational training programmes, internally displaced women are now more optimistic about their future as many of them have become self-reliant, he added.
"If these women return to their provinces and villages, they will be able to do their jobs there too as they are equipped with special skills," he noted.
Products made by the women in the programme have been exported to Europe and America, said Nadem of the Herat Department of Refugees and Repatriations.
"The lives of these women will change as doors of European and American markets are open to the products and handicrafts of Afghan women -- especially the displaced women," he added. "Next year, more products of these internally displaced women will be exported."
"Displaced families have been grappling with numerous problems," said Nadem. "The government and international community are implementing relief programmes that will address the economic issues of these families."