HERAT -- The United Nations High Commissioner for Refugees (UNHCR) in recent months has been implementing a project in Herat province to provide vocational training to hundreds of women and girls.
The Build Afghanistan project has been offering women the opportunity to acquire skills in various fields, including tailoring, carpet weaving, embroidery and artwork.
Women and girls who participate in the project are internally displaced or repatriated Afghan refugees from neighbouring countries, and they are the breadwinners of their households.
A number of participants showcased their handicrafts in a public exhibition held from November 3 to 5 in Herat city's Salahuddin Saljuqi hall.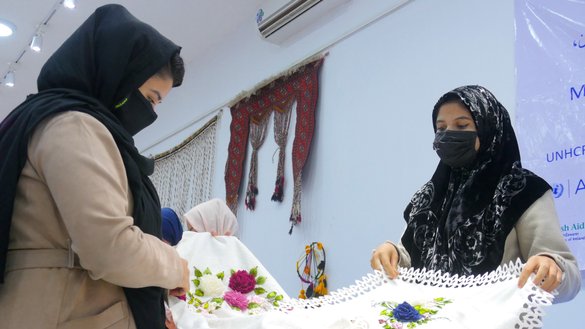 All women and girls participating in the programme receive a monthly stipend from the UNHCR, said Hasan Ahmadzai, director of the Build Afghanistan project.
"All the beneficiaries of the Build Afghanistan project are the breadwinners of their families," he said.
"Apart from their monthly income, they also earn a good income from the selling their handicrafts. The UNHCR provides raw materials for participants to make different types of handicrafts," he added.
"The UNHCR supports various activities, including the marketing of the handicrafts. So far, we have co-ordinated sending 400 types of handicrafts produced by these women to the United States, where they will be showcased in an exhibition in the near future," he said.
Ahmadzai said 300 items of the participants' handicrafts were exported to Turkey in October to fulfil an order placed with the programme.
According to Ahmadzai, the project is being implemented only in Herat and is expected to cover an additional 400 women next year.
Saving families from poverty
Soraya Malikzada, 22, a project participant, said she was very happy that she has found the opportunity to go out and work amid gender restrictions in the country.
"My husband is unemployed, and I must work for a living. Since I am the only breadwinner of my family, I feel strong as a woman," said Malikzada, who has two children.
"Our economic situation has improved since I started benefitting from the project and found a job. I am determined to expand my handicraft work," she added.
Sonita Yarzada, 24, is a beneficiary of the project who produces different types of embroidered traditional Afghan clothing. She is the sole breadwinner of her seven-member family. Her father has been ill and is unable to work.
Her family is completely dependent on her income, she said, adding that she can now satisfy her family's needs thanks to the income she earns from the sales of her handicraft products.
Yarzada said she is very pleased that she may work despite the current restrictions on women in Afghanistan, which have forced many women to stay home.
"My family is no longer dependent on others' support. I am really happy that as a daughter, I can help my father, mother and younger brothers and sisters," she said.
"I do not want to stay home as we are experiencing harsh economic conditions. If I don't work, my family will starve, and I cannot tolerate that," Yarzada added.
Yarzada said she strives to become an entrepreneur and wants to expand her work.
Amina, 42, Yarzada's mother, who visited her daughter's handiwork in the exhibition on November 4, said, "I am proud of my daughter who can work and earn a living."
"My daughter saved us from starvation and poverty. I don't know what we would have done had she not found a job. I am very happy that I can witness my daughter's achievements and progress," she added.
If a conducive environment is provided for other Afghan girls, they too can rescue their families from poverty and starvation, she said.
Efforts to make progress
Muarifa Khademi, 18, another beneficiary of Build Afghanistan, has been taking part for the past five months. She hails from Ghor province and was displaced to Herat city along with her family three years ago.
Khademi, a 12th-grader in Herat city, has not attended school in the past year and has instead started learning to embroider instead of going to school.
Her father is a labourer who has been unemployed for the past several months, making her the only breadwinner of her eight-member family.
"I cannot stay home amid the restrictions; I have come out and work. When I stay at home, I suffer from depression. I will not give up and accept defeat," she added.
"Since I left home, I have learned new skills and I have an income now. We export our handicrafts abroad and show our talent to the world," she said.
Khademi said she wants to stay and make progress in Afghanistan despite the many daunting challenges and gender restrictions.
"I want to contribute to Afghanistan's economic growth. I will spare no efforts in producing quality products with global standards, fit for export," she said.
"Afghan girls need continued support. Unfortunately, there is discrimination against women's work in society."
"Some call us weak, but they fail to recognise that girls are capable. We shall continue to progress by overcoming challenges and the prevailing limitations," she added.