HERAT -- More than a year after they left Afghanistan and sought refuge overseas, the Afghan girls' robotics team won two awards at the FIRST Global international robotics competition in Switzerland.
Robotics teams from more than 180 countries participated in the competition, which was held in Geneva October 13-16.
Team Afghanistan, comprising seven young women, won the Safety award and the Social Media award.
Participating in the FIRST Global international competition and winning two awards have given new hope to the team, said Shabnam Noorzai, a member of the robotics team.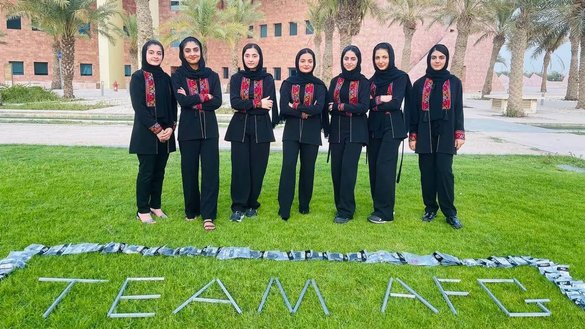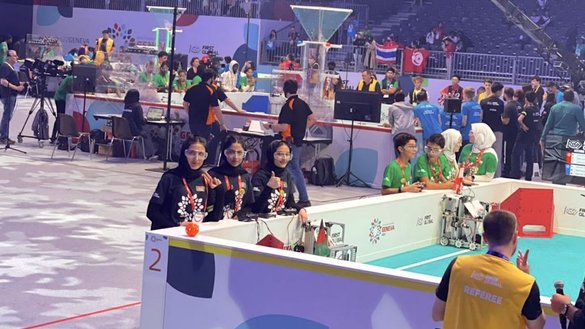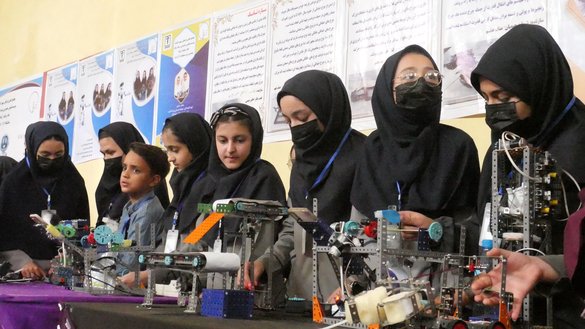 "By participating in such competitions, we want to demonstrate the capabilities and progress of Afghan women and girls to the world," she said.
"We not only want to demonstrate the abilities of our team but also the strength of millions of Afghan girls who live in a difficult and uncertain situation."
If education opportunities are provided to girls inside Afghanistan, they too can grow like the girls on the robotics team and become future scientists, Noorzai said.
Inspiring Afghan girls
The success of the robotics team has reignited Afghan girls' hope for the future.
"I lost all my hope and motivation in the past year as I could not go to school, but now I believe that Afghan girls can progress under any circumstances," said Sadaf Yagana, 17, a 12th-grader in Herat city.
"I took out my books again and started studying after hearing about the achievements of the robotics team," she said. "Instead of losing hope and getting depressed, I will study and build a brighter future for my country."
"I believe there is light after darkness and that Afghan girls will soon change their current situation through education," Sadaf said.
Although Afghan girls face immense challenges and many feel hopeless, the success of the Afghan girls' robotics team brings them hope and inspiration, said Khatera Majid, 25, a student at Herat University.
"The good performance of the Afghan girls' robotics team in the international competition has reinvigorated the hopes of Afghan girls," she said.
"This show of strength has inspired girls inside the country to leave their homes and resume their activities in society."
"Girls are inspired when they see the success of the robotics team, and this encourages them to study harder," Majid added. "Unfortunately, girls have been demotivated in the past year. Now, they can find hope again."
A national achievement
The robotics team's award-winning performance is a major achievement for all Afghan girls, said Negina Barak, 24, a student at Herat University.
"Under the current circumstances, in which girls cannot study freely as they could in the past, this achievement can be very inspiring and can give girls hope," she said.
"The latest achievements of the robotics team reinforce the opinion that the situation will change and that girls both inside and outside the country will have achievements as they used to, similar to the girls' robotics team."
The awards are not only an achievement for the robotics team but also a national achievement for all Afghans -- especially for Afghan girls and women, said Khadija Sarwari, 16, an 11th-grader in Herat city.
"The recent success of the girls' robotics team is a clear response to those who do not allow girls' education," she said.
The success of the Afghan girls' robotics team once again proved to the world that Afghan girls are strong and can be very successful, said Khadija.
"If Afghan girls are allowed to study, they can shine more than the robotics girls and raise the Afghan flag in the world," she said.
Teaching robotics
Members of the Afghan girls' robotics team left Afghanistan in August 2021. Some of them live in Qatar, while others are studying in the United States.
They have vowed to teach Afghan girls who are interested in robotics so that they too can achieve their goals.
Team captain Florans Poya, 17, said her team members are making efforts to expand Afghan girls' knowledge of the science and business of robotics.
"Our goal for the girls inside Afghanistan is to continue studying robotics," she said. "We teach robotics online to girls who are interested, and stand with them. So many girls are interested to learn about robotics, and we are supporting them."
"We want girls inside Afghanistan to participate in international robotics competitions in the future," she said. "We have many capable girls inside Afghanistan who try hard and can build various robots."
Florans said she dedicates two hours a week to providing online training to girls in Herat.
Many girls have developed an interest in robotics, thanks to the Afghan girls' team, said Sadaf Rahimi, 18, another member of the team.
"I am very happy that girls inside Afghanistan are studying robotics in the current situation," she said. "I will be stand with these girls as much as I can and will support them."