HERAT -- Some 60 Afghan schoolgirls in 4th to 9th grades showcased dozens of robots they have built in an exhibition in Herat city on Sunday (September 18).
The exhibition was open to the public from Sunday through Tuesday.
Most of these girls were deprived of going to school in the last year but have built robots at home. Restrictions could not stop their progress, they say.
More than 200 industrial-style robots were displayed in this exhibition, said Mohammad Hussaini, a member of the Afghanistan Robotic House and one of the organisers of the exhibition.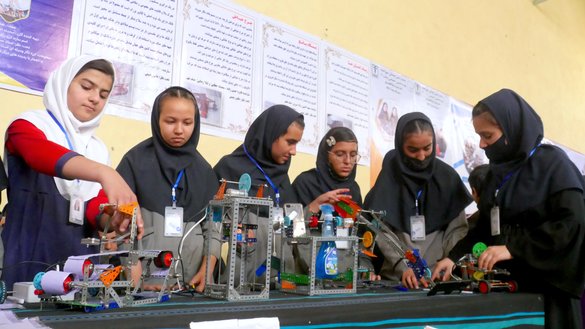 "Most of the robots built by the girls are advanced enough to operate with computer programmes," he added.
The girls' talent in building these robots is outstanding, Hussaini said.
"The girls' robotics team is being put together in Herat and will be active soon," he added. "With the team set up, the girls will be able to participate in international competitions.
Almost 3,000 girls are learning how to build robots in Herat province, Hussaini said.
Mahsa Jafari, 15, a 9th grader in Herat city, has built five robots in the past year.
She has built a small electric boat, an electric tricycle, an electric vacuum cleaner, an earthquake prediction system and a conveyor belt for use in airports and factories.
"This is the beginning. I want to build more and larger robots in the future," she said. "I want to participate in international competitions by building advance robots and demonstrating the abilities of Afghan girls to the world."
"Afghan girls are talented and want to progress in different fields, but they have closed schools to us to prevent our progress," she complained.
Despite the restrictions, girls work hard day and night to progress and build a bright future for themselves, she said.
The Afghan national girls' robotics team left the country more than a year ago. It is now based in the United States.
Besides continuing their education in the United States, members of the robotics team represent Afghan girls in international robotic competitions.
Developing talent
Girls on Herat's robotics team said despite the imposed restrictions, they have been able to develop their talent in building robots.
Negar Rezae, 13, a 7th grader in Herat city who is now confined to her home, has built five robots in the past year and is optimistic about her future.
Negar built a warrior robot mainly used for entertainment, a carrier robot, a disinfecting robot, a robot for boiling water and a conveyor belt robot.
"We girls showed everyone that no one can stop our progress," she said. "By building these robots, we demonstrated our abilities and proved that we can build whatever we want."
"Girls have great talents and need only support," Negar added. "With education and a pen in their hand, girls can develop their talents. We want to build Afghanistan through education."
An Afghan girl deprived of going to school and forced to stay home can build robots and progress, she said.
Kayana Rahmani, 14, an 8th grader in Herat city, said her robot building knowledge has greatly expanded through building three robots in the past year.
"By building these robots, I want to demonstrate to other girls that they can do it too, all it takes is the will," she added. "If there is will, no restriction can stop our education and progress."
"Every girl wishes to study and progress," she added. "We girls can achieve our dreams when education opportunities are available to us. The only way to Afghanistan's prosperity is through the education of girls."
Kayana hopes schools re-open as soon as possible so girls can return to their studies and build their future.
Growth of robot building knowledge
US-based members of the Afghan robotics team have launched online courses for girls in Afghanistan to help further develop their skills.
The objective of launching online education programs is familiarising Afghan girls with new developments in robot building, said Sumaya Farooqi, captain of the Afghan national robotics team.
"Robotics resources and facilities inside Afghanistan have shrunk," she added. "We teach girls new skills and experiences to enhance their capabilities," she told Salaam Times via WhatsApp.
"The number of girls who are interested in learning robotics is very high," she added. "Some of them are covered through our education programme right now, and we will support more women in the future."
Farooqi added that she is learning about the latest advancements in technology and robotics and shares her experiences and skills with girls inside Afghanistan through online classes.
Shabnam Noorzai, another member of the Afghan national robotics team, said that she tries to participate in international competitions on behalf of Afghan girls and to win prizes.
"Despite restrictions, girls in Herat learn robotics, which is very promising."
The national team is outside the country now but stands with these girls and will support them, she said.
"Thousands of girls are busy learning robotics inside the country, which is good news," she added. "Interest [shown] by girls has led to the growth of robotics in the country, and Afghan girls will build advanced robots in the future."