HERAT -- Following the collapse of the previous government and the evacuation of the Afghan all-girls robotics team to locations outside the country, the Afghan Robotics House in Herat has resumed teaching girls the science of robot-making.
According to the Afghan Robotics House, a private training centre, a number of girls who have the skills to make robots still live in Herat.
These girls can represent Afghanistan in future international contests, it said, even though there is no girls' robotics team inside Afghanistan at present.
Afghan Robotics House manager Mujtaba Rezayi said he is confident that a formidable girls' team will form in the country soon.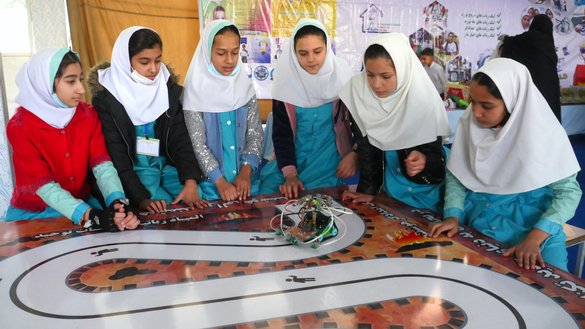 Robotics activities have continued, even amid the current situation in Afghanistan, he said, and have in fact grown even stronger.
"The Robotics House covers 15 private schools in Herat, Kabul and Mazar-e-Sharif, and a number of highly talented students in these schools are busy learning how to assemble robots," Rezayi said.
At present, about 6,000 male and female students in Herat, Kabul and Balkh provinces are receiving robot-making lessons from the Afghan Robotics House at various locations, he said.
Among them is Tawheed School, a private school in Herat city, from which 90% of the celebrated Afghan all-girls robotics team members graduated.
The team won a number of prizes in international robotics competitions in recent years, but team members were forced to leave the country following the fall of the previous government and imposition of restrictions on women and girls.
In 2021, the team received the "jury's prize" in the FIRST Global Challenge International Robotics Contest, in which they competed with teams from 177 other countries.
'We make the future'
Sixth grade student Taqadus Yousafi, who builds robots as an extracurricular activity at Tawheed School, said she intends to represent Afghanistan on the world stage someday.
"Every Afghan hopes to be able to serve his or her country in the future," she said, explaining that her wish is to be given a chance at learning so that girls can continue to play a role in making a bright future for the country.
Given the chance, the girls could compete on the global stage the same way the Afghan girls robotics' team did last year, Taqadus added.
By building advanced robots, Tawheed School fifth grader Mahsa Rahimi said, she hopes to improve and update robotics knowledge among girls.
Afghan girls have proven they have the capacity to learn new technology, especially assembling robots, and can progress in the way other girls do around the world, she added.
"We girls want to show a developed and modern Afghanistan to the world," Mahsa said. "All girls have capacity, and we can make a brighter future for us and for our country."
Mahsa said she was able to make a small fireproof robot over the course of a year, which can help to alert household members in the event of a blaze.
"We ourselves make the future of our country, and we will not allow girls to be taken to darkness instead of making progress and developing," she added.
Resisting restrictions
Female students who are busy learning robotics in Herat said they will stand against any kind of restriction or obstacle that hinders their progress.
Tawheed School sixth grader Zainab Akhtarzada said nothing will stop her from going to school and learning alongside her peers.
"We love to make more progress in the future and make more robots, and we do not accept any kind of restriction," Zainab said.
Her classmate, Setayesh Zamani, has been assembling small robots.
Afghanistan cannot be built without girls' education or higher education, said Setayesh, calling for schooling to continue without limitations or restrictions.
Tawheed School must remain open so that the girls can attend their classes and help to build up their war-torn country, she said.
"Banning girls from going to school and making robots are unjust," she added.
Even if all the girls' schools close, Afghan girls will continue their studies at home, and they will resist darkness and ignorance, Setayesh said.