KABUL -- The Afghan girls' robotics team was welcomed home this week with accolades after performing well and receiving a medal for "courageous achievement" in its first international robotics competition.
The six team members from Herat Province competed among 163 teams representing 157 countries July 17-19 in Washington, DC.
The FIRST Global Challenge international robotics event challenged participating teams, comprised of students aged 15 through 18, to build a robot capable of sorting blue and orange plastic balls representing clean water and contaminated water.
Overcoming obstacles
Alireza Mehraban, the Afghan team "mentor", explained his team was selected from a tough school competition featuring 150 students. The group was cut to a shortlist of 20 before the final six were picked.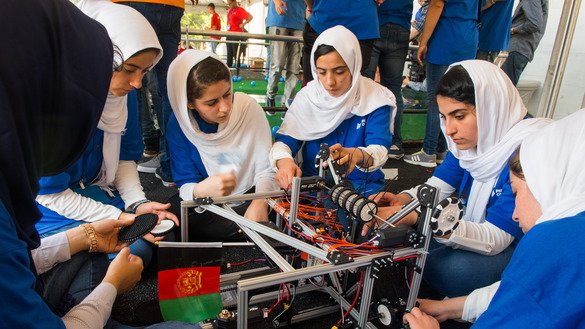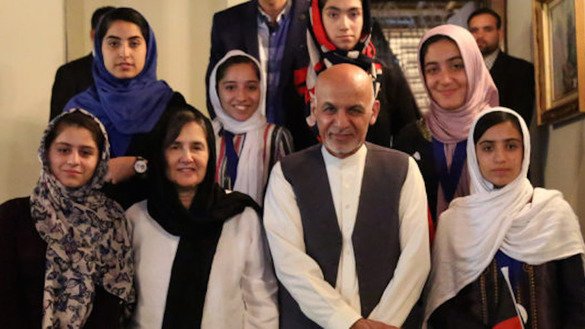 Unlike their counterparts from wealthier countries, the Afghans had unique problems, such as a lack of some basic equipment.
"We up-cycled material and used trash," Mehraban told AFP, explaining how the team created a simple suction device using a Coca-Cola bottle.
The girls also lacked match preparation, said Roya Mahboob, an Afghan tech entrepreneur who helped organise the visit.
"When they built their robot, they had to ship it straight to the US, so they didn't have the opportunity to really play and practice," she told AFP.
But the team persevered under the tutelage of Mahboob, a former Afghan refugee to Iran who returned home to launch Digital Citizen Fund, a nonprofit that gives girls in the developing world access to technology.
The team fared well in the competition, placing much higher than competitors from developed countries like Canada, the United Kingdom and the United States.
A positive message
"Fifteen years ago, Afghan women couldn't read and write and they didn't have any rights," said Mahboob. "Today, with the help of the international community, we have a lot of women going to school, going to university -- they are becoming ministers."
The girls' participation in the competition had "a big positive message for the Afghan community", she said.
"We are the same as the boys, and they should give us the same opportunity. If you give access to education and technology, it doesn't matter what your gender is," she said.
Afghan President Ashraf Ghani praised the team as "groundbreakers in technology".
"Afghan girls are creative and inspirational, believing in the future of their country," he told team members at a welcoming ceremony at the Presidential Palace July 22. "You are a good example of great potential for other Afghan girls and students."
"You have opened a path for others to follow," he said.
"Afghan girls have learnt about your strength, and your achievements have encouraged them to acquire education," said First Lady Rula Ghani.
"This achievement shows that Afghan girls can shine on a global level and create pride," Afghan government Chief Executive Abdullah Abdullah said at the ceremony.
The pride of Afghanistan
"Robotics is part of my life," 15-year-old team member Lida Azizi told AFP ahead of the competition.
After the team's success, Lida said the event changed her perspective on her country.
"I don't see Afghanistan the way I saw it before earning the medal, because I think I have earned a little pride for my homeland," she told Salaam Times.
"I cannot express to you the extent of my happiness," said Fatima, another team member.
"I want the Afghan government to provide growth opportunities to Afghan girls," she told Salaam Times. "We have witnessed Afghan children being denied the opportunity to attend school altogether. Schools must be built for them ... [and] opportunities like going to America for a robotics competition must be facilitated."
The team's hard work paid off, said Lida's father, Qasim Khan, an Interior Ministry official.
"I feel good that Lida is a source of pride for Afghanistan," he told Salaam Times, adding that the pride belongs to every Afghan.
All Afghan students are capable of great achievements if they receive equipment and opportunities, he said.
"The Afghan robotics team ... showed world players that Afghan girls are no less than others and can create honour," Mohammad Amin Kamalpoury, an Afghan writer and civil society activist, told Salaam Times.
"This achievement shows the world that Afghans are capable of even winning medals in competitions at the international level, even though they face war and terrorism," Naeem Rohani, a Kabul-based civil society activist, told Salaam Times.