HERAT -- The Afghan all-girls robotics team, which has made headlines internationally for the past few years through its participation in international robotics competitions in more than 10 countries, is seeking to save lives with its latest creations.
A pair of robots recently developed by the team is designed to identify and neutralise land mines.
The first robot is a drone that identifies mines, and the second robot, which has the ability to move in rough terrain, is used to neutralise land mines, said Saghar Salehi, a member of the team.
"We wanted to use new technology to create a solution for neutralising and removing mines that the enemies have planted," added Salehi. "We, the robotics girls, want to make a contribution to ensuring security and clearing mines in the country."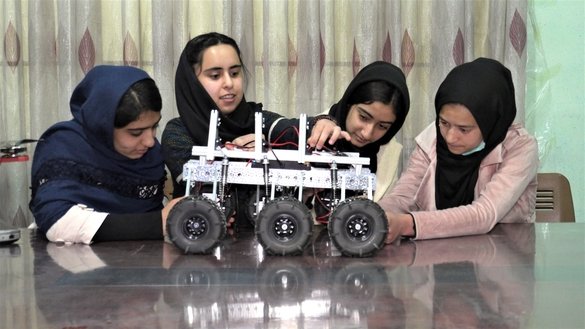 "These robots we made are just samples at the moment, and if the robotics team is provided a budget, more advanced versions of these robots will be built and provided to the security forces," she added.
"Land mines that have remained from previous years and those that are being planted by the government's armed opposition victimise [many] Afghans every year," said Sumaya Farooqi, another member of the team.
"We want to use technology to identify and neutralise mines so that we can help our people and stop the deaths of Afghans," she said.
"Technology is used to ensure security in many countries, and we also want to make use of technology for bringing security and calm to our villages and cities," she added.
Efforts for a brighter future
The girls of the robotics team have made good progress and growth as compared with the time three years ago when the team was first created, said Abdul Ghafoor Yaqobi, a trainer for the team.
Given the achievements of the robotics girls, there is hope that they will be able to achieve considerable progress in the near future in making industrial and agricultural robots that will contribute to industrial growth in the country, he said.
"Girls' interest in becoming a member of the robotics team has grown, and a large number of girls have submitted their applications," he said. "This process is making us hopeful as the dream of girls to acquire new knowledge and build robots is coming true."
"During the recent month, a fresh group of 10 has been formed and they're being trained," said Yaqobi. "I hope that these girls are able to make robots in the near future."
"Currently, two teams of 11 robotics girls are active," he said. "The ability of these girls has grown to a level that they can [now] make military and agricultural robots in addition to building robots for their global contests."
Since the robotics team emerged three years ago, it has built many robots and had many achievements, said Yalda Azizi, a member of the team.
"We demonstrated that Afghan girls have talent, and they just need a chance," she said. "We were given an opportunity, and we proved the capability of Afghan girls. We believe that no obstacle can restrict the Afghan girls' growth in Afghanistan."
"We had 17 trips to eight countries during the past three years where we participated in global robotics competitions and brought great achievements to Afghanistan," she said.
"Three times we achieved first place in global robotics competitions, while [the teams from] the United States and Canada took second and third place, respectively. All our competitions are global, and we have achieved first, second or third position in our contests," she added.
"We have made various robots including one that is used for wheat collecting and processing," said Azizi. "We have built a robot to pluck saffron flowers, which farmers can use at saffron harvest season."
All Afghans share the achievements of the robotics team, said Aida Haiderpur, another member.
Afghan girls have great talent, but they have not had a chance to discover their competencies, she said.
Growth in technology
Members of the robotics team are not the only girls becoming familiar with technology and new knowledge.
Dozens of girls in Herat Province have made strides developing computer games and mobile apps.
"Girls have achieved more than what we expected in the area of developing computer apps," said Nahid Ahmadi, a trainer at Code to Inspire in Herat. "These gains show girls' talent and their interest in technology."
At Code to Inspire, girls develop computer games, mobile apps and databases for various companies.
"The girls develop 2D and 3D apps, and most of them are educational," she said. "As most of the Afghan people are illiterate and are not able to teach their children at home, apps and games the girls develop can help children and adolescents learn and [improve their level of] education."
"The games developed use Afghan concepts, and they make children more familiar with Afghan culture," said Ahmadi.
Most girls have gained familiarity with technology in Herat and are interested in benefiting from the new knowledge and technology, said Fatema Redwani, a student at Code to Inspire in Herat city.
"I learned how to code web apps, and one of the mobile apps I have developed is for online shopping," she said. "I'm working on developing more apps."
"There is an opportunity for a limited number of girls, and they have been able to demonstrate their talents," she added. "If opportunities for more girls in the districts and villages are provided, they will be able to grow too and enjoy bigger accomplishments."