HERAT -- The achievements of a female robotics team from Afghanistan are empowering girls worldwide to chase their dreams while fueling positive perceptions of their country.
The robotics team has made headlines internationally for the past few years through its participation in international robotics competitions in more than 10 countries, including the United States and Canada.
The team journeyed to Washington, DC, in May. Its members spoke to an audience on May 15, the second day of the May 14-16 2019 Humans to Mars Summit.
The team is working on a drone that will detect land mines and map their location.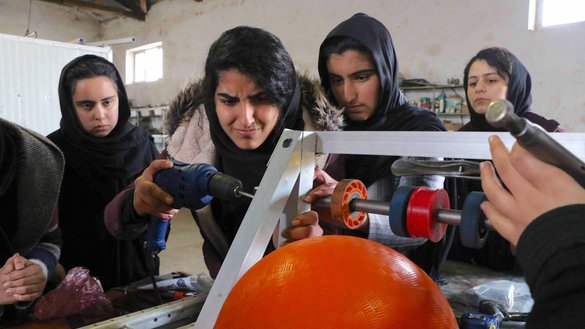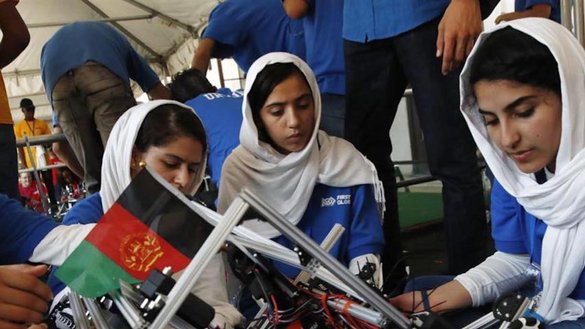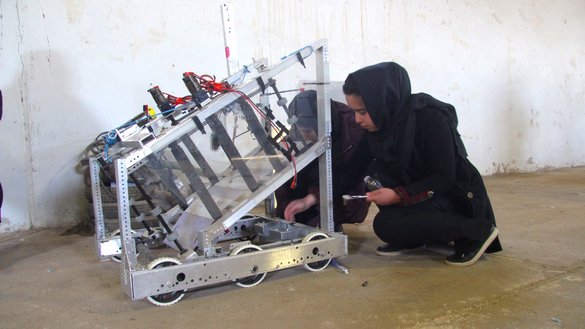 "The girls' robotics team has become a symbol of bravery" and demonstrates that if girls "are provided opportunities, they can become change-makers in society," Roya Mahboob, co-ordinator of the team, told Salaam Times. "
"The girls in the robotics team have become role models for girls not only in Afghanistan but also around the world," Mahboob said.
The girls have been called "ambassadors of technology" and have met with world leaders while traveling to take part in international competitions, according to Mahboob.
These leaders have included the queen of the Netherlands, the Canadian prime minister, US senators and Ivanka Trump -- the daughter of US President Donald Trump -- as well as advisers to the White House, said Mahboob.
"This shows that these girls can make the best envoys and diplomats for Afghanistan," Mahboob said.
"If Afghan girls are given the opportunity, they can grow like those on the robotics team," she added. "They can become our future mathematicians and academics."
Women's empowerment
The robotics team's international exposure puts a spotlight on the achievements of Afghan girls since the end of the Taliban's rule, agree team members.
"Afghan girls have achieved much in the past two decades," Fatemah Qaderyan, the team captain, told Salaam Times.
"In the past, all girls were deprived of their rights. But today, we see that girls are active in many areas like business, economy and technology and they are very successful," she said.
"I am very optimistic for the future, and I am sure that girls will continue to pursue their goals and programmes, and nothing will stop their growth and development," she added.
That sentiment was echoed by her teammate Kawsar Roshan.
"The robotics team proved to the entire world that if Afghan women are provided opportunities, they can grow in all areas, like that of our team that changed perceptions around the world about Afghan women and girls," she told Salaam Times.
"What foreigners knew about Afghans were images of war, but we changed that perception, and now they realise that Afghanistan is a place where women can grow and achieve," she said.
Protecting achievements
Members of the robotics team emphasised that achievements of women and girls must not be overlooked in peace talks, and that the Taliban and Afghan government should agree on a peace in which women can live in freedom and continue to grow.
"Women -- who constitute half of our society -- should move toward a [bright] future alongside men," said Qaderyan, the team captain.
"We demand peace with all our strength, but girls' and women's basic rights must be respected. Freedom of expression and the right to an education and to make choices should be among the priorities in the peace talks," she said.
"The peace must guarantee that our country doesn't go back to the dark days," Saghar Salehi, another team member, told Salaam Times. "Peace is like a shield that protects us against insecurity. Bad security blocks girls' and women's growth."
"We want the kind of peace that can lead all girls to achieve and have better lives," she said. "Peace should help us in protecting our achievements."
"When a country secures peace, technology and growth come to that country," said team member Somaya Faruqi.
"When peace comes to our country, we want women to have more freedom to make choices and girls to go to school without any threat," she told Salaam Times
Women flourishing
The robotics team is just one example of how women and girls have flourished since the fall of the Taliban.
Afghan women have steadily increased their participation in the Afghan government, securing prominent decision-making positions -- a marked contrast to the time when women were often locked inside their homes during the Taliban era.
"You could not see a single woman in the civil service -- even in a city -- during the Taliban's time, but now one of my deputies is a woman," said Herat Governor Abdul Qayum Rahimi.
"We have a few female directors, and 33% of all civil servants in Herat are women," he told Salaam Times. "We have a plan to transfer responsibility of even more government institutions to women so that they can take part in politics and decision making."
Many women hold high-ranking positions in Kabul with "a number of woman ministers and deputy ministers", added Rahimi.
"For the first time, a woman has been appointed the deputy minister of interior affairs," he said. "There are many women in parliament, and their voices are heard."
"Women's conditions have changed greatly, and they have grown in many areas," Rahimi said. "We hope they see more positive changes."
"Afghanistan can't be rebuilt if we lack empowered women with prominent roles in the government, because half of our population" is made up of women, he added. "Men can rebuild Afghanistan only if we share power with women and allow them to join men in the rebuilding process."