HERAT -- Members of the Afghan girls' robotics team, based in Qatar since mid-2021, displayed their robots on the sidelines of the Doha Forum in late March, attended by world leaders and dignitaries.
Pakistani Nobel Peace Prize laureate Malala Yousafzai, former English soccer star David Beckham, former US secretary of state John Kerry and senior officials from several countries visited the exhibition and showed support for the all-female team.
The Doha Forum took place in the Qatari capital March 26-27.
A number of robots on display at the exhibition were brought from Afghanistan to Qatar in the last week of March, said Sumaya Farooqi, the captain of the Afghan girls' robotics team.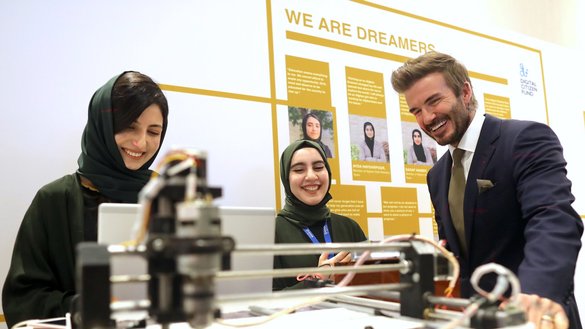 "World leaders were able to witness the power of Afghan girls," she said, noting that eight advanced robots were on display.
"We will continue our efforts on behalf of Afghan girls and will not allow their voice to fade away," Farooqi added.
The Doha exhibition was an opportunity for the robotics team to showcase the achievements of Afghan girls on a world stage, said Florans Poya, a member of the team.
"In addition to the robots we brought from Afghanistan, we also showcased some of our newest robots," she said.
"Officials from different countries welcomed our robots and praised our achievements," she said, adding that senior representatives of several countries have pledged to support the team.
Access to education vital
Roya Mahboob, Afghan entrepreneur and co-founder of the robotics team, on March 26 won the Doha Forum 2022 Award, given to her by Qatar's Emir Tamim bin Hamad Al Thani.
This award goes to organisations or individuals who are making positive changes in their societies.
"This is an important award and a major achievement for the team," she said.
Mahboob also stressed the importance of ensuring Afghan girls have access to education.
Afghan girls' education is a priority, she said, adding that the whole world is clear on that issue: every Afghan girl should have access to education.
"Afghan girls do not have the opportunity to study and build their future like girls in the rest of the world do," she said.
"We are trying to provide girls inside Afghanistan with education opportunities in modern sciences," Mahboob said, stressing that "instead of being suppressed, they should be supported".
"No one can stop the education of girls because Afghan society is now well informed and has chosen the right path," she said.
Afghan girls desperately need the support of the international community, now more than ever, said Fatima Farahi, a women's rights activist in Herat.
"Girls and women obtained their fundamental rights over the past two decades," she said. "But all these achievements are at risk should the international community withdraw its support."
"Thousands of women and girls had access to education in the last 20 years in Afghanistan and worked in senior government positions, but now that schools are closed to girls, the world needs to act quickly," she urged.
"The Afghan girls' robotics team has proven that given the opportunity, these girls will become scientists like their peers in other countries," Farahi added.
Not forgotten
Members of the Afghan girls' robotics team vowed to raise the voice of all Afghan girls and not allow them to be forgotten by the world.
Their participation in global competitions and in building new and advanced robots aims to achieve just that.
Aida Haiderpur, another member of the team, said she uses every global event she attends as a platform to share the plight and deprivation of Afghan girls with the world.
"Girls in Afghanistan will not be silenced no matter how restricted they are... any restriction on their education and social activities will be unsuccessful in the current era," she said.
"In the age of technology and social media, nothing can be hidden from the world."
Thousands of educated girls who have left the country and are now living abroad are the voice of deprived Afghan girls, said Asifa Amini, another robotics team member.
Any restrictions imposed on girls and women are doomed to fail, Amini said.