HERAT -- The nine members of Afghanistan's all-female robotics team who were evacuated to Qatar have completed work on their entries for a global robotics competition.
Submissions are now closed, and participants are awaiting results.
Meanwhile, back home, the Taliban are continuing to exclude girls from getting an education.
Depending on their needs, the robotics team members evacuated to Qatar were placed in one of three institutions with full scholarships granted by Doha after the Taliban took over in Afghanistan in August.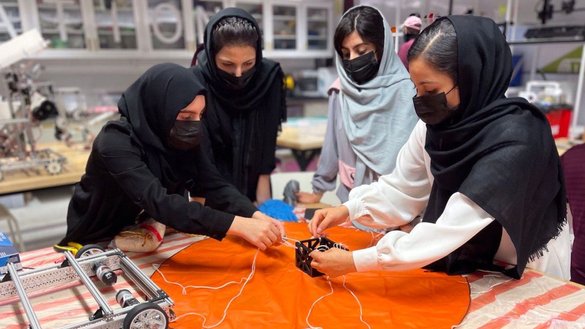 Some of their teammates remain in their country, while others are in Mexico and the United Arab Emirates (UAE).
Those in Doha regularly teamed up after school to work on their entries for the First Global Challenge robotics competition.
This year, the competition took place online with the participation of robotics teams from some 174 countries.
The contest accepted submissions between June 27 and September 28. Contest officials expect to announce the winners October 30.
In a video message, Somaya Faruqi, the team's head coach, told Salaam Times the Afghan team submitted three robots to the competition.
The first robot is a small device designed to be lifted by a helium-filled balloon to a maximum altitude of 50km in the atmosphere, where it sends data reflecting temperature, air pressure and humidity to the earth via Wi-Fi connection, she said.
The second robot is designed to disinfect indoor environments such as hospitals, offices and homes.
The third robot submitted to the competition is multi-function; it can carry up to 7kg of weight and throw a ball 3 metres far and 1.5 metres high.
The Afghan girls' robotics team first made headlines in 2017 after it won a special award at the First Global Challenge in Washington, DC.
'Do not abandon Afghan girls'
While awaiting the competition's results, members of the robotics team are worried about their peers who remain in Afghanistan.
The Taliban last month vowed that they would allow girls to return to school although they have so far been effectively excluded, with a spokesman saying, "More time is needed."
"We hope Afghan girls and women can pursue their education and be able to achieve their dreams," said Nahid Rahimi, a member of the robotics team.
Half of Afghanistan's society is made up of women and girls, and if they are deprived of education and work, the country will not thrive and become a prosperous society, she said.
The world should not abandon Afghan women and girls at this critical time, she said.
"They should stand with us to ensure our rights are preserved," she added.
Afghan women and girls have sacrificed greatly to overcome challenges and earn achievements, said Shabnam Noorzai, another member of the team.
"Nobody can create obstacles big enough to jeopardise our hard-won gains," she said, adding that education enables Afghan girls to build robots and make progress.
She urged the international community not to forget Afghan women and girls who have no other option but living under Taliban rule.
Girls should be given more opportunities so they can develop their talents and make Afghanistan proud at a global level, Noorzai said.
Like other girls around the world, Afghan girls have the right to study and progress, said Hadia Haidarpur, another team member.
The Afghan robotics team will continue to strive day and night to make further achievements despite being forced to leave Afghanistan, she said.
"It does not matter where we live," Haidarpur said.
Concerns for girls' education
In Afghanistan under the Taliban, girls are waiting to be allowed back in schools, though hopes are dimming.
The picture for girls and women seeking education in Afghanistan is generally dark.
Under new Taliban restrictions, girls may attend school only until sixth grade, while women at private universities will be separated from men and may attend only if they wear an abaya and a niqab. All public universities remain closed.
It has been almost two months that girls have been waiting to return to Afghan schools, but the Taliban's stance on girls' education remains unclear, said Nasima Azimi, a 10th grade student in Herat city.
"Despite economic hardships I pursued my education, hoping to become a doctor one day," she said, as she expressed disappointment over the Taliban's denial of girls' education.
Thousands of talented Afghan girls are waiting to go to school and want to play a role in the future of their country, but they are not allowed to do so, Nasima said.
"We call on the Taliban not to prevent girls from going to school," she said, adding that the Taliban have nothing to fear from girls' education.
She said she does not want her dreams to be ruined before her eyes.
Sahar Ahmadi, a third-year journalism student at Herat university, says she has been impatiently waiting to return to her classes for the past two months.
"I see a dark future for myself and other Afghan girls," she said, referring to the Taliban's education policies.
"Despite many challenges, girls have studied hard for the past 15 years, and we want to have a bright future. But with the return of the Taliban to power, all our hopes have been destroyed," Ahmadi said.
"If the Taliban want to segregate girls' and boys' classes, they should do so as soon as possible, but they should not prevent us from attending university," she said.