BADGHIS -- Women are increasingly standing against the Taliban's oppressive ideology banning the eduction of women and girls, and the government is providing opportunities for women to achieve their goals and enhance their education levels.
The Ministry of Education last Tuesday (May 18) launched a literacy programme in Qala-e-Naw, capital of Badghis province, designed to give women aged 30-60 the opportunity to continue their education, said Badghis provincial education director Mohammad Asif Foulad.
The programme is the first of its kind in Qala-e-Naw.
More than 100 women will attend the literacy classes in the first phase, and it is expected to increase to 200 women in the near future, Foulad said.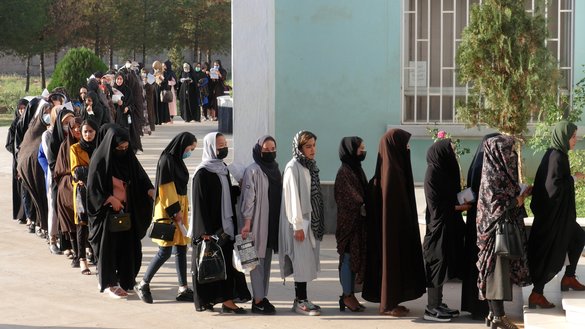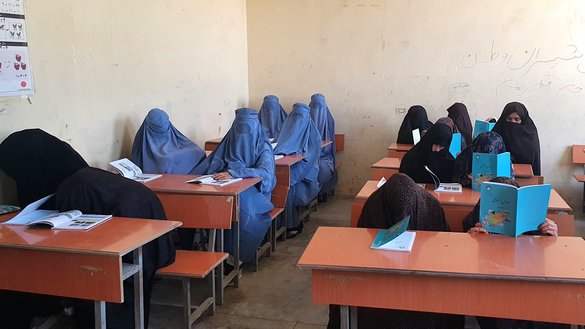 Many of the women participating in the programme lost earlier chances at education because of the war and the Taliban's presence in their districts and villages, he said.
A new life
"From the moment I attended the literacy class, I felt that I had started a new life," said Saad Gul, 35, a student from Moqor district.
She detailed how for years she was prevented from going to school because of ongoing Taliban violence and fighting.
"The Taliban must stop fighting and denounce violence so that we can peacefully go to school and university," she said.
"I call on the Taliban to let girls and women study and become educated."
Zarghona, 47, who gave only her first name, said starting the literacy programme had given her hope for the future. She also was unable to continue her education because of the ongoing war.
Now that the government has offered her the opportunity, Zarghona said she feels very enthusiastic about studying and she wants to become a productive member of society like other educated women.
"I am grateful to the government for providing this vital opportunity," she said. "I will teach my family members whatever I learn at school."
Taliban perpetuating ignorance
Ever since the Taliban's founding, the group has opposed the education of women and girls.
In Badghis, the Taliban shut down all girls' schools and suspended some boys' schools in areas under their control, said governor Hesamuddin Shams.
"Most of the women who now attend literacy classes are those who were deprived of going to school during the Taliban regime or under their current 'ban' [in areas under their control]," he said.
"While Islam obligates every Muslim man and woman to seek education, the Taliban have barred women from going to school, contrary to Islamic values," he said.
Despite tribal elders' constant mediation efforts to keep girls' schools open, the Taliban have opposed them, Shams said.
The group's attitude towards girls' education has not changed, he added.
"The Taliban have ruined a generation in Afghanistan over the past three decades," said Mohammadullah Noorzad, a civil society activist in Qala-e-Naw.
"Their logic and mentality are rooted in violence, insurgency and killing, and this group will never change for the better," he said.
Wherever the Taliban have a footprint, they bring darkness and devastation and the public suffers atrocities, Noorzad said. "Women are the most affected because they are deprived of their human rights in areas under Taliban control."
The Taliban's ideology has no place in today's Afghanistan because the new Afghan generation opposes them and wants to completely sideline the group, he added.
Women overcoming obstacles to higher education
In Herat province, women are showing their desire to continue their education and their contempt for the dark days under Taliban rule by participating in the Herat University entrance exam held May 20-22.
This year, 56% of the 400 participants in the university entrance exam were women, an increase of 4 percentage points from last year.
Referring to the long queues of women sitting for the entrance exam, the Taliban must realise today's reality and admit their defeat, said Saida Barakzai, who took the exam.
"The new Afghan generation, both women and men, is all literate and empowered," she said. "No one can create barriers and impose unacceptable restrictions anymore."
"We understand that we are facing enormous security challenges and that there are certain impediments," Barakzai said. "But no matter what the situation, the Taliban must understand that we will never give in to their demands and their immoral ideology."
The great presence of young women and men taking this year's entrance exam shows that Afghan youth, especially women, will always reject the Taliban's ideology, said Mariam Zafar, who sat for the exam.
"We will continue to fight Taliban ignorance, and we will never allow darkness to prevail over light," she said. "It is impossible to underestimate women and girls' active contribution in the society."
The Taliban's defiant ideology is doomed to failure and they should present a new ideology if they want to be part of Afghan society, she said.
The participation rate of women in this year's university entrance exam is a blow to the Taliban, Herat governor Sayed Wahid Qatali told reporters May 20 while inaugurating the exam.
"The presence of youth in large numbers in this year's entrance exam sends a clear message to the Taliban and their supporting countries that Afghanistan will never go back and that Afghans are committed to building a bright future for their country," he said.
"We should put an image from today's scene -- where an unprecedented number of youth, especially women, are attending the entrance exam -- on the negotiating table, and the Taliban should see this image once and understand how much they are unaware of the realities in Afghanistan."